SANTA CRUZ—The last time the St. Francis High football team stepped foot on the field it won in a blowout against Harbor High to end the 2019 season on a high note.
The Sharks hoped that the momentum from that win would continue into the following year but the pandemic changed everything.
Businesses closed, schools shuttered, people were forced to stay home and sports were an afterthought.
The Sharks finally got back on the field Thursday, 490 days since the final whistle blew in their 2019 season finale, and players were grateful to be back—even if it meant playing in March under frigid conditions instead of the usually warm early fall weather.
"The weather's a little colder but I'm happy to play football anytime," St. Francis senior Davin Avila said.
The Sharks' offense was unable to muster any points against Scotts Valley High in a 12-0 loss at Santa Cruz High School. The game served as the teams' Santa Cruz Coast Athletic League season opener—the league welcomed every school in the county for competition for this pandemic-impacted year.
The final score did not matter much. Finally playing a football game after a 14-month layoff was a reward in itself, Sharks coach John Ausman said.
"It was just awesome to be back out here," Ausman said.
It was no surprise that both teams would be a little rusty coming into Thursday's game, as they hadn't seen any action since November 2019. Both teams committed numerous penalties and turned the ball over at least once.
Still, Ausman said it was good to finally get the players back on the field and that they played well despite not being able to scrimmage against another team beforehand.
"It was fun…this is why you coach," he said.
Scotts Valley High junior Isaiah Velez said he knew that they would have to shake off the cobwebs. It showed. The Falcons failed to score on a pair of opportunities in the red zone during the first half.
Velez said the offensive struggles mattered little. Thursday's game was all about getting back to speed after the 14-month break.
"It was pretty fun being out here," he said.
Scotts Valley coach Louie Walters, who had previously retired at the end of the 2018 season, said that Thursday was a win-win situation for them and St. Francis.
"We get to play a football game," he said. "The kids were happy on both sides. I'm sure they wanted to win but they were happy to be out there."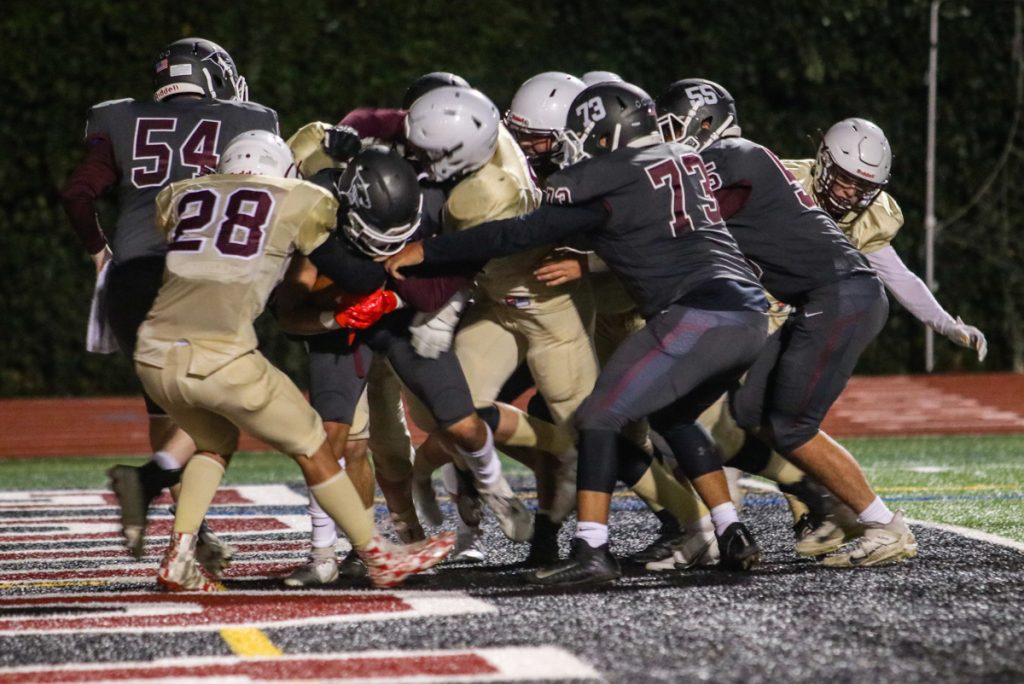 Scotts Valley managed to score in all phases of the game. A swarming defensive line tackled St. Francis senior Pedro Valencia in his own end zone for a safety. And junior Caden Stark hit a 35-yard field goal that gave the Falcons a 12-point lead late in the fourth quarter.
Velez credited his linemen for moving the Falcons down the field for the first touchdown drive of the season.
"Thanks to my lineman, I got in the end zone," he said.
On the other side of the field, it was senior defensive lineman Andre Nice who played a major role in retaining the shutout for the defense.
Avila, who threw two interceptions and was being pressured inside the pocket for most of the game, thought they came into Thursday night's season opener well prepared. He felt like they played an overall good game, but penalties and missed assignments set them back.
"We're going to fix those and we're going to be back," he said.
The first week is in the books for both St. Francis and Scotts Valley. Ausman was optimistic that the season would get back on track.
But there was a time when he had his doubts, especially on Dec. 14, which was the day that the California Department of Public Health released an updated guidance for youth sports that made it nearly difficult for football to be played this year.
"I became a very huge skeptic and biggest pessimist amongst everyone," he said. "Then things started turning around and they started getting better."
Avila said there were also times when he thought returning to football was becoming less realistic for him and the team.
He commended the coaching staff for keeping the group together and conditioning since last spring to stay ready for something such as Thursday night's season opener in March.
"At times, no, it didn't look like we were having a season but I'm glad we're here," he said.
The Sharks are scheduled to play at San Lorenzo Valley High on March 20 at 2pm, while the Falcons are set to host Soquel High on the same date and time.