The St. Francis High and Monte Vista Christian baseball teams are both coming off Central Coast Section title runs for the first time in the programs' history.
But the season is far from over for both squads after they received first-round home games for the upcoming inaugural CIF NorCal Regional playoffs, which begin Tuesday.
The Sharks (23-6), winners of the Pacific Coast Athletic League's Mission Division and CCS Division IV champion, earned the No. 3 seed in the NorCal Regionals D-IV field.
They will begin with a home game against No. 6 Saint Mary's (18-9-1) of Albany in the quarterfinals on Tuesday at 4pm.
The CCS D-VI champion Mustangs (21-8-1) earned the top seed in the NorCal Regionals D-V field. They could have as many as three home games starting with their opener against No. 8 Washington (16-10) of San Francisco, also on the same date and time.
To purchase tickets ahead of time visit https://gofan.co/app/school/CIF.
Here's a quick breakdown of what's on tap for Tuesday's CIF NorCal Regional quarterfinals.
D-IV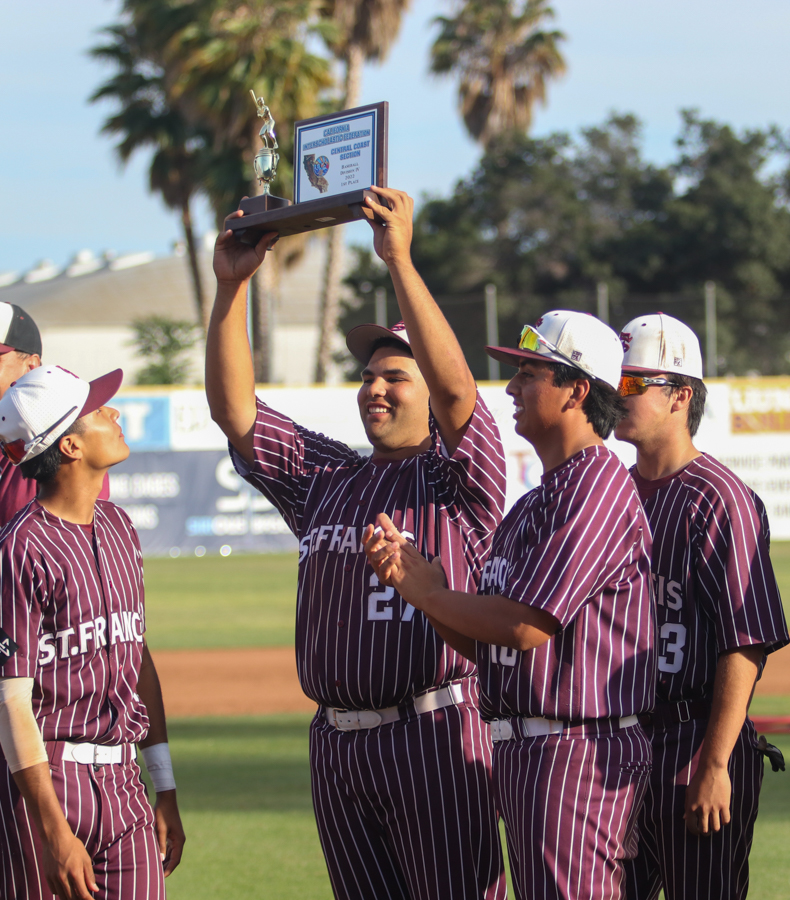 No. 3 St. Francis vs. No. 6 Saint Mary's, Tuesday at 4pm: Panthers senior right-hander Noah Zirkle, who is committed to play at Fresno State, threw a no-hitter in their 1-0 win over St. Joseph Notre Dame for the North Coast Section D-IV title.
Saint Mary's also features Willamette University-commit E.J. McGrew, a lefty who has allowed a total of seven runs including a pair of shutouts in four tournament games.
Offensively, the Panthers have senior Eligh James, who has a .306 batting average (26-of-85) with four doubles, one triple, four home runs, 28 runs scored and 14 RBIs.
Caven Croom, a junior, is also a threat at the plate with 20 RBIs and 23 base hits. Fellow junior teammate Derrick Bedford has a team-leading four home runs to go along with 14 RBIs and 16 runs scored for Saint Mary's.
If the Sharks win their opener, they'll play either No. 2 Bradshaw Christian (23-4) of Sacramento or No. 7 Madera South (15-16-1) in Thursday's semifinals at 4pm.
On the other side of the bracket, No. 1 Colusa (31-0) hosts No. 8 Branson (14-12), and No. 4 Christopher (13-16) of Gilroy hosts No. 5 Calaveras (28-3) of San Andreas.
D-V
No. 1 MVC vs. No. 8 Washington, Tuesday at 4pm: It's been a long layover for the Eagles, who are coming off a 6-1 victory over Lowell of San Francisco in the AAA Championship Game at Oracle Park on May 17.
Leading the way for Washington is pitcher/outfielder Devon Benningfield, who owns a 7-2 overall record on the mound this season. He's compiled a team-best 46 strikeouts and currently has a 2.15 earned run average.
At the plate, Benningfield has a team-high 29 base hits including five doubles and three triples. He also has 14 RBIs and has scored 18 runs for the Eagles.
Senior shortstop Kayne Moody has a team-best 31 runs scored, six doubles and three triples for Washington, and fellow senior teammate William Lam has three doubles, a pair of doubles, 18 RBIs and 18 runs scored.
If the CCS D-VI champion Mustangs win their opener, they'll host either No. 4 Durham (11-7) or No. 5 Etna (21-6) in Thursday's semifinals at 4 p.m.
On the other side of the bracket, No. 3 Skyline (15-9-1) hosts No. 6 Berean Christian (18-10) of Walnut Creek, and No. 2 Turlock Christian (22-4) hosts No. 7 Mendota (20-11).