WATSONVILLE—A man accused of shooting at several people outside of a Watsonville home was arrested within 10 minutes of the reported Saturday afternoon incident.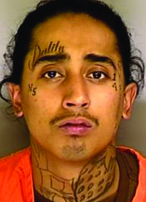 Watsonville Police Department spokeswoman Michelle Pulido said Stephen Vitela, 23, fired several rounds at people outside of a home on the 200 block of Center Street. A mother and her young child were also inside a car that was parked in the driveway of the home, Pulido said.
WPD officers arrested Vitela on suspicion of attempted murder a few blocks away from the scene. Officers found him behind a parked car and located the gun he allegedly used stashed underneath the vehicle.
No one was injured.
Detectives believe the shooting was gang-motivated, Pulido said.
Vitela is facing several other felony charges, and is being held in lieu of $500,000 bail, jail records show.
Anyone with additional information about the incident is asked to call WPD Detective Gustavo Zamora at 831-768-3355.