Nancy Russell's "art house" in Moss Landing stands a chance of being one of the most outlandish stops on the upcoming 29th Annual Monterey County Artists Studio Tour.
"I'm looking forward to the tour this year," Russell said at the front door of her home, which is a volcano of color inside and out. "My life is my canvas. It is through color that I express myself. Every day I pick up a paint brush and let it guide me to my next project. Whether I am painting on walls, boards or canvas, I want my work to make people smile."
While Russell has shown her painting in the Studio Tour in the past, she says that a lot of folks simply don't make the trek to her remote corner of the map. This year there are more than 100 artists showing art in 70 locations.
Though her entire house, driveway and yard—even the landscaping—could fit into the description of a studio, in the backyard stands Russell's spacious studio which once served as the printing room for the Castroville Times newspaper.
"This was the printing press room where my aunt and uncle published the Castroville Times newspaper from 1942 to 1973," Russell said, while sandwiched between scores of her works. "I feel extremely fortunate to have this space to do my painting."
Russell, 73, grew up in Portland, Ore.
"One of my earliest memories is of going to the Portland Art Museum with my mother," she said. "I loved to draw and my mom took me to exhibits of Van Gogh and Dali, and I remember the permanent exhibit of Native American art. From the beginning I saw art as a means of decoration and storytelling."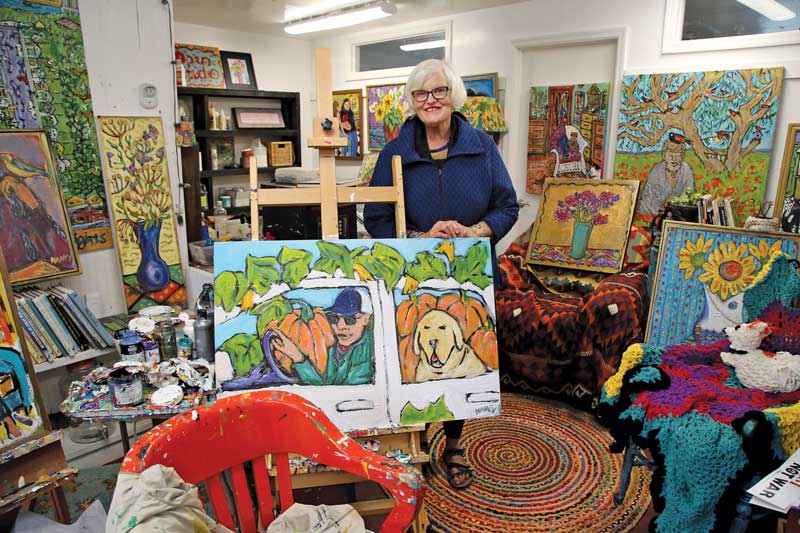 She earned a master's degree in nonprofit administration from University of San Francisco in 1990. In 1991 she moved to Nepal, and for the next 20 years, traveled and lived in Africa and Asia.
"I learned that there is a need in all cultures to tell their story through art, whether it is music, sculpture, painting or other means of expression," she said. "I was fascinated by wall paintings especially in Nepal, Tibet and Ethiopia. And after 20 years I came here (Moss Landing). This has been a challenging transition and I guess my imagination and color have been the way I travel now."
Russell said she inherited her house from her aunt who created a "loving space" for a local artist named Maureen (Mo) Walsh.
"Mo lived a simple life of art and beauty; her spirit lives on as her living space is now my studio," Russell said. "People love my house. Kim Solano of Haute Enchilada (a restaurant in Moss Landing) has been supportive of me and all local artists. I was invited to show my art in her gallery as soon as I started making art in Moss Landing. And my neighbors are also supportive."
Russell says her inspiration comes from travels and her life in Moss Landing and claims her mentors are the "visionary and outside artists everywhere."
"I have made my home my art," she said. "Home is where my art is. I have always been interested in bringing people together and my house does that."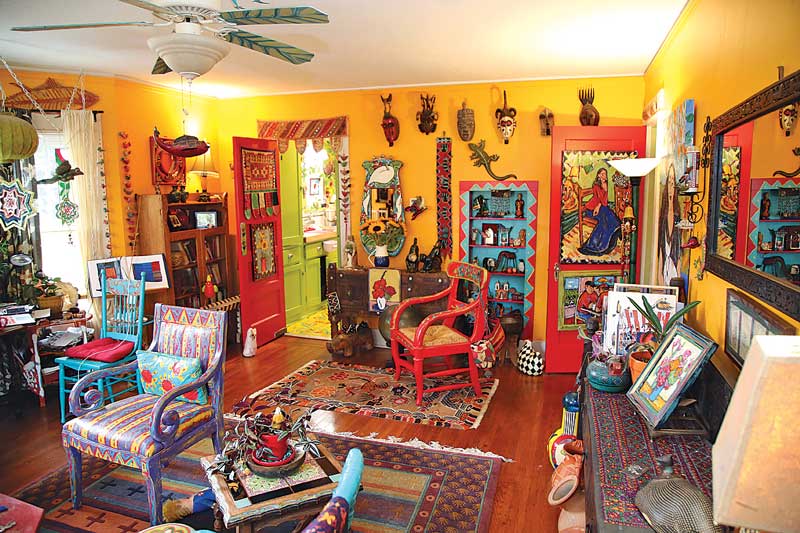 Russell said she is influenced by the art of Henri Matissee and Vincent Van Gogh, "but also by unsung artists."
Her paintings are acrylic on canvas with the addition of house paint now and again.
"I've had people get out of their car, see my house and say 'You must not be married,'" Russell said. "Others call it the 'house without compromise.' I just like to paint things and I like to brighten the world and make it beautiful. Some people pass by and say 'Thank you for bringing so much joy.'"
•
Studio Tour dates
Shirmaine Jones, administrator of Arts Habitat, said the 29th Annual Monterey County Artists Studio Tour is free and open to the public. People can get a interactive digital map at
bit.ly/mcast2021 or view a digital catalogue by emailing Arts Habitat at [email protected].
Presented by Arts Habitat, the Monterey County Artists Studio Tour will run Oct. 16-17 and Oct. 23-24. For information, call 624.6111.