WATSONVILLE—For the owners of The Slough Brewing Collective in Watsonville, beer is much more than just a drink, or a lucrative business—it's a community.
The brewery, formerly Elkhorn Slough Brewing Company, even reflects this in its motto: "Beer is people."
"Beer is a way of bringing people together," said Ben Ward, who now owns the business along with partners Jorge Vazquez and Erix Celis. "Even the craft of making beer… There are people who grow the hops, who sell us the ingredients, who buy our brews… The industry is so collaborative."
This is why opening during the Covid-19 pandemic, which prevents large gatherings, has been such a challenge.
"We definitely feel the lack of that sort of community," Celis said. "Sure, we can go to the store and get whatever alcohol we want but what is missing is that social component. It's really impacted the industry."
Ward, Vazquez and Celis had all worked for Elkhorn Slough Brewing before its owners, Michael Enos and Julie Rienhardt, decided to step down and move on. Enos and Rienhardt approached Vazquez, who had been their first hire and was eventually promoted to Taproom Manager and Head Brewer.
"At first I wasn't sure… I didn't think I had the money or time to do it," said Vazquez, who also co-owns Akiyama Hopyard. "But Ben was like, 'Come on, we've got to do this! We're never going to get another opportunity like it again.'"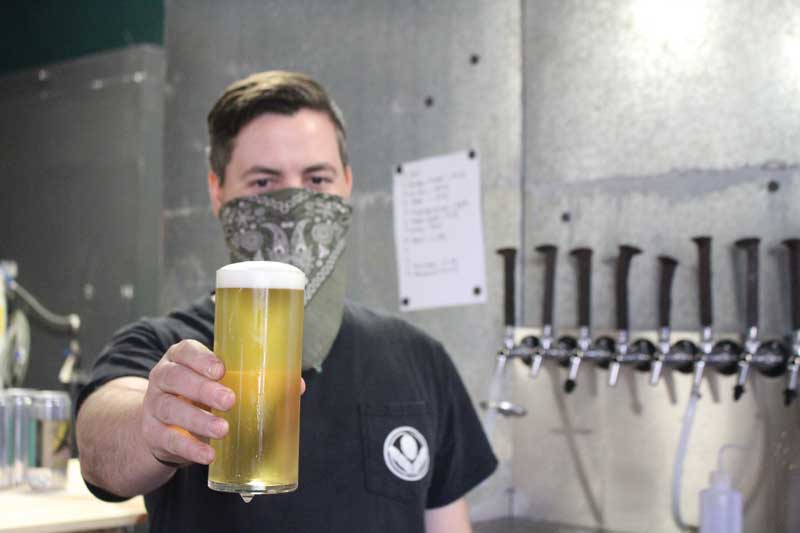 Ward had worked for a number of other local breweries, including Fruition Brewing and Corralitos Brewing. Vazquez and Celis said that it was him who "rallied" them to join forces.
"We all had worked in the industry before, we were familiar with the business. It just made sense," Ward said.
The Slough Brewing Collective officially opened on Aug. 28. The business is open for to-go orders of its 32oz crowlers, which are filled and canned at the time of purchase, as well as some pre-filled bottles.
For now, the brewery's physical building will remain closed.
"What's interesting is that now, caring for your community means not having your community around," Ward said. "We've had people who drive up, looking for a place to drink… but we don't feel comfortable opening just yet. We're new business owners, we're still figuring things out, so it seems more responsible to keep things closed."
Added Celis: "We definitely want to stay alive and make money… but we are always going to put people first."
Adhering with that philosophy, all three owners say they are committed to being as socially minded and as inclusive as possible. Ward said that he has seen plenty of injustices in the beer industry, which is predominantly owned by white, middle-class men.
"We want to help break down those walls… so that people who haven't necessarily felt safe in those spaces can feel comfortable," Celis added. "We want to make our stances clear. Maybe it's the norm to be apolitical… but that just allows things to fall back into the status quo."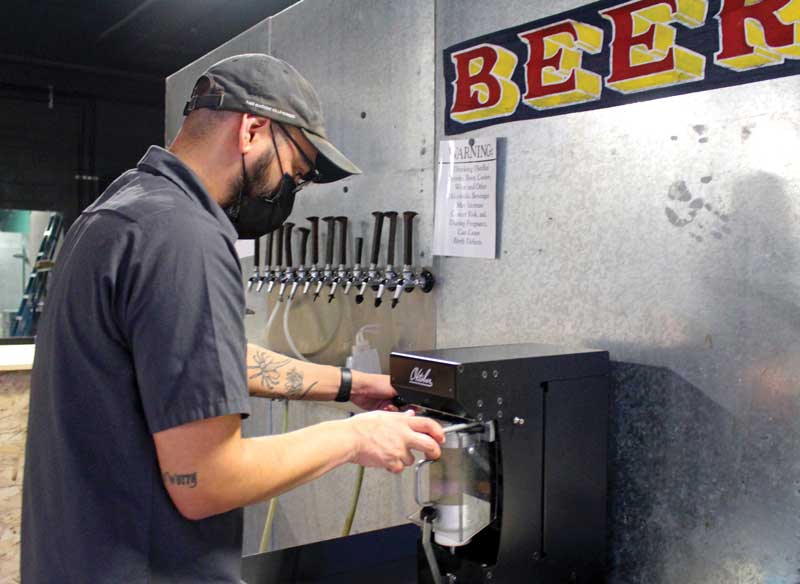 That commitment to diversity has flowed into the brewery's products as well. Ward said that they want to make their beer approachable, that everyone will want to drink. This means not creating brews that are too off-putting to newcomers, and utilize a variety of ingredients that reflect the community.
"There's a lot of extreme beer out there," Ward said. "We tend to make low ABV [alcohol by volume] beers that are thirst-quenching and easier to drink."
One of their staples is their Con Sal Gose, a lightly crisp, slightly sour beer made with salt. Vazquez described one such variation of the beer which pays homage to his Latinx heritage, utilizing Tajín and fruit.
"We all wanted to have a beer on tap that we all like, and you can do so much with [Gosa]," Vazquez said. "The acidity of it really extracts the flavor."
Looking ahead, the team hopes to eventually open its brewery to the public, bringing back the welcoming, relaxed environment they say drew them to Elkhorn Slough Brewing in the past. For now, however, they are focusing on kickstarting their business—and working together.
"The chemistry between us is great, it's almost like siblings," Celis said. "There's a lot of bickering, but it's all done in good faith. We have each other's backs. We're really on the same wavelength."
Added Vazquez: "When you work with people you care about, doing things you care about, it's easy. Maybe it's become a cliche but we definitely feel that."
The Slough Brewing Collective is located at 65 Hangar Way, Suite D. It is open for to-go orders Thursday-Friday 4-8pm and Saturday-Sunday 12 noon-8pm. For information, visit thesloughbrewing.com or follow on Facebook and Instagram.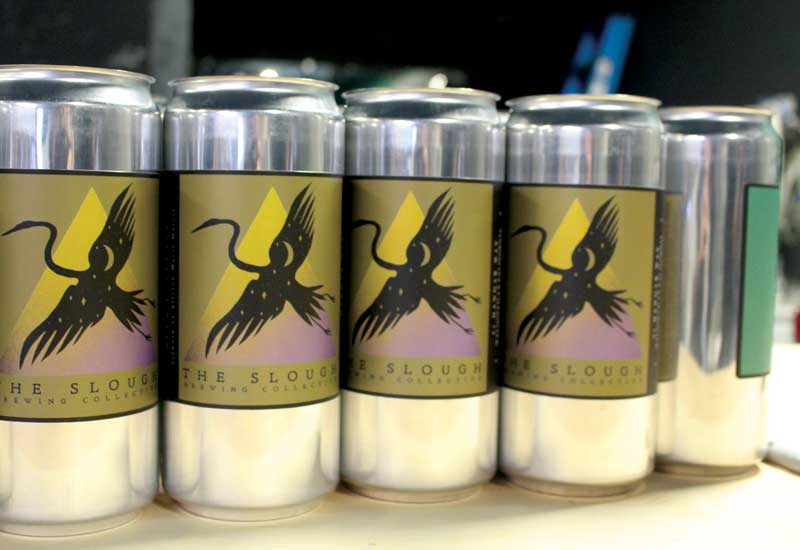 •••
More on tap
Santa Cruz Cider Company
65 Hangar Way, Watsonville
Santa Cruz Cider Company offers a wide selection of hard ciders made from locally sourced apples. The cidery is open Fridays 3-7pm, Saturdays noon-7pm and Sundays noon-5pm for tasting (space is first come, first served) and pickup. Food trucks are occasionally on site. Cider can also be ordered online at santacruzciderco.com.
Corralitos Brewing Company
2536 Freedom Blvd., Watsonville
A craft brewery that features 12 rotating taps including seasonal brews, sours and barrel-aged ales. Now open for outdoor tasting Tuesday-Friday 4-8pm and Saturday-Sunday noon-8pm. First come, first served for seating; due to limited space, no dogs or persons under 21 years of age allowed. Food trucks are occasionally on site. Beer can also be ordered online and for pickup. For a full list of current beers and to order, visit shopcbcbeer.com.
Fruition Brewing
918 East Lake Ave., Watsonville
Offering a rotating selection of beers, utilizing local and sustainable ingredients, Fruition Brewing is open for taproom pick-up and to-go orders only, including free local delivery of cans and bottles. Recent beers include "Fate Switch," a new unfiltered extra pale ale and "Tropic Lure," a double IPA with pink guava and passionfruit. For a full list of current beers and to order, visit fruitionbrewing.com/store.
Beer Mule Bottle Shop + Pour House
45 Aviation Way, Watsonville
This craft beer bar features a curated list of rotating beers and ciders on tap as well as a bottle shop with hundreds of bottles and packages available for purchase. Open daily 11am-10pm for dine-in service; face masks are required unless you are seated at your table. Curbside pickup and no-contact delivery also available. Butchers & The Mule is offering lunch and dinner options on select days. For information, visit kickassbeer.com.