SANTA CRUZ COUNTY—Watsonville and Santa Cruz County officials on Thursday lifted the evacuation orders and flood warnings issued during the dual atmospheric river storms that came on Dec. 30 and Jan. 4, allowing residents to return home and breathe a sigh of relief that the worst of the storms appear to be over.
A storm on Wednesday and Thursday did not pack the punch of its New Year's Eve predecessor, but weather officials say the rain is not over yet.
According to meteorologist Brayden Murdock, several "persistent scattered showers" are still predicted for the Monterey Bay area through next week, bringing large amounts of rain and new flooding concerns, particularly as upstream water works its way down to river mouths and coastal areas.
The storms are an enormous change from 2022, when January largely stayed dry, Murdock said.
"This is quite a wet start to the new year, especially compared to last year," he said.
A total of 43,282 customers were without power throughout the Central Coast on Thursday morning, 27,074 of them in Santa Cruz County. In Monterey County, 15,170 lost their power, and 1,038 in San Benito County.
In Capitola, a tidal surge tore a sizable chunk away from the municipal wharf, filled the Esplanade with debris and forced the evacuation of Capitola Village, which will remain closed while city officials assess the damage.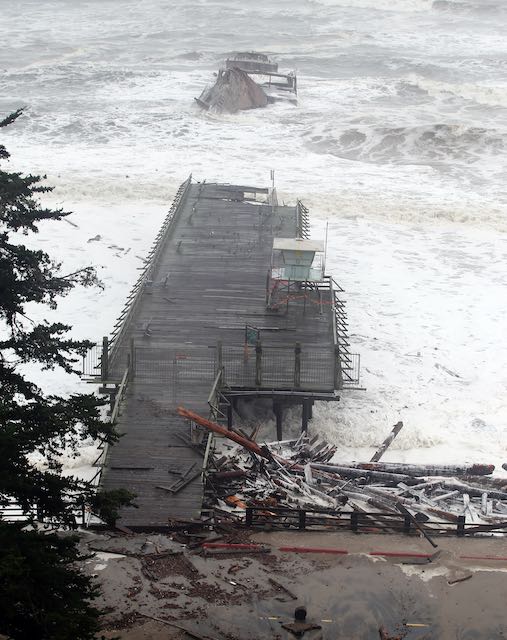 Capitola City Manager Jamie Goldstein said the tide at its peak was at 10 feet, four feet above normal high tide.
Heavy waves all but destroyed the wharf at Seacliff State Beach, half of which has collapsed into the ocean, said Mike McMenamy, California State Parks Public Safety Superintendent for the Santa Cruz area.
The picnic area also sustained severe damage, where the tides pulled picnic benches into the ocean and smashed telephone pole-sized logs into the wharf, wall and walkway.
Crews there rescued seven adults and two children from the Las Olas neighborhood, McMenamy said.
As a result of the storm and tidal surge, all local state parks will be closed through at least Jan. 9 while officials assess the damage, he said.
"The best thing the public can do is let the first responders and safety personnel do their work so we can get them open as soon as possible," he said.
After the Dec. 31 storm, workers with shovels and with heavy machinery were removing mud and debris from Watsonville homes, driveways and waterways, as residents dug themselves out and threw out furniture, appliances and clothes into giant dumpsters.
"I have no washer, no dryer, no freezer," said Susan Louden, who has lived in her Anderson Drive home for 21 years.
The floodwaters entered her garage, destroying the appliances and most of the items stored there, and at one point came bubbling up through her floorboards, she said.
Louden has the flood insurance required of homeowners living in the floodplains of the Pajaro River—and of Corralitos and Salsipuedes Creek—and also has possible financial assistance coming from the Federal Emergency Management Agency. But since Monday was a federal holiday, Louden was waiting for Tuesday when a probable slog through mountains of red tape will begin for her and the other victims of the flood as they wrangle with insurance providers and restoration services.
While City and County officials anticipated the storm that was approaching during the new year, the sheer volume of water overwhelmed Corralitos Creek, which overran its banks and flooded several neighborhoods in Watsonville.
Laken Drive resident Michelle Deering said she was rescued in a kayak as waters quickly rose Saturday night.
"I had to act very quickly," she said. "It was frightening, especially since we had no warning. I didn't know what was going on. I can tell you this: At the next city council meetings they are going to hear from me and a lot of other people from around here."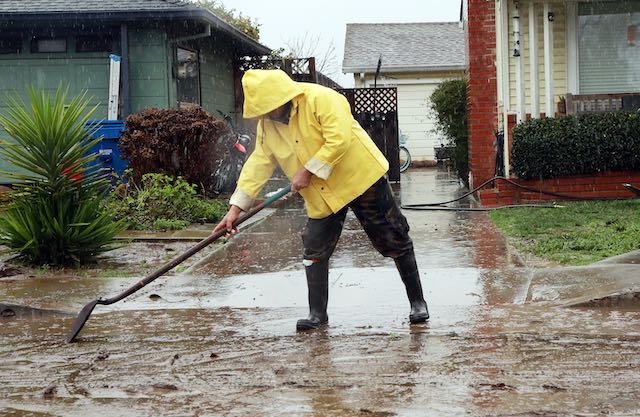 Laken Drive stems off of Holohan Road near Corralitos and Salsipuedes creeks, and has been barricaded since Sunday morning due to standing water and scores of damaged homes.
According to Santa Cruz County Flood Manager Mark Strudley, roughly 10 inches fell in the Santa Cruz Mountains—more than twice the amount predicted—which was caused in part by the storm unexpectedly stalling over the region.
While hundreds of people received mandatory evacuation orders, many residents did not receive the alert, or got them too late, he said.
"The reason there was not much warning here—if any warning at all—was that we did not expect this to occur," Strudley said during a Tuesday meeting of the Pajaro Regional Flood Management Agency. "We did not expect this level of flooding or breaching of Corralitos Creek to occur at all."
As a result, the scope of the evacuation zones were limited to the Orchard Park neighborhood and College Road area, not the City of Watsonville itself, Strudley said.
While the Pajaro River did not reach the 32-foot mark that would have brought it to flood stage, it did reach 22 feet thanks to runoff from the Santa Cruz Mountains.
But Corralitos Creek peaked at 16.91 feet—nearly a historic level—causing the creek to break from its north and south banks between Green Valley Road and East Lake Avenue near Atkinson Lane, Strudley said.
That sent floodwater to Holohan Road, the Orchard Park neighborhood, College Road and several low-lying neighborhoods, he said.
Watsonville City Councilwoman Ari Parker said that a more focused level of communication—which includes in-person communication—is essential for the senior communities, which largely lie in the flood zones.
"That's been the biggest and most difficult thing for all the seniors in this area, that they don't always check—a lot of them don't go online," Parker said.
The countywide evacuation orders also included parts of Felton and the neighborhoods on either side of Aptos Creek in Rio Del Mar.
Santa Cruz County officials on Tuesday declared a local emergency in the wake of the atmospheric river winter storm on Dec. 30 and 31 that ravaged roads and infrastructure and caused widespread flooding.
The City of Watsonville followed suit, with City Manager Rene Mendez declaring a local state of emergency due to the significant damages from the storm and floods.
These declarations, expected to be ratified by the jurisdictions' elected leaders at upcoming meetings, will allow them to request state and federal funding.