Students in the local dance class, Estrellas de Esperanza, taught by Ruby Vasquez, hosted an information session for the public Wednesday evening to learn about a Mexican holiday tradition called La Rama.
Maestro Claudio Naranjos Vega traveled from Vera Cruz, Mexico, to run the class at Cabrillo College Watsonville Center. Topics in the course included: the purpose of La Rama, traditional songs and lyrics and dance steps.
"All of this will come together on December 1st when we'll do the Rama procession and have a community fandango," Vasquez said.
The free Rama celebration takes place from 5-6:30pm Dec. 1 at the Watsonville Certified Farmers Market at Peck and Main streets. The fandango will follow and unfold from 6:45-8pm at the Youth Center, 30 Maple Ave., in Watsonville.
Sponsors include Arts Council Santa Cruz County and the Farmers Market.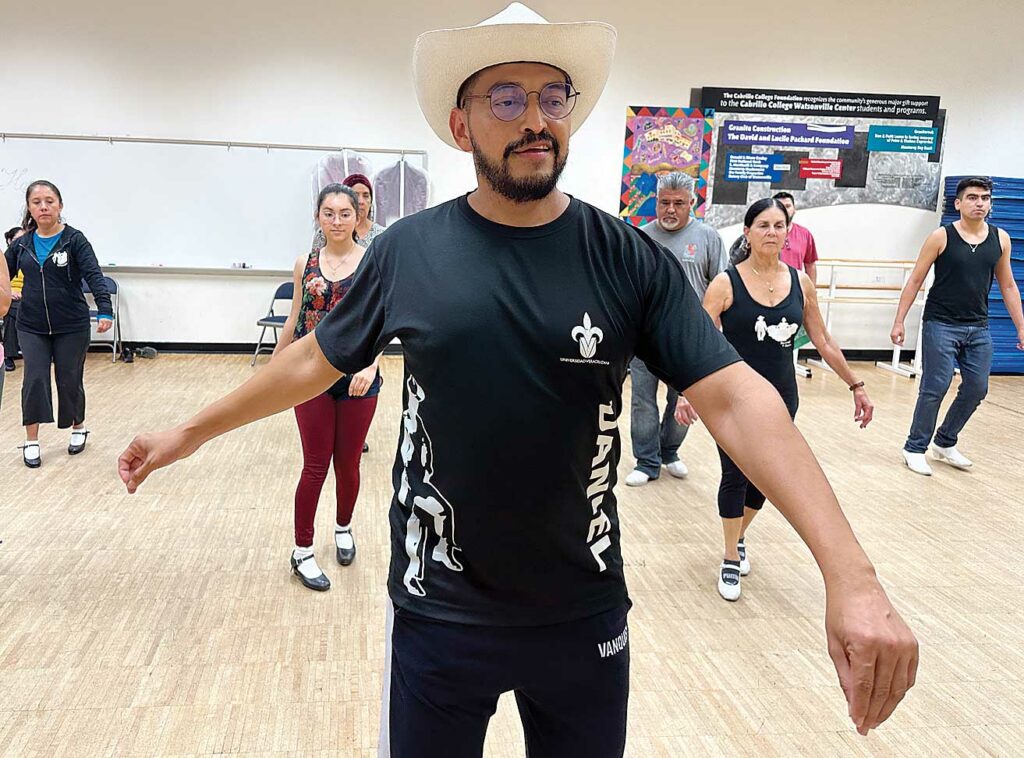 Mexican dance hits Crocker Theater
The Watsonville-based folkloric dance organization, Esperanza del Valle, will present Mexico en el Corazón, or Mexico on the Heart, at the Crocker Theater in Aptos, featuring traditional dance and music from Vera Cruz, Mexico.
Universidad Veracruzana dance instructor, Daniel de Valle Hernandez, of Vera Cruz has been joined by Guillermo Hernandez Lagunes and Nicolas Hernandez Lopez over the past several days teaching dance steps to members of EDV to prepare for the stage production.
Mexico en el Corazón features dances from the Mexican states of Vera Cruz, Nayarit, Colima, Michoacan and Jalisco. EDV will also present their own coreodrama Los Dos Hermanos on the same ticket.
"It is an honor to welcome our special guests from Vera Cruz to grace the stage with Esperanza del Valle," said EDV director Janet Johns.
Live music will be performed by Cuatro con Tres and Mariachi Tapitio.
Performances are Nov. 18 at 8pm and Nov. 19 at 3pm at the Cabrillo Crocker Theater in Aptos. General admission is $16, seniors are $13 and students/children are $10.
For tickets, visit tinyurl.com/3dpje9we.