WATSONVILLE—As Santa Claus waved to the crowd of kids and parents running through the Watsonville City Plaza to meet him at Sunday's tree lighting ceremony, the early day fire engine that carried him down Main Street and to the front of the city's downtown park announced the arrival of Jolly Old St. Nick with a wailing siren.
"Santa, Santa," one boy said before looking back at his family to say, "He's here."
Santa's grand arrival was part of the city of Watsonville's annual tree lighting ceremony that last year was held virtually because of the pandemic.
At least 150 people gathered at the Plaza as the sun went down to officially kick off the city's holiday events. After a joint countdown, Santa turned on the lights wrapped around a live 28-foot holiday tree and surrounding bushes and props, drawing loud cheers and claps from the crowd.
"It's really special to bring the community together during this time of the pandemic," said Watsonville Mayor Jimmy Dutra. "To get them out to the Plaza and unveil the lights downtown, I hope they really enjoyed this."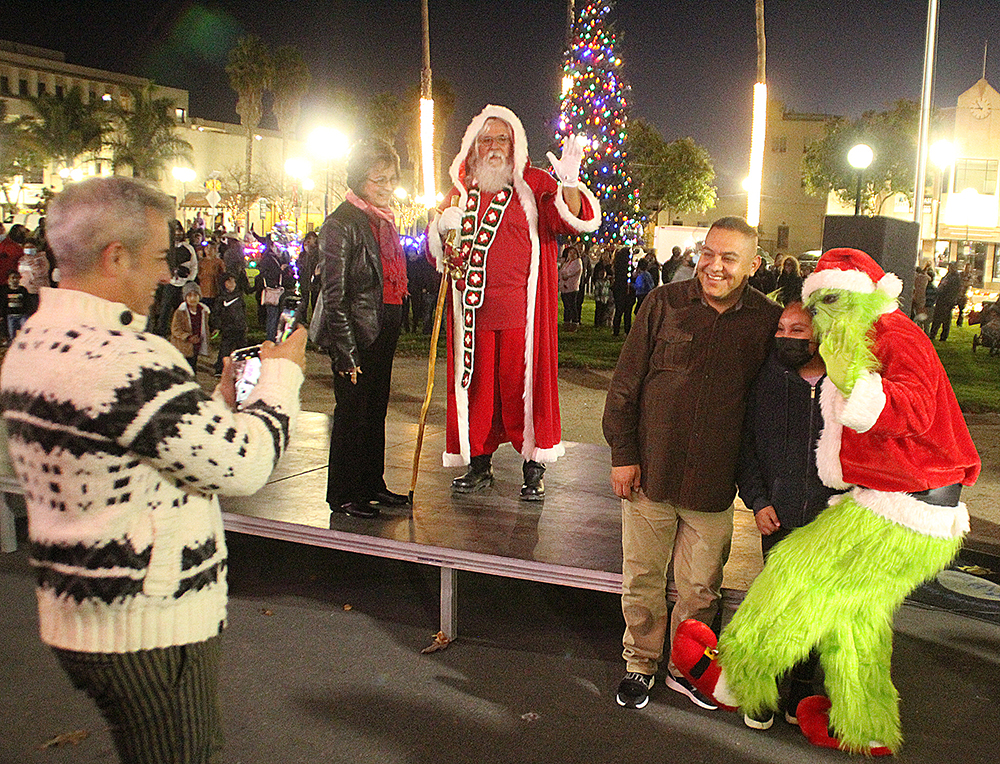 Before Santa's arrival, instructors from El Sistema Santa Cruz/Pajaro Valley played a handful of Christmas songs for those seated and standing throughout the park. And after Santa disembarked from the fire engine he tussled with the Grinch before handing him a wrapped present to settle his fuzzy green adversary. They then took photos with the dozens of families in attendance.
The duo is expected to be a part of the city's upcoming second annual Santa Tour, where Santa Claus and Mrs. Claus will make special early visits to various neighborhoods throughout the city in a Watsonville Fire Department engine over three days.
---
A map and schedule for the Santa Tour will be released in the upcoming weeks at cityofwatsonville.org.