LIVE OAK—A 17-year-old Aptos High School student died Tuesday after he was stabbed multiple times, and two other students—14 and 17—are facing murder charges for the attack, which occurred on the school's campus.
Santa Cruz County Sheriff Jim Hart made the announcement during a press conference Tuesday night.
The 2:30pm incident drew about 15 patrol cars from the Sheriff's Office and the California Highway Patrol who raced to establish a crime scene and shut down the entrance and exit from the campus at Freedom Boulevard. Hart said deputies found a boy suffering from multiple stab wounds near the campus' swimming pool and that a deputy performed CPR until paramedics arrived. The school was put on lockdown as search teams combed the campus with guns drawn and a K9.
Central Fire set up a landing zone at the school baseball field where a CALSTAR rescue helicopter flew over the campus before landing in the outfield of the diamond. The victim was taken from the crime scene to the field by paramedics from American Medical Response and loaded into the helicopter before being taken to a trauma center outside of the county.
Aptos High remained on lockdown until about 5:30pm.
A huge logjam of traffic, mostly parents trying to pick up their children, lined up along Freedom Boulevard back to Highway 1 where a CHP officer grappled with traffic control. Near the entrance to the campus, a clutch of parents hugged one another, some in tears, as they yearned for information about the unfolding events. They took turns making frantic phone calls while trying to comfort one another.
It is unclear whether the suspects or the victim were involved in criminal street gangs. Hart declined to comment on the matter Tuesday, citing the ongoing investigation.
"It's something we will be looking into in the next few days," he said.
Hart said the incident was the first on-campus homicide he has seen in his 33-year law enforcement career in Santa Cruz County.
About 25 people are assigned to the case, Hart said. He added that witnesses may have recorded the attack on their cell phones, and asked them to come forward. Witnesses, Hart said, would not face criminal charges.
"Please come forward and provide us with that evidence," Hart said. "It could be critical to this case."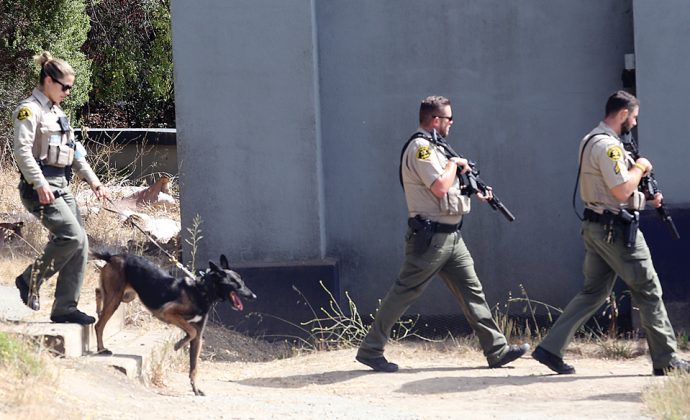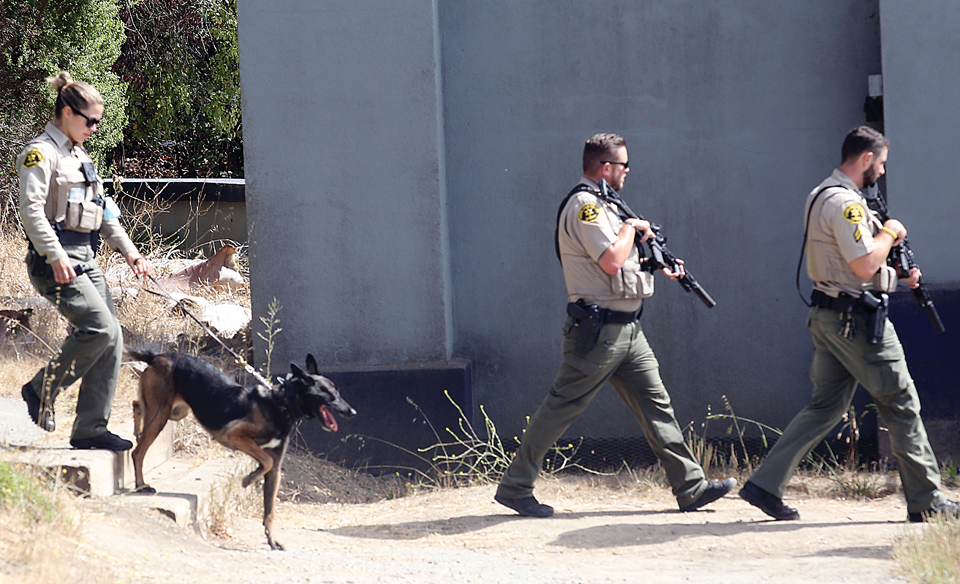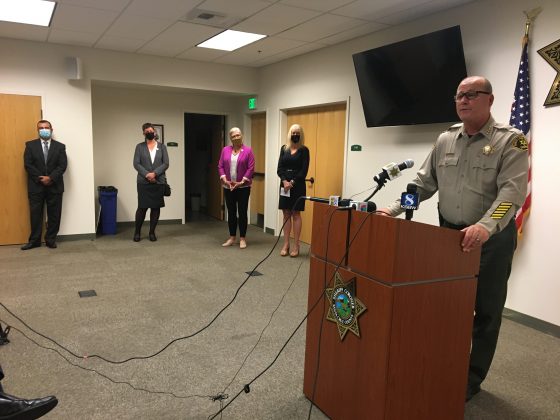 Pajaro Valley Unified School District Superintendent Michelle Rodriguez said PVUSD would offer grief counselors on Wednesday and Thursday at Cabrillo College's Aptos campus in Building 100, and the Watsonville campus in Building A.
The district also held a community forum about the stabbing Thursday night.
"Our hearts are heavy tonight as we mourn the death of our Aptos High student," Rodriguez said. "This senseless tragedy is a loss for all of us who knew the student, his parents, his friends and our community but most importantly his family."
Grief counselors will be at Aptos High today when the campus reopens from a two-day closure. So too will Sheriff's deputies, Rodriguez said in a letter Wednesday.
"We have received an outpouring of concern around campus safety and will continue to listen and seek a model of staffing and support that is responsive to the needs of our community," she wrote.
A GoFundMe page has been set up to help the family of the victim defray funeral costs. The creator of the page wrote that she gained the family's permission to "grieve their loss and have them not to worry about how they're going to pay for upcoming bills and expenses." The author described the student as "a kind-hearted and respectful young man" by neighbors and family.
More than 720 people had donated roughly $37,500 as of Thursday afternoon.
Another PVUSD student was arrested Wednesday after she pulled out a knife during an altercation at Cesar Chavez Middle School, Watsonville Police Department spokeswoman Michelle Pulido said.
School staff detained the 13-year-old and held her until WPD officers arrived to arrest her some time after 8:40am.
Barrios Unidos and the Community Action Board are planning to hold a vigil at Romo Park in downtown Watsonville—across the street from the City Plaza—on Sunday from 10am-noon for the youth and their families.
Anyone with information about the Aptos High stabbing is asked to call Sgt. Billy Burnett at 454-7702.
•••
Anyone who needs additional counseling or support can call Pajaro Valley Prevention and Student Assistance at 728-6445, or Santa Cruz County mental health services at 454-4170.