WATSONVILLE—The historic Derpich Building in downtown Watsonville is coming alive once again after being acquired by two sisters with a big vision.
Jennifer Santillana and Tabitha Stroup found the property for rent when strolling down Main Street. Stroup, owner of Friend in Cheeses Jam Co. and Terroir in a Jar, was looking for a new base of operations.
The sisters realized that the building, first constructed in 1915 and housing the popular Miramar restaurant between 1947-1998, consisted of multiple storefronts. They saw an opportunity to open a string of businesses.
"Being on Main Street, we knew we needed retail," Santillana said. "Tabitha doesn't do retail, she sells directly to chains or stores. So she offered me the opportunity to come in and fill that niche, and step out of my comfort zone. It was a partnership that worked for both of us."
The first storefront is Shef, a vintage housewares shop. The store, which officially opened in October, offers a mix of vintage furniture, decor, cookware and more. Santillana had sold antiques from her garage for years, but the new shop, she said, is a fresh venture.
"This is the first time I've had a brick-and-mortar," she said. "It's nice to actually meet your customers, instead of just sending things off in the mail. Interacting with people, hearing what they are looking for … it's great. That's kind of my business—helping people find what they need."
Santillana said prices at the store can range between $1 and hundreds of dollars.
"I want people to know that we've got something for everyone," she said.
The store also includes a "cookbook lounge," where people can come browse a large collection of donated cookbooks for free, and save recipes to try at home.
"The idea is, you can come here and browse our collection, make free copies of recipes or take photos with your phone," she said. "We have a lot of unique books. People from [Pajaro Valley Historical Association] have shopped here, and been really excited to find local cookbooks they haven't seen in years."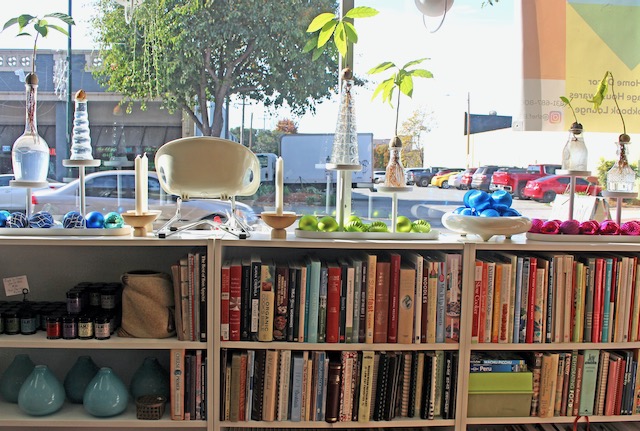 Sustainability is a major focus of the sisters. Stroup's company, Terroir in a Jar, works with local farmers, creating products from their "unsellable" produce and letting them sell them back to the community through "Community Supported Agriculture" programs, farmers markets and more.
Shef fits into that "green" movement as well, Santillana said.
"There's so much waste in this world," she said. "I like the idea of buying things that are used. That's something I hope more people will embrace. I do think people are changing their ways with consumption. We want to be an example of that."
More businesses will join Shef soon. Two doors down, the sisters plan to open "526 Main: A Place to Gather, A Place to Learn." The space will be available for groups to rent for meetings and other gatherings.
The Miramar will be the final component. The sisters are still deciding on how exactly they will open the iconic bar—they are considering a coffee bar that can switch to serving wine and beer in the evenings.
"We're not sure exactly how we will use the space," Santillana said, "it's up in the air. We want to be sure to bring it back in the right way."
For now, Stroup will continue using the space's kitchen, and Shef is up and running. Santillana said that so far, Watsonville has been very welcoming to the sisters.
"It's been so nice meeting everyone, especially the other business owners nearby," she said. "We have a real interest in maintaining the spirit of this city. If you're not from here, it's a great idea to come here and see the shops, eat and drink … I'm always trying to promote all of Watsonville and what's going on. That's really important to us."
Shef, 532 Main St., is open Thursday-Friday, 10am-1pm and Saturday 11am-2pm. Visit the online store here. Santillana recommended following the shop on Instagram for daily updates.