WATSONVILLE—The Pajaro Valley Unified School District launched its virtual academy one year ago as an option for families concerned about Covid-19, and who wanted to keep their children at home even if students were allowed back into classes.
When the all-online classes began on Aug. 17, 300 students in K-12 were ready to log, under the tutelage of teachers—one per grade—dedicated entirely to the new virtual school, says Principal Jennifer Ponzio.
Now, the school has seen its first graduation, with 13 students receiving their diplomas.
Since it opened, the school has found a permanent place in the district—as have similar ones in districts across the state—as educators look for new ways to prepare students for the increasing numbers of tech-based careers that dominate nearly every sector.
"There is definitely a niche for this type of education program," Ponzio said. "Over the last decade with all the advances in technology, and with many students having a computer. Not every student, and I'll even say not every teacher, and not even myself as an administrator, were made for a brick-and-mortar school."
Student assessment scores are "off the charts," Ponzio says, and the school recently earned its three-year accreditation from the Western Association of Schools and Colleges.
That organization praised the school for giving students a range of choices about how to complete assignments and curriculum, Ponzio said. This includes the ability to create their physical education classes.
Ponzio says the Virtual Academy appeals to all types of students. This includes those who have fallen behind in other schools, and others hoping for more direct teacher support. Some are diagnosed with anxiety and depression, while others want to accelerate their education and graduate early.
"That's what's really cool about this program," she said. "We also have those that felt like they fell behind in regular classrooms. With this class they get a lot of one-on-one support."
Students share experiences
Johnathan Cuevas says he chose the Virtual Academy as a way to shield his sick father from Covid-19.

He says he missed attending Watsonville High School, and hanging out with his friends. But after weathering the initial stress of a new learning modality, he says he learned how to manage his time and complete his work.
He plans on attending Cabrillo College and then transferring to San Jose State University. He is unsure what he wants to study.
"It was a really good experience," he said.
Alex Alcantar-Mora, who also went to Watsonville High before joining the Virtual Academy, says he enjoyed the opportunity to work at his own pace.
Alcantar-Mora went to the Virtual Academy after his mother expressed concern about him returning to school. But he was also excited about the small class sizes and the one-on-one opportunities with his teachers.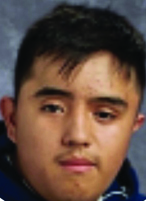 "That was better for me," he said.
Alcantar-Mora plans to apply to IBEW 234, an electrical union that will provide on-the-job training for a career as an electrician.
For younger students just starting their high school careers, he recommends an approach that combines the light-hearted philosophy of youth and the forward-thinking of young adulthood.
"Have fun, because it's high school," he said. "And when you become an adult you'll probably miss it. Also, plan your future wisely because when high school ends you might feel pressured to do something you really don't want to do."