WATSONVILLE—The Watsonville Strawberry Festival will return on Aug. 8, a year after the pandemic forced the cancelation of the event in 2020. With it comes all the usual excitement—strawberry treats, live entertainment, vendors and more—as well as the selection of this year's official poster design.
A piece by Watsonville artist Judy Gittelsohn was chosen for the 2021 poster, which will also be featured on event t-shirts and other items.
Gittelsohn said she wasn't exactly chosen in a conventional way. Assistant City Manager Tamara Vides had shared her strawberry painting with Nick Calubaquib, Director of Parks and Community Services.
"[Nick] emailed me and asked, 'Hey, could we use your painting?'" she said. "I agreed immediately—I was delighted."
Gittelsohn had drawn attention for a previous strawberry piece that she created for the 2018 Moveable Murals Exhibit, an annual show by Pajaro Valley Arts that showcases local artwork around town.
The new painting, featuring a stylized strawberry against a multi-colored sky, was originally done for an art series for the Central Coast Juicery, entitled "Delectable Vegetables."
"Paint is the greatest medium for depicting nature, especially plants," Gittelsohn said. "It just works beautifully."
Gittelsohn teaches art to local residents with special needs, which she said has shown her its benefits. 
"Art can help in increasing our attention span," she said. "These days, every impulse is in the other direction… We are constantly bought and sold. Painting is an antithesis of that."
Gittelsohn also owns a small artist's retreat in Aromas with her husband, Greg Gatwood. Since opening the retreat last year, they have been reaching out to nearby farms. This includes McGinnis Ranch, a small family-run farm specializing in organically grown berries, vegetables and flowers.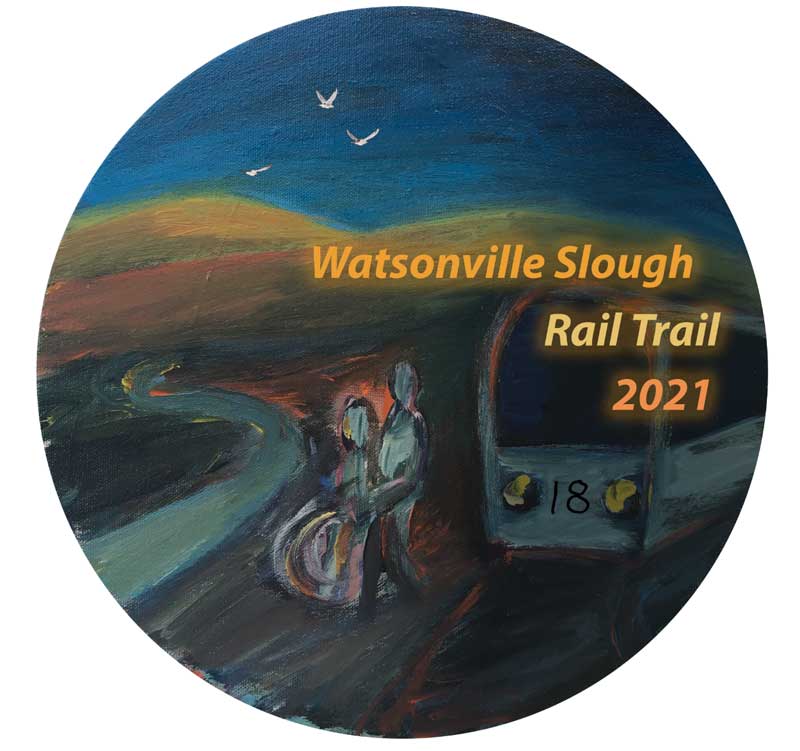 Gittelsohn, along with McGinnis Ranch owners Howard and Polly McGinnis' daughter Sandy, decided to team up for a special project for the Strawberry Festival. The ranch has created a homemade strawberry jam to sell at the City of Watsonville's festival booth, with Gittelsohn's art on the label.
"I just loved the idea of highlighting local farms," Gittelsohn said.
In addition to the Strawberry Festival, another piece by Gittelsohn was recently chosen for a sticker design for the Friends of the Rail and Trail. A volunteer with the organization, Gittelsohn said that Friends board member David Van Brink asked her about painting a piece to be representative of Segment 18 of the Rail Trail, which officially opened last weekend.
"I'm a big rail proponent," she said. "Being chosen to do this … for this segment, which is in my town… is amazing."
Gittelsohn said she is "impressed, and so grateful" to the Watsonville community for their support of her art.
"My work is not completely conventional, so it's heartwarming and mind-blowing that Watsonville has acknowledged and supported me," she said. "I am so pleased, and feel so fortunate to live here. There's a lot going for this place."