WATSONVILLE—When Bike Santa Cruz County approached South County officials to start up a monthly community bike ride, Watsonville Cyclery owner Julian "Jules" Mandujano was eager to get involved.
Every last Friday of the month, Mandujano offers up his business at 25 East 5th St. as a starting point for the Watsonville Bike Party. Residents gather in the cyclery's parking lot before heading out onto the streets later in the evening, donning helmets, reflective clothing and safety lights.
"It's a great way for people to get involved and work for bike safety," Mandujano said.
The City of Watsonville is in the process of building a secure infrastructure for bicycles. Recently, bright green bike lanes were added all over the city, and more are planned. Mandujano says it's a good start, but that there is still a long way to go.
"After buying a bike people still ask me, 'So, where can I ride this?'" he said. "I point them to places… the sloughs, the levees. But it's just not obvious."
Watsonville Cyclery was established almost 14 years ago, with nine of those years at its current location. Mandujano sells everything from cruisers and tricycles to BMX and electric pedal-assist bikes. He says that the selection available at Watsonville Cyclery is meant to support the community—it's less about the latest and greatest technologies and more about getting people out riding.
"We're a smaller shop than those big, fancy shops in Santa Cruz," he said. "I'm not going to sell you a super-fancy, expensive bike. It's a totally different community down here… that's who I'm here for."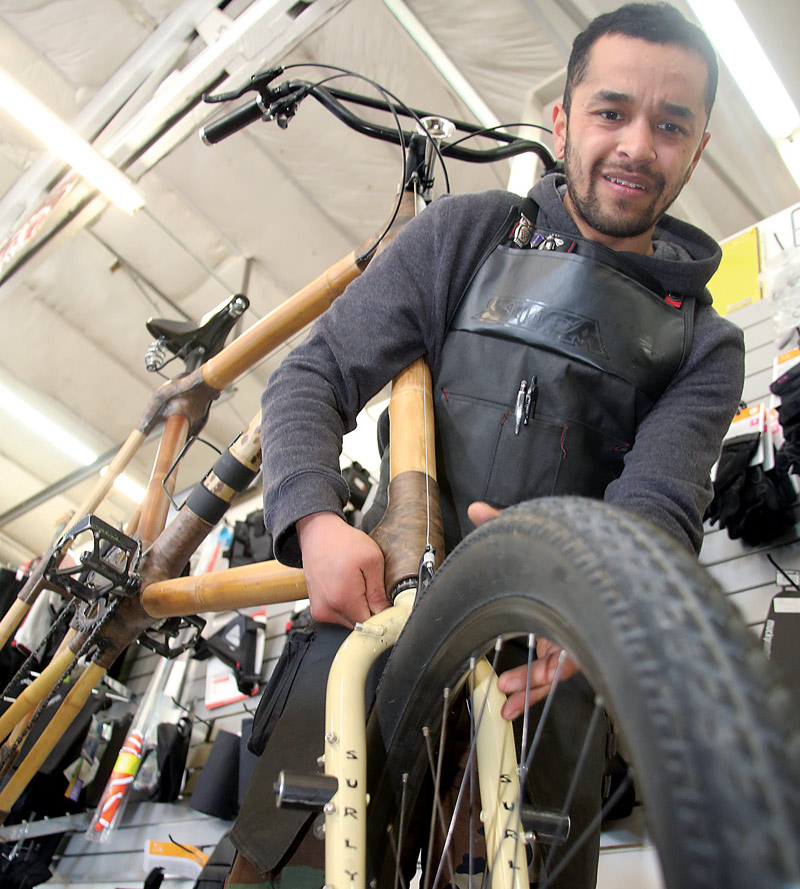 The business also offers bike repairs, from basic tune-ups to complete overhauls. On the side, Mandujano tinkers in the back of his shop—he has constructed two "tall bikes," one from metal and the other bamboo, along with his friend from Calfee Design in La Selva Beach.
One thing Mandujano emphasizes is the importance of finding the right bike. Just because your friend has one type doesn't mean you need the same thing, he said. The decision can be as important as buying the right car.
"I'm passionate about my job," Mandujano said. "I want to make sure that people who come in here get some knowledge. That they're not just buying something because they think it looks cool. Every bike has a purpose."
As for the future of cycling in Watsonville, Mandujano is optimistic.
"I think people are definitely feeling better about riding now," he said. "It's about pushing safety on kids, their parents and drivers. It's about working together as a community."
For information about Watsonville Cyclery visit watsonvillecyclery.com. For information on the next community ride, visit Watsonville Bike Party's Facebook page.