Since 2009, Blume Industries (BI) and Whiskey Hill Farms (WHF) have jointly operated a research and development incubator in Watsonville, aiming to find regenerative solutions for food, fuel and waste management.
And now they will have the opportunity to expand their reach, sharing what they do and helping farmers become more efficient and sustainable.
In March, BI and WHF announced they were recipients of a major grant from the U.S. Department of Agriculture's (USDA) Western Division of Sustainable Agriculture Research and Education (SARE).
The Farmer Rancher Grant is one of seven grant programs from SARE. In order to apply for the grant, researchers must partner and work with producers, and prove that the need for the research comes from the community.
"[This grant] is a validation of the work we've been doing for the last several years," said Tom Harvey, vice president of BI. "The USDA choosing us is really flattering. This is a really important first step for us in partnering with them."
According to Stacie Clary, Communications Manager for Western SARE, the process of selecting recipients is long and thorough. After putting out an offer for proposals, SARE outlines the criteria and what they're looking for. Technical review panels go through, score and rank proposals. The final applicants are given to SARE's board of directors, who make the final decision.
BI is a biotechnology company designing and manufacturing biorefinery systems and equipment. They convert food waste, unmarketable produce and other crops into cost-effective fuels under the Blume Distillation label.
BI is headquartered at the 14-acre Whiskey Hill Farms, a certified organic farm which uses both open fields and greenhouses for regenerative soil science and ecological design.
According to CEO of BI David Blume, during prohibition, Whiskey Hill was home to a distillery where they made moonshine, selling it at nearby Corralitos Creek. As such, the land was gradually degraded, it's redwoods cut down, topsoil washing away.
"Now it's our job to regenerate this soil," Blume said. "We've taken the soil from an organic matter content of below 2%, which is considered dead, and now it's up to 15%. And we're not buying anything. We're intercepting wastes, surpluses… things that would normally be dumped into a landfill, and converting those into soil."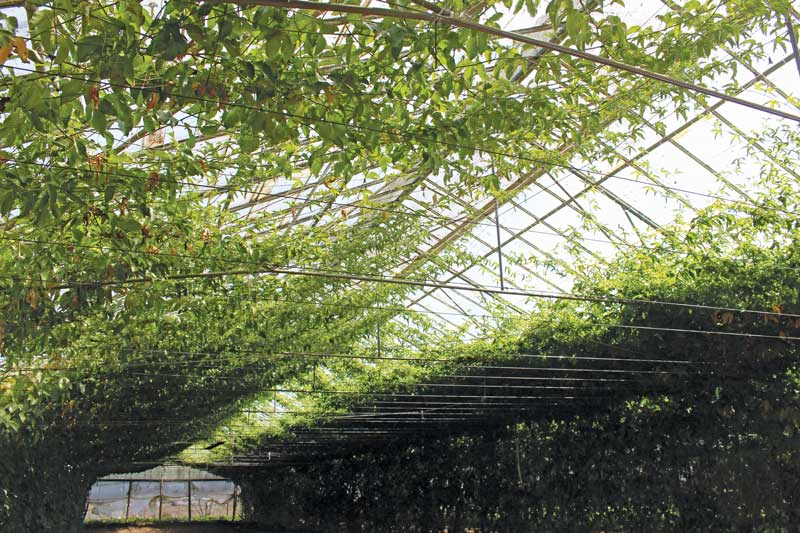 That type of regenerative thinking was a major factor of why BI and WHF were chosen for the Farmer Rancher Grant, Blume said. Another was their focus on education and serving small, local farms.
"We can use the grant so that others can duplicate what we do here," he said.
Added Harvey: "Dave comes up with all these ideas, designs… Now we'll have the budget to actually make them and share them with the community. Which will benefit everyone at the end of the day."
Before Covid-19, thousands of farmers and researchers, school groups and more came to visit the facility for tours and workshops. One such group was the Sustainable Systems Research Foundation (SSRF), a nonprofit "think tank" in Santa Cruz which addresses environmental and sustainability issues.
Ronnie Lipschutz, co-director of SSRF, said he was amazed when he went on a tour of the facility.
"It's the sort of thing we're really interested in," he said. "Small-scale urban farming and gardening."
SSRF began working with BI and WHF last year, and played a major role in writing and submitting the grant proposal to SARE.
According to Lipschutz, 45-50% of farms in Monterey, Santa Cruz and San Benito Counties are less than 50 acres. Around 45% of them have sales of less than $10,000 per year, and quite a significant number of those are minority-owned.
These are the types of farms BI and WHF want to help serve with this grant, Harvey said.
"At the end of the day, we're all about this community," Harvey said. "We really want to be an integral part of local farming."
To learn more visit blumedistillation.com and whiskeyhillfarms.com. For information about potential funding opportunities and other resources visit western.sare.org.