WATSONVILLE—A Watsonville man was arrested Tuesday for allegedly sexually abusing a child.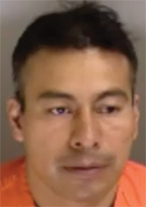 Alfredo Perez Galindo, 40, was charged with lewd and lascivious acts with a child under 14 and continuous sexual abuse of a child. He was booked into Santa Cruz County Jail in lieu of $100,000 bail, jail records showed.
According to Watsonville Police Department spokeswoman Michelle Pulido, Galindo groomed the victim to participate in multiple incidents of sexual abuse and convinced the child not to tell anyone.
Anyone with information is asked to call Det. Nelson Hernandez at 768-3358.