SANTA CRUZ COUNTY—A Watsonville man wanted on suspicion of attempted homicide for a drive-by shooting in Live Oak was arrested Monday in Idaho.
Patrick Diaz, 29, was taken into custody for his alleged involvement in the Jan. 13 shooting of a man on Soquel Drive in Live Oak, said Santa Cruz County Sheriff's Office spokeswoman Ashley Keehn.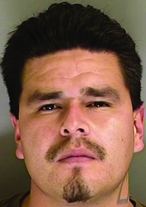 Sheriff's detectives identified Diaz as a suspect in the shooting near Winkle Avenue in the days after the incident. Detectives got information that Diaz had fled some 800 miles northeast to Twin Falls, Idaho, Kheen said. With the help of the Twin Falls Police Department, Diaz was arrested Monday without incident.
Daniel Anthony Tostado, 19, of Watsonville, was previously arrested on Feb. 16 in connection with the attack.
The victim was shot as he was crossing Soquel Drive near the popular Santa Cruz Flea Market that takes place in the former Skyview Drive-In theater.
He was taken to Dominican Hospital, just up the street, and then flown to an out-of-county trauma center, Santa Cruz County Sheriff's Lt. Greg Lansdowne said. The Sheriff's Office said then that the victim was expected to survive.
Witnesses said they saw a black BMW 300 series sedan speeding from the area after hearing three to four shots ring out in front of the sprawling Emerald Bay apartment complex.
Detectives also identified a third suspect who is currently in custody for unrelated matters, Keehn said.
Diaz is facing charges in Twin Falls and will then be extradited to face his charges in Santa Cruz County. Those charges include attempted murder, assault with a deadly weapon, gang enhancements, parole violation, assault with a semiautomatic rifle, and numerous enhancements of using a firearm during the commission of a felony, court records show.