Few people may be aware, but Watsonville once had its own currency.
From circa 1902 through 1929 there were $5 and $10 bills with the words "Pajaro Valley National Bank of Watsonville" printed on them.
"I have bought them in the past, but not so much anymore," said Manuel Fuentes, owner of Fuentes Coins & Metal Detectors in Watsonville. "At one point many cities and towns nationwide had their own currency, like these that have Pajaro Valley County Bank and Watsonville printed on them; they are very rare."
Fuentes said he has no idea how many of the bills are out there in people's collections and coin shops or hiding in someone's garage or attic.
"The most common are $5 and $10 bills," Fuentes said.
A small $5 bill in rough shape fetches about $700, he says, while one in very good condition can go for around $2,000. A large size note can go for a lot more.
"There are people that want to have these in their collection," he says. "Now and again someone might bring one in from an estate sale or a garage sale."
Fuentes says that there were also the popular trade tokens that were generated from saloons, grocery stores, bars, billiard parlors and other local businesses. He said the tokens were designed to lure customers back to businesses in that they were only of value at the business named on the token. Typically, they are the size of a dime up to a half dollar. Watsonville roughly had around 300 different tokens.
"One day a man came in and said he wanted this token because it actually had his family name on it, Lake," Fuentes said. "He offered me $100 for it. Once in a while, I'll see a Resetar Hotel token come in that can sell for around $20. Then a very rare Watsonville Royal Hotel Bar—a square token—has a minimum $150 value."
Tokens are very common, Fuentes says, but to collect one of each of them from a particular town is very difficult. He added that most of the trade tokens were made from the 1880s to around the 1970s.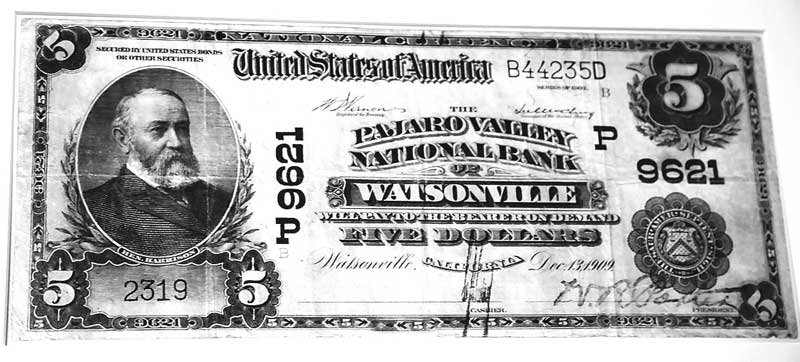 Fuentes says his interest in the subject began about 35 years ago in Mexico, when he was given a handful of coins. He went to the library and began to research them. Then, he purchases more coins from neighbors.
"Other coins kept coming in and then I got my first metal detector and I started searching for treasures in Mexico," he says.
Fuentes said he had no idea of how to run an open-door business when he first got started in Plaza Vigil 20 years ago.
"I started by myself the hard way: By myself," he said. "But I've learned that if you treat people well, they'll give referrals and that really helps. I also have a good account, with a 100% record on eBay. And right now there are no other coin shops around here."
Fuentes said that after he "got started in the world of coins, and little by little began buying tokens as well."
"I didn't even know what they were at first," he said. "One day someone just dropped off around 3,000 tokens; then another customer sold me a complete set of Watsonville tokens. I never know—from day to day—when something new, something unexpected will walk through the door. I try to study most everything that comes in. I'm doing OK. Knowledge pays."
Fuentes said he even had a rare token come in the door at his shop a year ago.
"Look at this one, Felton Enterprise Saloon," he said. "Its value was 5 cents back then, which was around 1910. I sold it for a good price. But since that Felton token is unlisted and doesn't appear in catalogs, it adds to its value and desirability for collectors. People like these tokens because they are loaded with history."
In his shop are books and catalogs that document the various dates, mints and so on, of the U.S. coins, world coins, tokens and paper money.
"Most of the time, what people bring in are common things," Fuentes said. "But once in a while they'll bring in something rare and different and they might not know what they have."
For information, call 724.0882.