The Watsonville Strawberry Festival is returning in full force this year, back to a three-day event for the first time since 2019.
The popular event runs this Friday through Sunday and will include food booths, many featuring strawberry-themed treats, as well as a beer garden, live entertainment, pie-eating contests, artisan and commercial vendors, nonprofits booths, a carnival and more.
"We are very excited to be able to bring this festival back to its full glory," said Jessica Beebe, recreation supervisor for the city's Parks & Community Services department. "Last year it was wonderful to be able to pull together a modified, scaled down version of the event after the Covid hiatus. But it's wonderful to bring it back to what the community has come to expect of it."
The festival, which highlights the region's most famous crop while raising money and awareness for local nonprofits, was first held in 1994. Initially called the Watsonville Strawberry Dessert Festival, it was meant as a way to raise funds to help the city recover from the 1989 Loma Prieta Earthquake.
After two years of pandemic-related struggles, organizers hope the festival can once again act as a healing experience.
"We hope people will come together and feel that sense of really moving forward after what we've all been through," Beebe said. "It's great, just watching the people's smiling faces, doing whatever it is they enjoy at the festival."
The event will kick off on Friday, Aug. 5, with carnival rides open 5-10pm and a performance by the Chicano All-Stars in Watsonville Plaza. The full festival, with booths, pie eating contests and events, will be held Saturday 11am-8pm and Sunday 11am-7pm.
Every year, the festival features a new event poster, with strawberry-themed artwork. This year, local artist Priscilla Martinez was chosen to create the piece, which depicts a heart-shaped basket of strawberries, with sunflowers and monarch butterflies, and a background showing an agriculture field in the Pajaro Valley.
"I was trying to go for 'the heart of Watsonville,'" Martinez said. "I wanted to make that the main focus—our agriculture, the landscape. And with the sunflowers, I was going for a summer-like theme."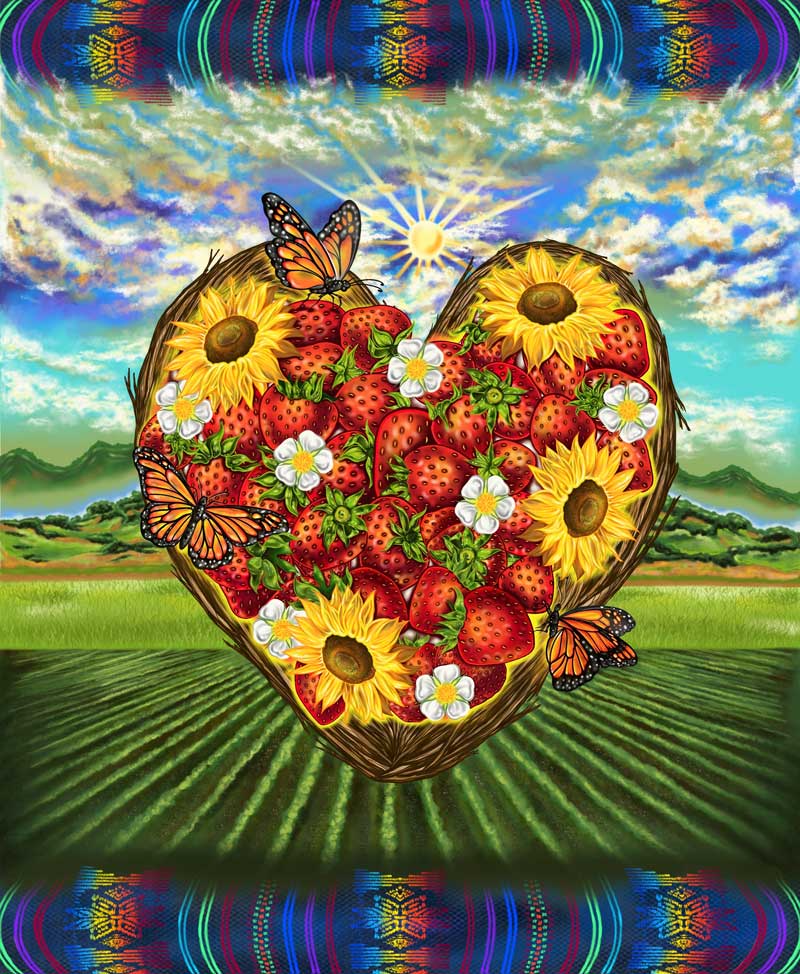 This is Martinez' eighth Strawberry Festival poster she has created. She said she loves how the event brings people together every year.
"It's something I've gone to every year since I was a kid," she said. "It's a family friendly event, where everyone can come and enjoy themselves."
Though the event does tend to attract out-of-town visitors to Watsonville Plaza each year, it is also a time for locals to celebrate their hometown, Beebe said.
"Watsonville takes a lot of pride in their community," she said. "With the festival, we highlight our history and culture."
Added Martinez: "I hope it's a good turnout, especially after Covid. I'm just really glad things are once again starting to pick up."
The Watsonville Strawberry Festival will be held Aug. 5, 6 and 7 in Watsonville Plaza, 358 Main St., Watsonville. Parking is available on surrounding streets and in nearby garages on Main and Rodriguez streets.
The City of Watsonville, Driscoll's, 102.5 KDON, Main Street Enterprises, Inc., Arte Del Corazón, iHeartRadio, 92.7 KTOM, Power Talk Central Coast, Alegría Musical, La Preciosa 100.7 FM and The Pajaronian are this year's sponsors..