SEASIDE—Monterey Bay F.C. midfielder Adrian Rebollar continues to ride the wave during the team's inaugural season in the United Soccer League Championship.
Rebollar and company are in a good position to still clinch a postseason berth after a 5-0 win over Indy Eleven during Hispanic Heritage Night on Sept. 17.
With the victory, the Union have 35 points in the Western Conference standings, trailing Rio Grande Valley F.C. (37) for the final playoff spot with just six matches left in the year.
"Every point counts," Rebollar said after a 1-0 win against Sacramento Republic F.C. on Aug. 13.
The Watsonville native earlier this season earned a spot on the USL Championship's Team of the Week in Week 22 for notching the game-winning goal against El Paso Locomotive FC on Aug. 6.
Rebollar earned a spot in Week 20 for recording a game-winning assist and finished the match with a 74.1% overall pass success rate in a 2-0 win over New York Red Bulls II on July 23.
He also recorded eight duels won, five interceptions, three chances created, three fouls won and one blocked shot.
The 22-year-old midfielder currently has four goals and one assist for Monterey Bay F.C. this season.
"It's getting yourself in position and of course, my teammates, doing everything they can to help get the result," Rebollar said.
Monterey Bay F.C. coach Frank Yallop said Rebollar was full of energy on the first day of training.
"[Rebollar's] brand new to the game but he's really learning quickly," Yallop said. "I think he even influences the game a lot, especially in the second half. When the game opens up he really comes to life."
Rebollar is slowly becoming a force in the USL Championship but he's also turning into a local superstar.
Yallop said being the local player is brilliant and makes for another great story, but that's not the reason Rebollar was brought on to the team.
"I did it because he's a good young player and he happens to be from Watsonville, so it kind of worked out well," Yallop said. "He deserves all the accolades he's receiving right now, but a career is not a few games. I expect him to improve and keep going, be a real force in the league."
Rebollar's jersey sold out on the first day it went on sale and fans are still in high demand of it.
Most of those same fans wait for Rebollar after the game to get autographs, take photos or just thank him for inspiring them.
Rebollar mentioned how much he loves interacting with the fans and it's a pleasure for him to take time to be with them.
"I'm big about my community and I'm proud to be from Watsonville, representing the 831," he said.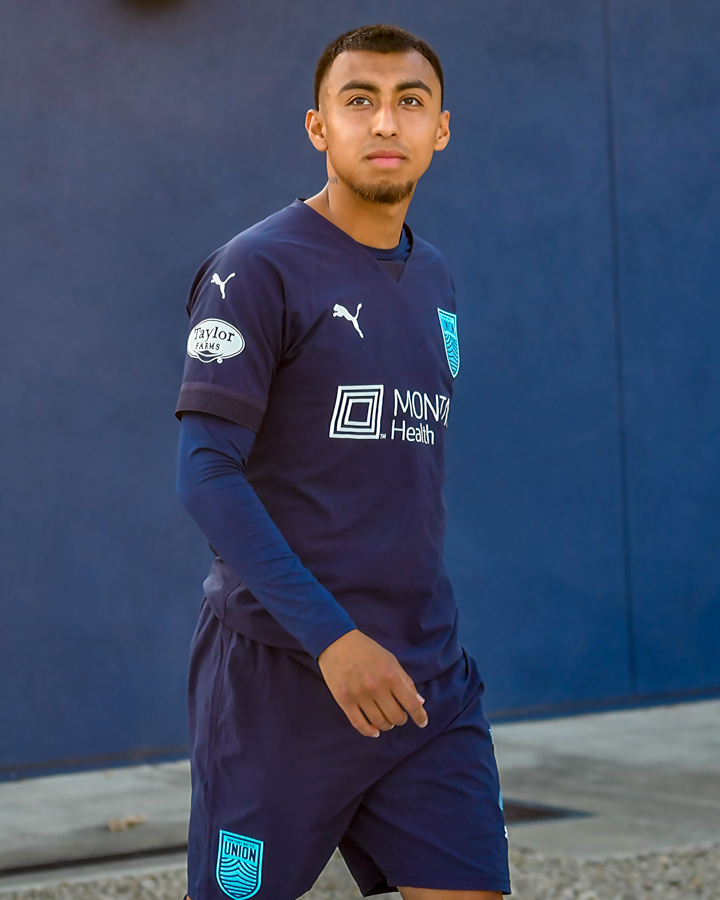 Rebollar's parents—Jose and Juana Alejandra—and his sister Nancy are his biggest supporters, by far.
The trio have attended each of Monterey Bay F.C.'s home games, holding signs with his name on it from section S3 at Cardinale Stadium at CSU Monterey Bay—Rebollar's alma mater.
The family attended a pair of road games including one against Oakland Roots SC in March and recently against Las Vegas Lights FC, which was postponed.
Juana Alejandra said she's extremely proud of Rebollar for making it this far because it has been a lifelong dream for him.
"If there's a way to describe it, it almost feels like a dream for me, too," she said. "When I see him on the pitch there's just so many emotions."
Rebollar began playing recreational soccer at Ramsay Park when he was in the first grade. Yet, he was different from a majority of the other kids, Juana Alejandra said.
"He wanted to play and we never pushed him into the sport," she said. "He wanted to be the first to arrive at practice and games."
At Amesti Elementary School, some kids in Rebollar's class would write that they wanted to be like their parents or a doctor.
The future professional soccer player would say that one day people would watch him play on TV. It was something he promised his family, as well.
Juana Alejandra grew up in a household that would watch and talk about soccer on a regular basis.
So, she hesitated the first time 4-year-old Rebollar asked to sign up for a recreational league.
"I would tell him, 'No son, pick a different sport,'" she said.
A year later, Rebollar got home from school one day and ran straight to his room to grab his birthday money he had saved in a piggy bank.
He came to his mom with a recreational soccer form and a pair of $20 bills in his hand, asking if he could sign up because his first grade teacher told him it was enough money to play.
Juana Alejandra and Jose took their son to his first day of soccer practice not knowing what would come next. One of the coaches asked if Rebollar had ever played but to his surprise, he hadn't.
"He wanted to sign up since he was a kid, nobody taught him how to play because he never watched soccer at the house," Juana Alejandra said. "I took him to register at Ramsay Park and since that day he hasn't stopped playing."
Juan Alejandra said Nancy, 24, has also played a major role in helping Rebollar get to where he is today. She used to take her little brother to numerous tournaments, and at times volunteering as one of the parent chaperones.
"Whether it was fundraising or whatever needed to be done, she was there for it all," Juana Alejandra said.
Juana Alejandra always believed her son could make it to the professional level, especially after what he accomplished with the Santa Cruz Breakers Academy and at CSU Monterey Bay.
"I believed in him and I did see it being difficult for him, but not impossible," she said. "He's always demonstrated and has been an example that hard work pays off."
Juana Alejandra said seeing people wearing a jersey with their last name on it is something special, almost indescribable. She also noticed that her son has built a small fanbase of people wanting to take a photo or get an autograph from the hometown hero.
"I'm sure they're proud to have someone representing the area, the 831, playing professional soccer," she said.
Rebollar said nothing is more important than having his family and the community out there supporting him.
"It means the world to me. I've said it again and again but it's the truth," he said. "It keeps us going. There's times when I'm exhausted and I seem a bit tired but I hear the crowd cheering me, cheering the team, it just gets us going again."
Fans have two more chances to watch Rebollar and Monterey Bay F.C. play at Cardinale Stadium, starting with a home match against Phoenix Rising F.C. on Wednesday at 7:30pm.
The home finale is against the Tampa Bay Rowdies on Oct. 1 at 7pm. For ticket information, visit montereybayfc.com/single-game-tickets/.