For more than 20 years, Crystal Bay Farm owners Lori and Jeff Fiorovich have offered the Pajaro Valley community a homegrown harvest tradition.
Every October, the couple transforms their farm into a family-friendly pumpkin patch, where people can come and pick out the perfect pumpkin, gourd or squash. The farm is decked out in Halloween decorations, offers live music on the weekends, highlights local artists, and hosts school groups throughout the week.
"We're still plucking along," Lori said. "We love the madness of it all. I can't imagine not doing this every year."
Located on the corner of San Andreas and Zils roads, Crystal Bay grows everything from strawberries to sunflowers, with a large focus on squash, including winter heirloom varieties that are endangered. They have a small vegetable garden, as well as a corn field that uses a 3,000-year-old seed source.
And of course—pumpkins.
"We grow everything ourselves," Jeff said. "So really, this all starts back in May or June. All farming is a lot of work, but what we like about pumpkins and squash is that there's only one harvest. It's not like strawberries, which we have to pick a few times a week."
The farm grows between 50 and 60 varieties, including certain pumpkins ideal for making pies (Winter Luxury), unique heirlooms such as Sibley, and Kakai, a squash from Austria.
"We have stuff here that you can't really find anywhere else," Jeff said.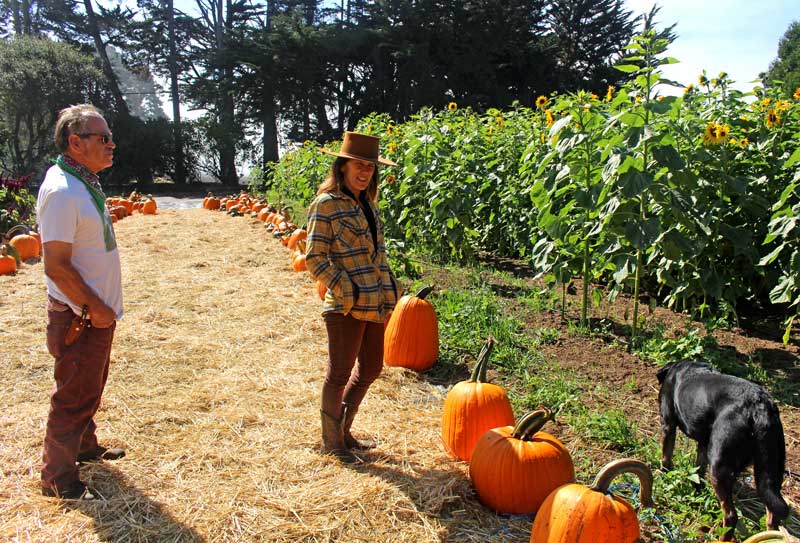 The harvest this year has been good, Jeff added, despite a ground squirrel problem.
"It was a challenging year," he admitted. "The squirrels just keep coming back to eat the plant, they dig in deep to get the seeds."
Crystal Bay, which has been Certified Organic since 1997, is part of Worldwide Opportunities on Organic Farms (WWOOF), a movement to link travelers with organic farms. Volunteers, who Lori dubs "WWOOFers," participate in the daily life of their host farm, receiving free room and board in exchange for their work.
Lori said that these volunteers are a huge reason why the pumpkin patch is so successful every year, and why people keep coming back.
"They work so hard," she said. "I tell the WWOOFers, in the darkest, hardest hour of harvesting, just imagine the joy we're going to bring to some little person's face when they find the perfect pumpkin."
On Sept. 28, a group of WWOOFers were hard at work decorating the farm, creating fresh "graves" with headstones near the pumpkin displays and setting up a brand new addition to the farm this year: a 14-foot skeleton figure that will be on display in the middle of the Fiorovich's sunflower field. The skeleton will be a great photo opportunity for families, Jeff said.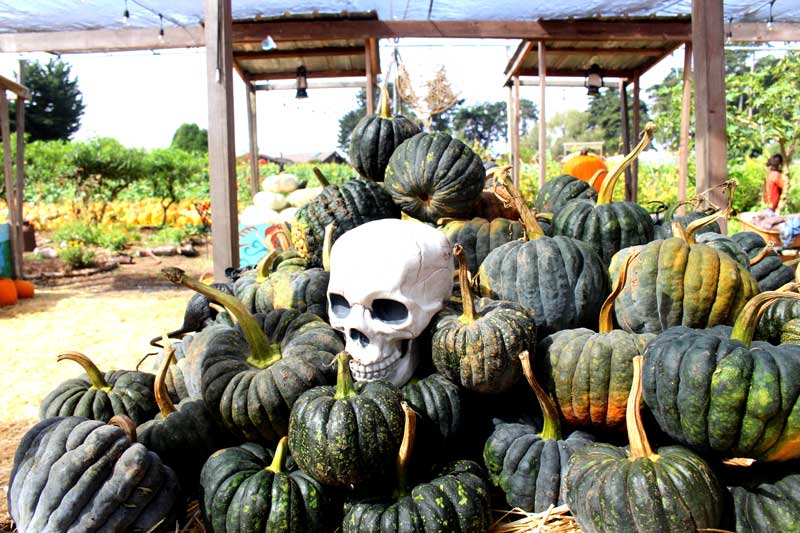 Crystal Bay Farm's annual pumpkin patch opens Saturday and will remain open daily 10am-6pm through Halloween. Local band Cement Ship will perform live at the patch this Sunday from 1-5pm.
Lori said she enjoys seeing families visiting the pumpkin patch year by year.
"I see people who were babies now coming here with their own babies," she said. "It's amazing. Maybe I'll see them only once a year, but I remember them. It's that connection with our community that we are so lucky to have."
Crystal Bay Farm is located at 40 Zils Road. Visit crystalbayfarm.com for information and daily hours. Follow on Facebook for daily updates.