WATSONVILLE—With the whir of a jigsaw in the background, the buzz of an electric kitchen mixer and the tapping of a hammer filling the air, Pajaro Valley's young people were busy last week completing their projects at the Environmental Science Workshop on 2nd Street.
The hands-on program at the Marinovich Community Center on June 1 reopened for drop-in services after being limited to small group sessions through the Excel in Place program for much of the pandemic.
"We're back, we're open and the kids are coming," said Science Workshop coordinator Darren Gertler, who has held the position for the past five years. "We operate out of this site, River Park on East Front Street and we are running our mobile van. We're coming back up to speed and the kids love it."
With the aid of recreation coordinators Aurora Torres and Gustavo Hernandez, Gertler said they typically welcome around 30-40 kids a day. With the Science Workshop now encompassing the entire Marinovich Community Center, young people can spread out and study or design electronics, science projects, carpentry, sewing, music, arts and crafts, bicycle repair and maintenance and a host of other categories. A wealth of power tools, work stations, musical instruments, scads of donated carpentry tools and building materials invite younger people to dig in and charge their imaginations in a safe area with guidance.
In one section of the center, minerals and fossils are handy to study, and computers, drawing tablets, paint, fabrics and spacious workbenches are aplenty.
"It feels safe to come in here and do what I like," said Yarley Morelos, 12. "I've been coming here since I was 5. So far I have made a birdhouse and I sewed a backpack. It's really nice. It's easy to make friends here; it's really peaceful."
When the pandemic struck Gertler said they had to close up shop and hunker down.
"We bleached every tool and walked away," he said. "That was in March 2020. And now, as June gets underway we are completely back to full speed."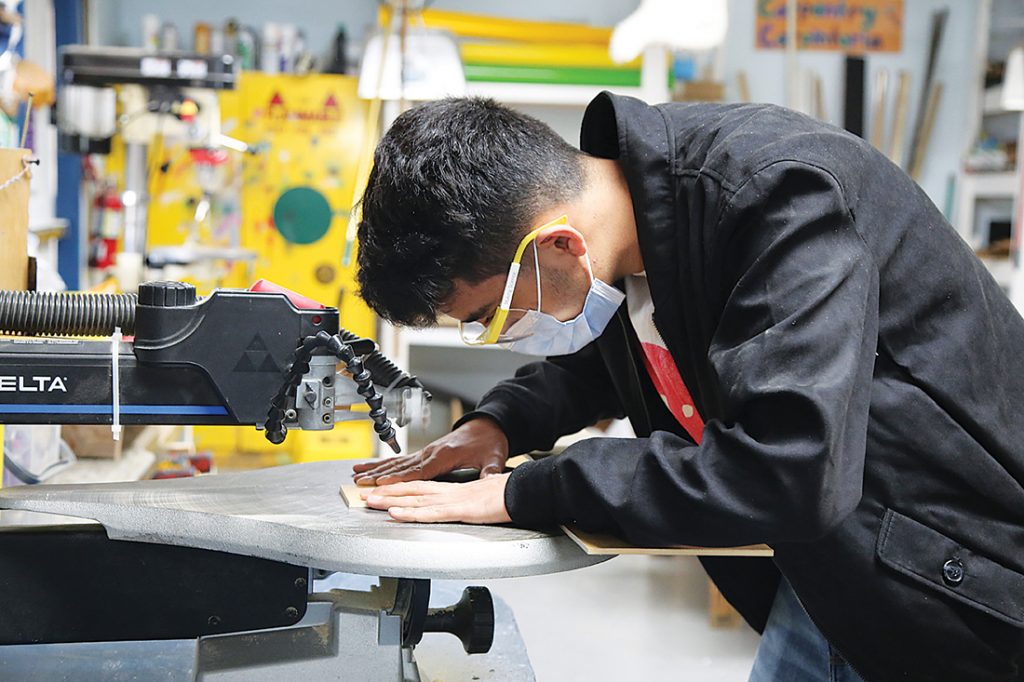 Gertler said the Science Workshop typically welcomes around 6,000 young people a year. The Science Workshop van works with 30-40 kids each day while the Davis Avenue location sees around 15 each day.
When the California Community Science Workshop in San Francisco received a national grant in 1997, one of its instructors came to Watsonville to seek permission to expand the program in the city.
Curt Gabrielson's pitch to city officials launched the program 24 years ago. Gabrielson has since launched other programs, including the most recent one in Greenfield. In July he will move on to Salinas and open another Science Workshop.
---
The Science Workshop is at 120 Second St. For information, visit watsonvillescienceworkshop.com.