WATSONVILLE—All eyes were on Watsonville High senior Rylee Gomez as the Wildcatz standout infielder put the pen to the dotted line to sign with Saint Mary's softball program.
She was one of five South Santa Cruz County student-athletes who made their college commitments official on Nov. 10, the opening day of a National Letter of Intent signing period that runs through Aug. 1 for most NCAA Division I and II sports.
A little more than 100 people showed up at Watsonville High's gymnasium to support Gomez, who will compete with the Gales in the spring of 2023.
"At first I was really nervous but then I just accepted the moment and I was really happy with it," she said.
Her parents, Phil and Tyna, and older brother, Rex, who played baseball at Watsonville High and Cabrillo College, were by her side.
"We've been waiting for it for pretty much our whole lives," Phil said. "We kind of knew Rylee was going to be it. She's been grinding and playing against the boys since she was small."
At age 10, she joined the Watsonville Waves travel softball team. Two years later, she leveled up to the California Suncats, a top-tier program in the Central Coast that draws players from Watsonville, Gilroy, Salinas, Fresno, Sacramento and even has a player from Washington State.
As a freshman, she batted .283 (13 for 46) with five extra-base hits, 12 RBI and 10 runs scored, helping the Wildcatz (23-5, 9-3) take second in the Pacific Coast Athletic League Gabilan Division and reach the Central Coast Section Division I title game.
Gomez batted .389 with a .655 on-base percentage in 42 games in 2020 with the Suncats, who participated in tournaments in Arizona, Nevada, Utah, Oklahoma and Texas during the pandemic.
Then she helped lead them to a Santa Cruz Coast Athletic League title and a second CCS D-I championship during the abbreviated 2021 spring season.
Gomez also plays for the Wildcatz's basketball team. She averaged 6.4 points, 3.9 rebounds and three steals as a sophomore point guard.
But, her love for softball was too strong. Gomez said she loves the Gaels' coaching staff and felt like she made a connection with them. She added that she's excited to help build a program that has had just three winning seasons since 2000, the last coming in 2012.
"Plus, it's really close to home, so that's a plus," she said.
Mariners set sail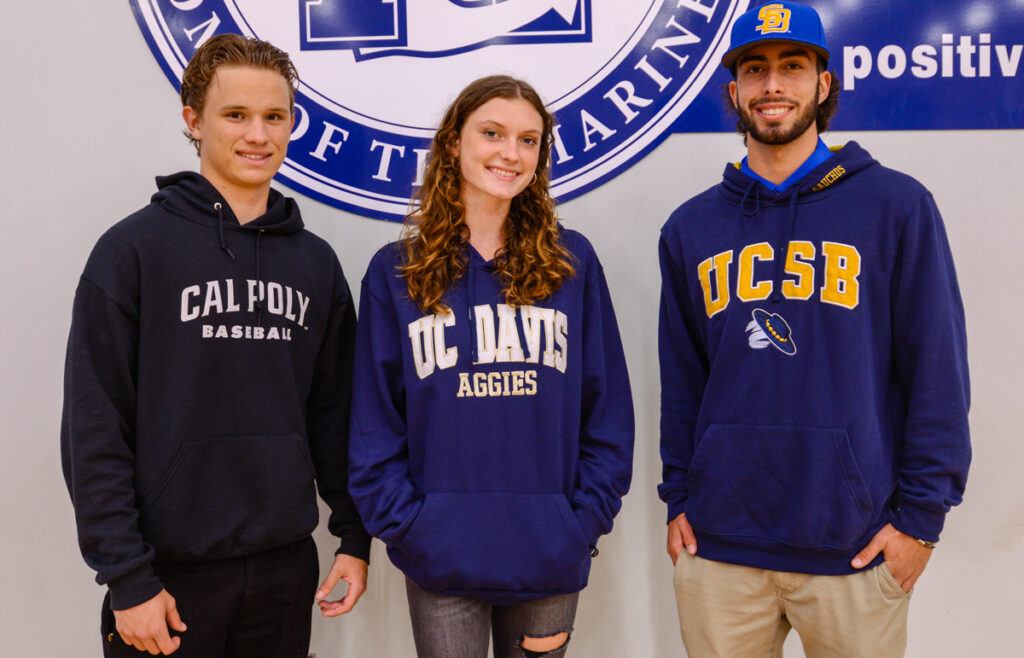 A trio of student-athletes at Aptos High also signed their letters of intent on Nov. 10.
Elizabeth Churchill committed to UC Davis' track and field team, Reed Moring signed to play with UC Santa Barbara's baseball program and teammate Owen Dueck will play baseball at Cal Poly San Luis Obispo.
"It's awesome, it's been a long journey," Dueck said. "I'm super glad that I made the time for Signing Day. It's been a lot of work but for sure worth it."
When Moring was a freshman he watched some of his fellow teammates have their big event and knew one day he'd be in the same spot.
"I always dreamed of being here and signing my letter of intent," he said.
Churchill placed seventh or better in three events at the Central Coast Section Track and Field Championships in the spring. She won the high jump, took second in the 100-meter hurdles and seventh in the long jump.
Churchill, who will compete in the heptathlon, said she plans to practice the shot put and discuss, which will be new events for her this season.
Churchill said she loved the Aggies' campus and its proximity to downtown Davis. She liked that Davis offered two majors she's interested in: education and nursing.
Churchill said it was special for her to have family and friends attend the event.
"It just makes me realize that all of this is actually happening," she said. "It's just really exciting."
Primavera gallops into South Carolina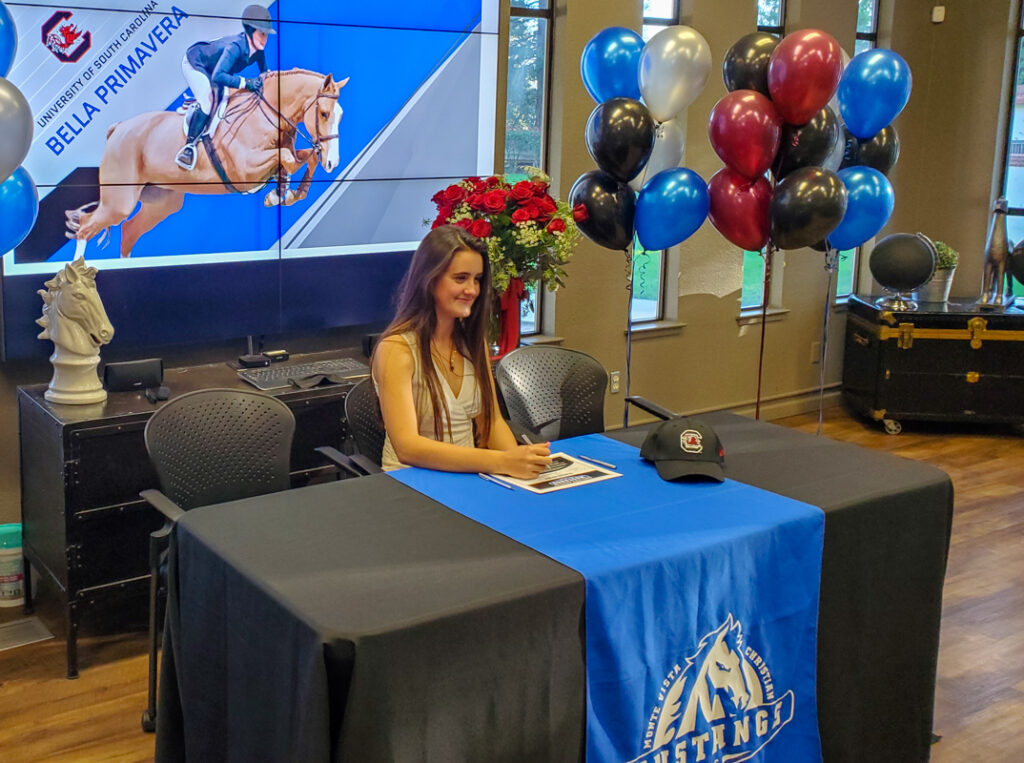 Monte Vista Christian School senior Bella Primavera technically committed for two after she signed with the University of South Carolina to compete in equestrianism.
Primavera will house her horse, "Carrico Sun," in a stable near campus. But she will ride on another horse just as her opponents will during equitation competitions.
Primavera's parents told her she could keep "Carrico Sun," an 8-year-old warmblood gelding, through college if she landed a scholarship. She has owned and competed on the horse for two years.
The Mustangs senior has been riding for 12 years and competed in her first competition when she was 6.
Primavera had offers from UC Davis and Fresno State. She took unofficial visits to Georgia, Baylor and Texas Christian.
But she loved everything about South Carolina, including head coach Boo Major and assistant Kristen Terebesi, who recruited her when she was named reserve champion in the USHJA Gladstone Cup Equitation Classic at Sonoma Horse Park in Petaluma on July 22.
Other attributes she liked about the school are the campus, culture, facilities and that the university offers a major in business economics.
Local Signees
Elizabeth Churchill (Aptos), UC Davis, track and field
Reed Moring (Aptos) , UC Santa Barbara, baseball
Owen Dueck (Aptos), Cal Poly San Luis Obispo, baseball
Bella Primavera (MVC), South Carolina, equestrian
Rylee Gomez (Watsonville), Saint Mary's, softball