Senior Natalia Ackerman had 17 points and seven rebounds on Tuesday to help lift Aptos High past San Lorenzo Valley, 63-12, in Santa Cruz Coast Athletic League action.
The Mariners inch closer to their second unbeaten campaign in the past three seasons.
Jasmine Ackerman had 16 points, five steals, four rebounds, three assists and two blocked shots for the Mariners, while Jaylen Dang had 10 points and five assists.
Aptos' defense has allowed just 21.5 points per game in league play this season, including a 66-9 win against Harbor High.
The offense has also been producing, putting up an average of 62.8 points per game.
Natalia Ackerman previously set a career milestone by recording her 1,500th point and 1,000th rebound on Jan. 20 at the Terra Nova MLK Shootout.
Aptos (16-5, 9-0), which is 40-3 in SCCAL play over the past four years, plays at Scotts Valley today at 5:30 p.m.
Stevenson 43, St. Francis 36: Grace Kovacs scored 16 points in the Sharks' loss to the Pirates in Pacific Coast Athletic League Cypress Division play on Wednesday.
Mariah Montalvo and Mariah Lyle each had seven points for the Sharks (11-10, 3-4), who host King City today at 7 p.m.
Boys basketball
Aptos 61, San Lorenzo Valley 46: Senior Trey Lee had 12 points, seven rebounds and six steals to help the Mariners defeat the cougars in SCCAL play on Tuesday.
With the win, Aptos locked up no worse than a share of the league title.
Cameron Saldana added 10 points and three steals, while Abed Ayyad and Tre White each contributed eight points for the Mariners (14-8, 8-1), who play at Scotts Valley today at 7 p.m.
St. Francis 51, Watsonville 41: Junior Isaiah Gonzalez scored a team-high 13 points to help the Sharks defeat the Wildcatz in PCAL Cypress Division action Tuesday.
Senior Joey Garibay scored 12 points, followed by Lawson Orradre (9) Dominick Nakagawa (7) and Dylan Kane (6).
Karlos Corpus had 11 points to lead the Wildcatz (5-15, 0-6), while Osvaldo Bolanos contributed eight points.
St. Francis (13-6, 5-2) hosts North Salinas (6-15, 4-3) on Thursday at 7 p.m. Watsonville will play crosstown rival Pajaro Valley (8-13, 4-3) on Saturday at 4 p.m.
Monte Vista Christian 77, Seaside 64: Teddy Moore scored 22 points on Wednesday to help lift the Mustangs past the Spartans in PCAL Mission Division action.
Mason Beske scored 15 points, while Simeon Powell scored 13 and Brendan Doyle added 12 for M.V.C. (10-10, 3-4), which plays Christopher today at 7 p.m.
Girls soccer
Aptos 5, SLV 0: Jazmine Castañeda scored three goals in a shutout win against the Cougars in SCCAL play on Tuesday.
The win helps Aptos (13-2-2, 7-1-1) secure the league regular-season title outright. Senior Brynn Mitchell had a goal and assist, while Aubree Westjohn had a goal.
Malia Kessler and Susana Estrada each had assists for the Mariners, who'll play in the regular-season finale at Scotts Valley on Thursday at 3:30 p.m.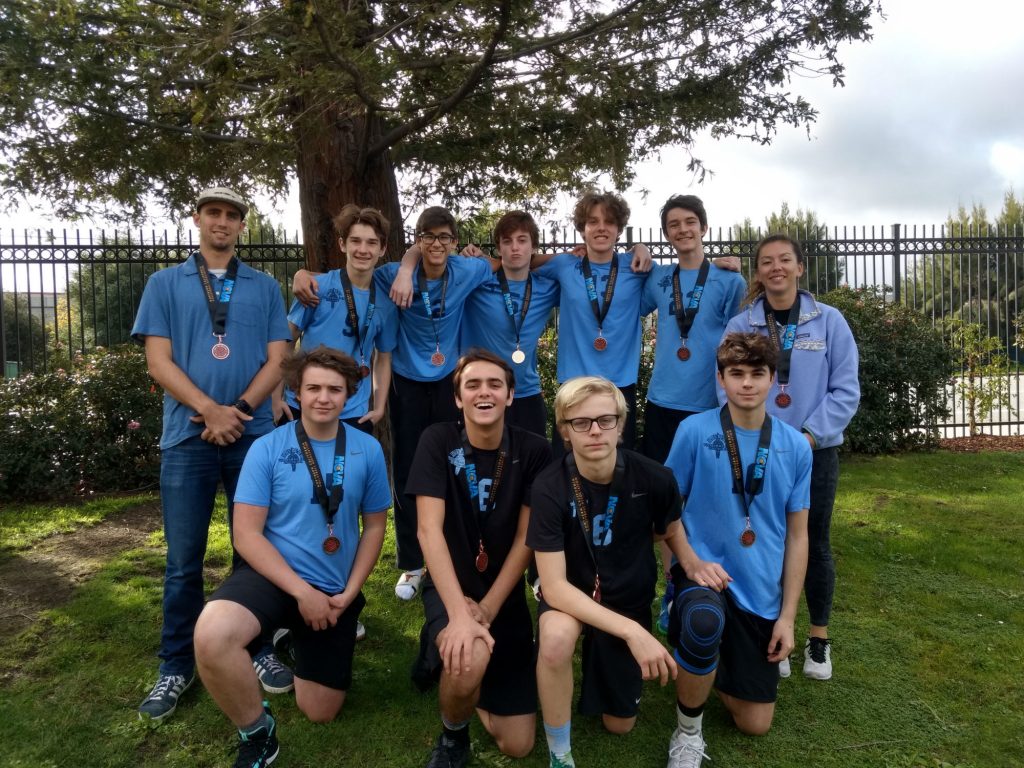 Beach volleyball
Main Beach Volleyball Heads to National Championship: The Main Beach Volleyball Club of Santa Cruz managed to earn not one but two team bids to the USA Volleyball National Championship.
The boys 18's team placed second in the Far Western Bid Tournament, while the boys 16's finished third.
"Our team has a chance at the Nationals because we have good chemistry," said Leonardo Tuncer.
Tuncer, a setter for the 16's team, has been playing for four years and it's the first time he's been on a team that earned a bid.
16's coach Justin Bates said the coaching staff, which includes assistant coach Alison Ota, believed that setting roles, expectations and goals early in the season allowed them to stay on track.
"This group of boys has a great bond that their passion for the sport has created," Bates said.
Main Beach director Tina Pendleton, who also coaches the Watsonville High boys' and girls' programs, moved the club's practices to south Santa Cruz county.
Pendleton had the idea of attracting players from a less affluent town such as Watsonville.
"I've lived in Santa Cruz county for thirteen years and I've noticed that there are not many opportunities for kids from Santa Cruz and kids from Watsonville to come together in positive ways," she said. "I think we created that opportunity in our club this season."
Libero Owen Kusz said the team has been like family for the past five months that they've been playing together.
"We grew closer as a team and we have pushed each other beyond our limits," Kusz said. "My coaches have been the best mentors and leaders you can find."
Next up, Main Beach will warm up for the Nationals at the Boys' Far Westerns in mid June in Anaheim. It will also try to make its bid for the national title in Reno on June 27-30.
Men's basketball
San Jose City 64, at Cabrillo 62: Gabe Mack scored 14 points but it wasn't enough to help the Seahawks overcome a loss against the Jaguars in Coast Conference South Division play on Wednesday.
With the loss, Cabrillo (13-11, 5-3) dropped out of first place in the conference standings with four games remaining in the season,
Alphonse Alfred scored 11 points , while Jonel Aponte and Myron Dews each scored 10 points for Cabrillo, which plays against visiting Gavilan on Friday at 7 p.m.
Women's basketball
At Cabrillo 57, San Jose City 55: Ananiah Chavez had 18 points and seven rebounds to help the Seahawks edge the Jaguars in Coast Conference South Division action on Wednesday.
Kenedi Walters had 12 points, four assists and two rebounds for Cabrillo, while Savanah Quintana-Martin had nine points and 10 rebounds
Cabrillo trailed 25-15 after the first quarter but outscored the Jaguars 19-11 in the second quarter.
Abbi Saxton had nine points and nine rebounds, while Michaela Thornton had six points, eight assists and seven rebounds for the Seahawks (11-11, 6-2), who host Gavilan on Friday at 5 p.m.