The Monte Vista Christian girls' basketball team played host in last weekend's Don and Martha Price Holiday Classic tournament.
However, the Mustangs' friendly and generous reception came to a limit as they swept through the tournament in winning fashion. They defeated Hillsdale High, 61-40, on Saturday in the tournament championship game.
Junior Hanna Harvey recorded a double-double as she finished with 20 points and 10 rebounds to go along with a pair of blocks.
Senior Angelina Cortes had 17 points, while Paloma Ramirez had nine points for the Mustangs, who extended their winning streak to four games and currently sit with an 8-3 overall record.
Cortes and junior Mackenzie Tellez were named to the all-tournament team.
M.V.C. begin the tournament with a 66-16 win against San Lorenzo Valley on Friday. Cortes had 19 points, followed by Tellez with 10 points. Senior Madison Hill contributed 15 points.
The Mustangs followed up with a 56-39 win against The King's Academy. Cortes had 15 points, Hill had 12 points and Harvey finished with 13 points.
The Mustangs host Aptos in non-league action tonight at 6:30 p.m.
Aptos 72, Carmel 29: Senior Natalia Ackerman helped the Mariners close out the 21st Annual Monterey Bay Sweet 16 tournament with a win against the Padres on Monday at Seaside High.
Ackerman recorded her fourth double-double of the tournament by scoring a game-high 19 points and 13 rebounds for Aptos (8-3).
Senior Gabby Guiffre had 14 points and five rebounds, while sophomore Erin Schmidt contributed nine points.
The Mariners begin with a 67-24 win against Mt. Eden High where Ackerman scored 26 points and snatched 12 rebounds.
They followed up with a 74-53 loss against McClatchy High, which was ranked No. 22 in the state by Max-Preps going into Friday's matchup. Ackerman finished with 16 points and 10 rebounds.
Aptos took a 36-33 lead halfway through the third quarter but it couldn't keep up with the 16 3-pointers made by the Lions.
The Mariners bounced back with a 59-19 win against Soledad High on Saturday. Ackerman was on fire with 24 points, making 73 percent (11-of-15) of her shots, and grabbed 12 rebounds along with four steals.
Aptos plays at Monte Vista Christian in non-league action tonight at 6:30 p.m.
Watsonville 42, St. Francis 19: The Wildcatz defeated the Sharks on Saturday in the Don and Martha Price Holiday Classic tournament at Monte Vista Christian.
Watsonville won two straight games to close out the tournament, including a 42-37 victory against San Lorenzo Valley High on Friday.
The Wildcatz (8-4) play at King City High (4-5) in non-league play on Jan. 11 at 5:30 p.m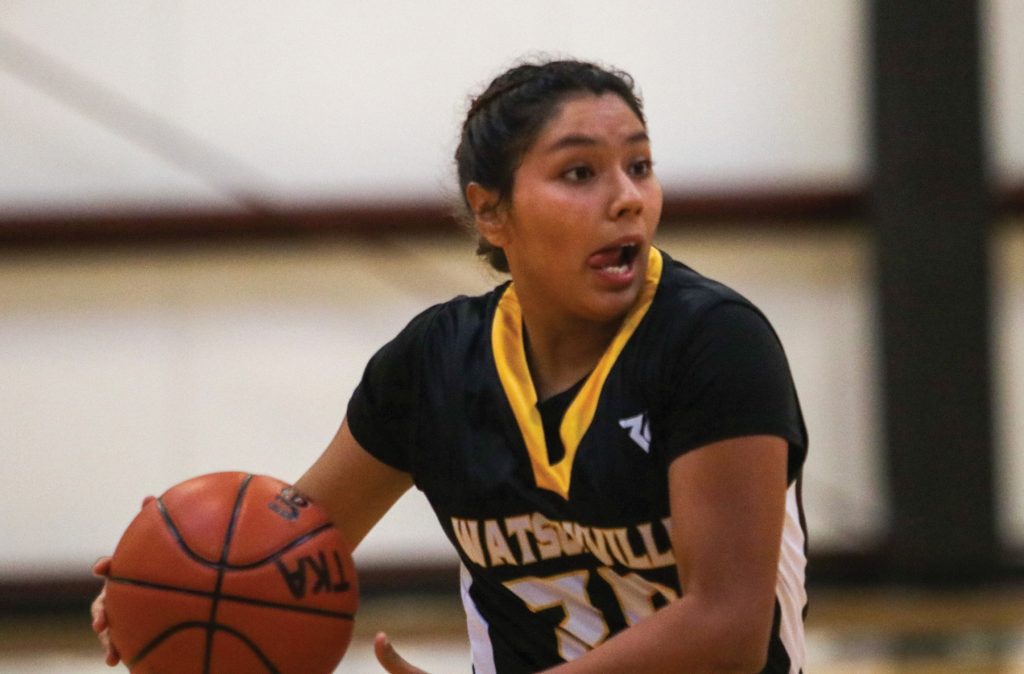 Boys basketball
Valley Christian 82, St. Francis 32: The Sharks suffered their first loss of the season against the Vikings on Friday in the Don and Martha Price Price Holiday Classic Tournament at Monte Vista Chrisitan.
Sophomore Noah Dowd led St. Francis with eight points, followed by senior Lawson Orradre (7), junior Davin Avila (6) and junior Isaiah Gonzalez (5) for St. Francis, which dropped to 8-1 this season.
Senior Joey Garibay missed the game with a sprained ankle injury. His presence on the court was missed after he led all scorers with 31 points in a 68 -62 triple overtime win against Arroyo High last week on Thursday in the tourney opener.
Senior Dylan Kane made a 3-pointer in the third overtime that started an 8 to 1 run. Senior Dominick Nakagawa scored 12 points, while Kane, Dowd and Gonzalez each scored six points for the Sharks.
Orradre scored five points and dominated the boards for St. Francis, which plays at North Monterey County in non-league action on Jan. 7 at 7 p.m.
Strathcona 67, Watsonville 62: The Wildcatz lost against the Dons on Monday in the Surf N' Slam San Diego Tournament at Scripps Ranch High.
Junior Donovan Mendoza had a team-high 20 points, while freshman Karlos Corpus finished with 13 points for the Wildcatz.
A pair of players scored in double figures for Strathcona Composite High, which is based out of Edmonton, Alberta in Canada.
Watsonville begin the tournament with a loss to host Scripps Ranch, followed by a 53-34 win against Westview Secondary School of Maple Ridge, British Columbia in Canada.
The Wildcatz (5-8) play at King City High (3-4) in non-league play on Jan. 11 at 7 p.m.
ON THE MOVE The Watsonville High girls' basketball team won two straight games to close out the Don and Martha Price Holiday Classic tournament. (Juan Reyes—The Pajaronian)