The Watsonville High School (WHS) Drama Department had been preparing for a production of the musical "Matilda" in March 2020 when everything was shut down by the pandemic.
For three semesters, students were unable to return to the stage for performances, instead taking acting, tech and scene classes over Zoom.
"Having classes online, on a computer … it was a grand experiment," said drama teacher and director David Scott. "It wasn't ideal, but we were just trying to make it through the year."
WHS Drama will finally return to the stage next week with a production of "The Love of Three Oranges," a fantasy adventure play written by Hillary DePiano, based on a story by Italian playwright Carlo Gozzi. Students have been busy working on the production all semester, practicing their lines, cues and constructing a new stage around the school's outdoor amphitheater.
"It feels good to be back," Scott said. "We've got a nice blend of people, some who were on the 'Matilda' crew and a whole bunch of new people who were like seventh-graders the last time they were in school. We're having fun. They've been working hard."
Scott said he has had the script for "The Love of Three Oranges" for a long time. The play is a "commedia dell'arte," which is an early form of professional theater originating in Italy that was popular between the 16th and 18th centuries.
"It's traditionally a masked form of theater," Scott said. "So I was like, 'Okay, we're in this age of masks, so there's that.' And we wanted to be outside, make a Shakespeare in the park kind of feel. All those elements kind of came together."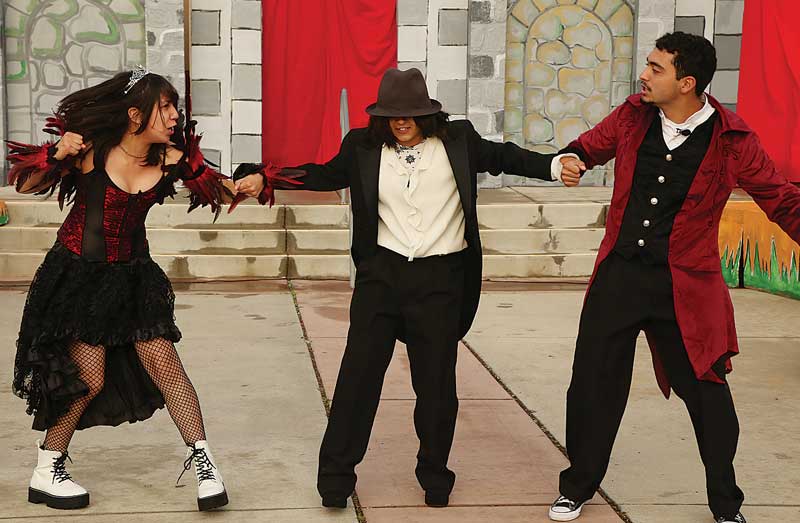 The comedy-parody play follows the story of Prince Tartaglia, who has been sick at home for the past month and doesn't know why. When he finds out he has been cursed by an evil witch, he is sent out on a quest to find three giant oranges, along the way finding adventure at every turn.
"The sick prince … it almost feels like he's been shut in by a pandemic," Scott said. "And then he gets to go on this big quest. It's got a lot of fun to it. The students seem to be having a really great time."
The new stage set was constructed mostly from repurposed sets from old WHS Drama shows, with fresh paint jobs and added features. A centerpiece of the set are a pair of "periaktos," a Greek theater device which are used for displaying and quickly changing scenes. The pieces can be rotated to show the sides of two different castles, and an orange forest.
Students also learned how to do sound, set and costume changes for the show. However, due to the outdoor setting, lighting tech was not an option. Performances will be held during the school day and early afternoons over the weekends due to the constraints. Scott admitted it had been a challenge for rehearsals—often they would finish after sunset.
"But we're making do," he said, "it's been great."
"The Love of Three Oranges" will be held Nov. 13-14 and 20-21, at 1:30pm at the Watsonville High School Amphitheater, located in the quad behind the old gymnasium. The show is free; donations may be taken informally. For updates about WHS Drama follow the group on Facebook.