Editor's note: This is the last entry of a two-part series on San Francisco. For the first, see the Feb. 7 edition of the Pajaronian.
I left off in the first half of this series about San Francisco as I departed North Beach, said goodbye to my Bostonian friend Tom and took the train and bus back to Santa Cruz in December.
Then, in early February, my wife Sarah and I used public transportation to visit San Francisco, right from our front door to the San Remo Hotel in North Beach. We caught the METRO 69A on Soquel Avenue to the Santa Cruz METRO station where we boarded the Highway 17 Express. The comfortable one-hour ride over the hill on Highway 17 brought us to the San Jose Diridon Station. Since we had some extra time there we walked around an older industrial part of town and spotted the original — and now shuttered — Orchard Supply Hardware. The home and garden improvement business stared in 1931, and expanded to dozens of stores before ultimately collapsing in 2018.
The Caltrain from San Jose to S.F. was relaxing and full of sights you don't get from a car on the freeway. In The City we caught the MUNI 30 bus to North Beach where the real fun began. After checking into our room, we caught a free shuttle on nearby Beach Street south to the Embarcadero where early day trolleys from around the country have been not only fully restored but put back to use along the heavily-traveled Embarcadero and south along Market Street. The car we rode in came from Newark, New Jersey where they were taken out of service around 1953. These trolleys are rolling history books and add a lot of charm and color to the S.F. cityscape.
We got off at the historic 1898 Ferry Building and wandered the cavernous halls along with scads of tourists and locals. Ferries were a huge part of travel for commuters, travelers and goods around the Bay Area, up to Sacramento, Stockton and more. Ferry service to SF was largely commercialized by the railroads in the late 19th century, as rail lines were extended via ferry to the city. Once the Golden Gate and Bay bridges were completed, ferry service—which peaked in the 1920s and '30s—largely declined. However, ferry service in the Bay Area is now on the rise.
My great aunt Emily told me of numerous ferry trips from Sacramento to S.F. she and her friends took years ago for a day on the town and a sleepy ferry ride home at night.
Sarah and I walked up Market Street, relishing the various street musicians, open-air markets featuring jewelry, aprons, leather goods, lotions, balms and salves. We caught another older-style trolley up to 7th and Market where a passenger aided us with directions to catch the BART over to the 16th and Mission area.
New to us on this trip was the Clipper Card. These are credit-card-size plastic cards that, once you load it up with funds, can be used on Caltrain, MUNI buses, trollies and cable cars. They save a lot of hassle such as fumbling for change or transfers, having to figure out which zone you are traveling to and so on.
We got off of the short BART ride and took the escalator back up to the street level at 16th and Mission, surrounded by ornamental and colorful steel railing work that defines the popular station. The metalwork was created in Watsonville back in 2003 by Larry Berk, owner of Creative Cutting Service on Hangar Way.
We walked along Mission Street, a gritty slice of the city loaded with bars, boutiques, curio shops and cheaper restaurants. Our goal was to view the scores of outdoor murals that line entire streets and alleys. Blazing with colors, political figures and events, cultural scenes and bizarre modern art designs, the murals have become a huge attraction on an international level.
As darkness fell we worked our way back to North Beach and tried our luck with dinner at Ideale Restaurante, 1309 Grant St. The waiter told us they've been there for 28 years, and the head chef maintains his Italian recipes we're handed down from the Rome kitchen of his grandmother, Nonna Serafina. We came away fully trusting that Nonna knew her way around the kitchen because our plates were divine and, yes, we'll certainly go back.
As I was getting my fill of free coffee in the lobby of the San Remo Hotel early Sunday morning, I ran into a young couple from Switzerland who said they loved their short stay in the city. Suitcases in hand, they said they were off to Honolulu. Then I met two women from Denmark who were having a blissful time taking in San Francisco for their first time. 
For breakfast, we walked a short distance into Chinatown and found Yummy Yummy, a Dim Sum restaurant at 759 Pacific Ave. Though piping hot noodles, egg rolls, rice balls and such fare aren't our typical breakfast, it was delicious and fun to take on something different. The folks in there were great and welcomed everyone with warm smiles.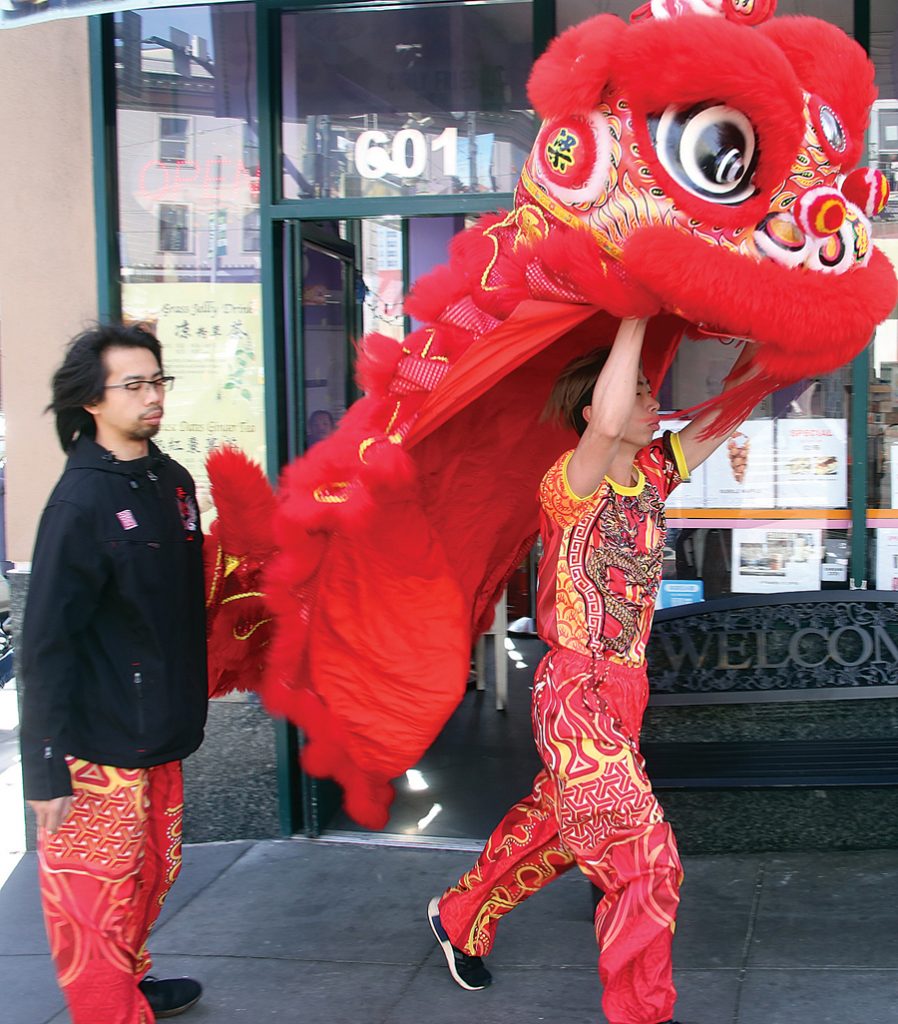 As a looming cold front edged over the city with a hard ledge of clouds and plunging temperatures, we were fortunate to catch a splash of Chinese New Year celebrations — the year of the rat. A giant dragon puppet charged up Grant Street followed by a noisy marching band of drummers and cymbal players punctuated with several bursts of firecrackers. The streets were instantly laced with tassels of white smoke as we watched the bright-red dragon waltz in and out of shops and the ragged puffs of red firecracker wrappers scattered along the sidewalks.
We unthreaded our way out of the city on the same route we arrived, back on the MUNI 30 to the Caltrain. We caught the "bullet train," which really means a train with fewer stops. Sarah said a bullet train she recently rode in China hit 280 mph. I think the Caltrain might have climbed up to 40 mph at one point.
Both these trips to SF provided what all our trips there have given us time and again: A cultural blast, newness, history and surprises. Thanks to our new Clipper Cards, we were able to weave these things together more efficiently than in the past, minus parking hassles, gas, traffic nightmares and getting lost.