Aptos High's Jazmine Castañeda and Pajaro Valley High's Ignacio Aguado along with three other local players were selected to the U.S. Youth Soccer Olympic Development Program Top-18 traveling team.
The youngsters recently participated in the West Region ODP Soccer Tournament in Arizona with some of the best young players from 13 states.
"It was a good experience," Aguado said. "All the hard work that I put in every day, it paid off."
The program selected nine players—five boys and four girls—from the area for the Top-40 team, including Jael Leal, Said Gonzalez and Manuel Cano of Watsonville High.
Aguado, 14, and his Grizzlies' teammate Roman Acosta-Romero also made the cut.
Castañeda, 16, as well as Nellie Pintor-Rubio of Ceiba College Prep, Melissa Garcia of Moreland Norte Dame and Alexa Arango of Bay View Academy in Monterey were also selected.
A pair of coaches from the area are on the ODP staff including Gina Castañeda, who founded the Aztecas Soccer Program in 2008 for Latino juvenile probationers who affiliate with both Norteño and Sureño gangs.
"The greatest experience for me is the great learning environment as a coach," Castañeda said.
Castañeda said there's amazing talent in Watsonville but some people don't know the avenues to get them exposure. She said her time as a staff member allowed her to find the next step for these players.
"Another barrier for these kids is cost," she said.
Aguado, who lives in an area that is heavy with gang activity, was fully sponsored to go on the trip to Arizona.
Jazmine Castañeda, Gina's daughter, didn't make the cut the first two times she tried out. But two years later she made the team at 14.
"It was hard to not make it but it just made me work harder," she said. "I feel like that's why I got really good because it didn't matter if I made it or not. It was just that goal."
Aguado said making the cut was one of his goals last year. He mentioned that one of his friends told him about the program and said there was great competition.
"That it was going to push me to compete at a higher level," Aguado said.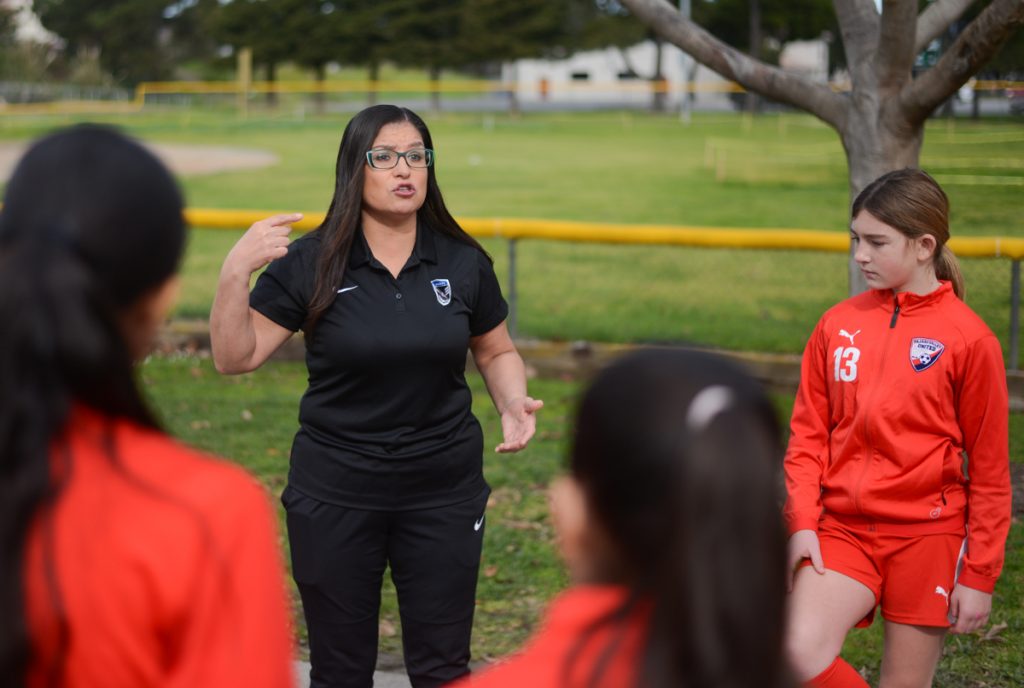 According to ODP, the program is used to develop players by training and playing with the best players in their respective age group. Plus, it offers quality instruction from nationally-licensed coaches.
The program offers games against other state association ODP teams, while giving players a chance to represent their home state, region or country.
Finally, the players have exposure to college coaches along with regional and national team coaches.
"It was a lot of hard work and years in the making," Castañeda said. "I felt like I had to keep pushing myself to get better so I could stand out even more."
ODP was formed in 1977 to identify a pool of players in each age group from which a National Team will be selected for international competition. Two years later, the program expanded by becoming more efficient and multi-year plans were developed.
In 1982, a formalized program for girls was created.
According to ODP, the players are selected on the basis of open tryouts conducted by state association coaches.
The players are evaluated on four components: technique, tactics, fitness and athletic ability and, finally, a psychological component made to measure a player's attitude.
U.S. Youth Soccer is divided into four regions, each which offers a regional camp for state association ODP teams in each eligible age group.
During this training and competition, players who are capable of performing at a higher level of play are identified for possible national team camp, pool or team participation.
Castañeda could be traveling to Orange County at the end of February to participate in the Pacific Coast Invitational, while Aguado hopes to play in the Costa Rica Soccer Cup in July.
Aguado said his biggest challenge is maintaining the level of his play. He said that means practicing at full speed and keeping his days off to a minimum.
Aguado said his goal is to make the regional team.
"I'm ready for it," he said. "I'm ready for anything."
•••
Editor's Note: This article will be published in the Jan. 24 edition of The Pajaronian.