NOTE: Reporters Todd Guild, Johanna Miller, Tarmo Hannula and Erik Chalhoub contributed to this article.
For more than two years, people have clamored for the return to "normal" after the uncertainties of a pandemic.
In 2022, we got a taste of normalcy, but it was far from predictable.
Covid-19, which dominated the headlines in 2020 and 2021, seemingly took a backseat in 2022, despite being always present, and even spiking toward the end of the year.
Russia's invasion of Ukraine in February was felt locally, triggering record-setting gas prices and anxiety over threats of a nuclear armageddon. The U.S. Supreme Court's overturning of Roe v. Wade in June sent shockwaves through the country, with local and state health officials readying for an influx of patients from out of state.
The wet weather to close out the year, coupled with the unbearably and historically hot end to summer, was a reminder of our planet's ever-changing climate.
We said goodbye to some influential Watsonville figures, and celebrated the accomplishments of many throughout the year.
In this article, we take a chronological look at some of the major local stories that shaped 2022 and will continue to impact the Pajaro Valley in the years to follow.
Robert Gómez selected as Poet Laureate
For the first time, the City of Watsonville welcomed its very own poet laureate. Longtime resident Robert Gómez has worked to advance the literary arts throughout the Pajaro Valley through 2022 and 2023.
A poet laureate is appointed by a government or other institution to represent and engage with their communities, writing original poems and going out to perform them at schools, city council meetings and more. In May 2021 the Watsonville Public Library, led by its new director Alicia Martinez and board trustee Victoria Bañales, launched a nomination period for the position.
Gómez has been a resident of Watsonville since 1984. He raised his two children with his wife Denise Gómez here. He has a long record of community service and social justice advocacy, having marched with César Chávez in the 1970s and worked as a Pajaro Valley Unified School District migrant and bilingual resource teacher for 26 years.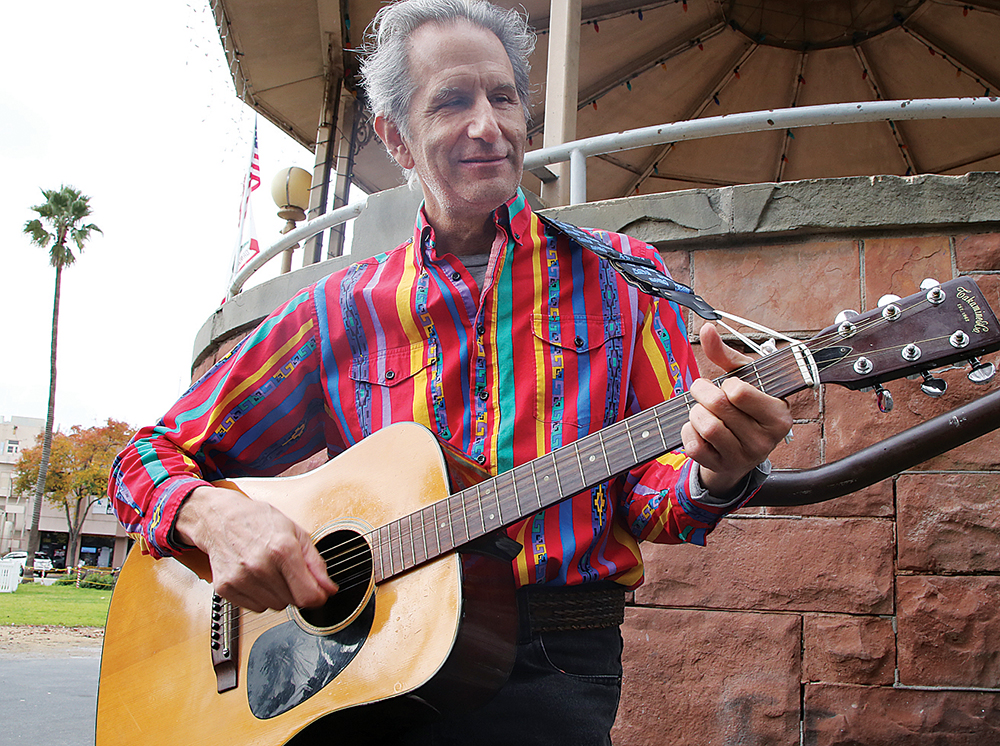 Filipino history in Watsonville
For the past few years the Tobera Project, a local initiative aiming to preserve and celebrate Watsonville's Filipino history, has been steadily growing and gaining support in the community.
Working closely with UC Santa Cruz, the Santa Cruz Museum of Art & History (MAH), and various South County groups, they have hosted events, created a yearly calendar highlighting local Filipino families, and campaigned for the city to have its own monument in honor of Fermin Tobera, the young Filipino man who was shot and killed during the 1930 Watsonville race riots. In April, large crowds descended upon the MAH to celebrate the launch of the Watsonville is in the Heart digital archive. Guests gathered to hear speakers, see a tour of the website, browse the archive and more.
Looking ahead, the Tobera Project will be working with the Pajaro Valley Unified School District on its ethnic studies curriculum. Their new 2023 calendar is now on sale at Kelly's Books and online.
Railroaded
Another Santa Cruz County chapter ended—and another began—in June when voters resoundingly rejected Measure D, which would have forced the County to abandon plans for a far-in-the-future passenger rail system and instead focus on a trail-only option for the 32-mile stretch of rail between Santa Cruz and Pajaro.
Rail advocates saw the vote as a referendum for their hopes and dreams of a future with passenger rail service. Trail-only advocates are still fighting, claiming that the admittedly astronomical cost—and environmental impact of the massive project—make it a non-starter. What is certain is that we have not seen the last of this battle.
Second Harvest under new leadership
After more than 40 years of service at Second Harvest Food Bank, CEO Willy Elliott-McCrea retired in July.
Elliott-McCrea has been with the organization since 1978, and has seen it through a number of community crises—from the Loma Prieta earthquake to the ongoing pandemic.
In July, he handed off the position of CEO to Erica Padilla-Chavez, former CEO of Pajaro Valley Prevention and Student Assistance. This occurred just as Second Harvest, California's first food bank and one of the first in the U.S., celebrated its 50th anniversary and the milestone of funding 200 million meals.
Even after retirement, Elliot-McCrea's legacy at Second Harvest will continue: The Willy Elliott-McCrea Kitchen Renovation Fundraising Campaign is currently raising money to renovate the organization's community kitchen into an upgraded, commercial-grade presentation and teaching facility. The organization's annual Holiday Food & Fund Drive is also underway; donations are being accepted through Jan. 15, 2023.
A new era for public defense
After four decades of service by the law firm Biggam, Christensen and Minsloff, Santa Cruz County created its own in-house public defender's office, a move officials say will bring more attorneys and better funding to the office, and offer the breadth of services of County services to defendants.
The office began operations in July, with Chief Public Defender Heather Rogers at the helm overseeing roughly 60 employees, most of whom came from the former office.
Fourth of July Parade returns
After a two-year pandemic-related hiatus, the Spirit of Watsonville Fourth of July Parade returned to the Pajaro Valley with its colorful run along Main Street as thousands lined the sidewalks.
Nonprofit and community groups, local businesses, car clubs, folklorico dance groups, marching bands, equestrian groups and more dazzled the audience under sunny skies.
With a theme of "Stars on Main Street," highlights included one of Metro Santa Cruz's new electric buses on display, marchers dressed as LED robots, and the Grand Marshall, Girlz Squad.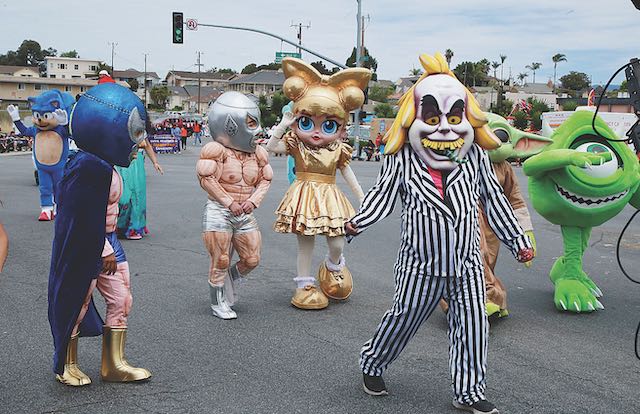 South County's burgeoning arts scene
The arts scene in South Santa Cruz County not only rebounded this year from Covid but expanded, with new venues and events popping up throughout downtown.
This summer, the community celebrated the opening of the new Watsonville Center for the Arts, which now acts as a home base for local arts organizations and holds Arts Council Santa Cruz County's first-ever South County offices.
Just down the street, local artist Judy Gittelsohn opened and began hosting shows and events at her new gallery, Studio Judy G.
The historic Porter Building was officially purchased by Pajaro Valley Arts (PVA), who will transform the space into a new hub with galleries, artist studios, offices and workshop spaces.
Watsonville Brillante, the massive mural project spearheaded by Kathleen Crocetti, continues to grow, and along with local artist Monica Galvan, Crocetti also created a Covid-19 memorial sculpture near Struve Slough.
Fatal plane crash stuns community
The mid-air collision between two planes over Watsonville Municipal Airport on Aug. 18 that killed three people shocked the city and the larger aviation community.
The three victims were identified as Carl Kruppa, 75, and Nannette Plett-Kruppa, 67, both of Winton, Calif., and Stuart Camenson, 32, of Santa Cruz.
Kruppa and Plett-Kruppa were flying in a 340 twin-engine plane with their dog, while Camenson was flying solo in a Cessna 152 single-engine plane. The dog also died.
Witnesses say that the twin engine plane slammed into the smaller plane as it was approaching the runway to land. The larger plane then skidded across the airfield before crashing into a hangar.
Camenson's family later created a permanent endowed scholarship for Cabrillo College students in his honor.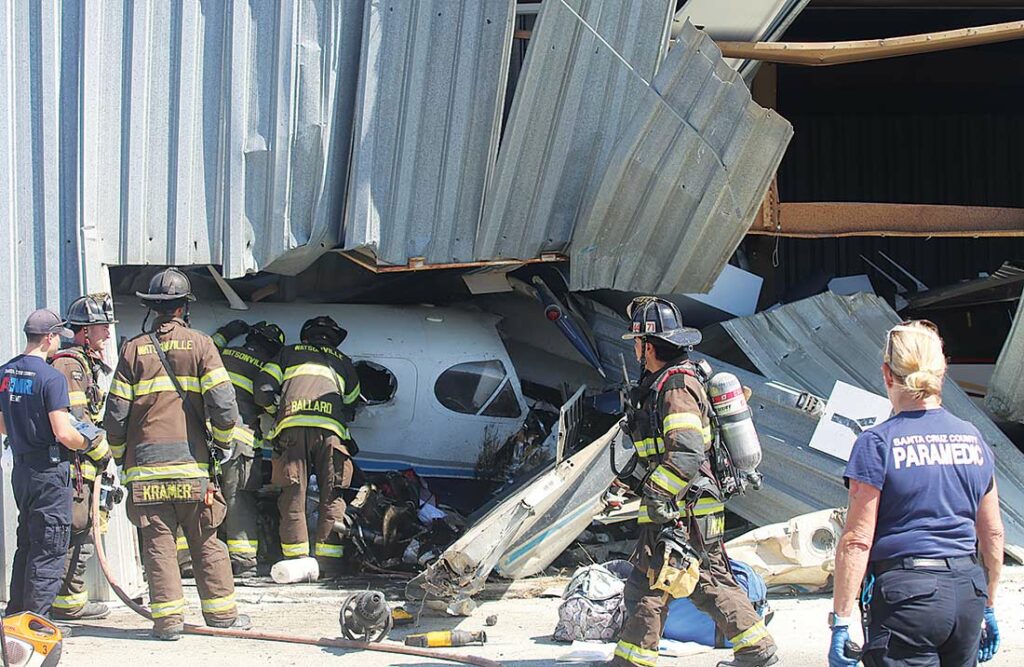 The Stuart Camenson Memorial Endowed Scholarship aims to support those studying within Cabrillo's Visual and Performing Arts (VAPA) department, where Camenson was involved. In his time at Cabrillo, Camenson took classes in studio and performing arts, becoming close with many students and instructors.
The cause of the crash is being investigated by the National Transportation Safety Board and Federal Aviation Administration.
Massive fundraising campaign brings hospital under public ownership
After months of fundraising during which organizers scraped together more than $65 million, Watsonville Community Hospital, which was facing closure after its owner approached bankruptcy, became a publicly owned entity on Sept. 1.
In November 2021, after announcing bankruptcy was imminent, officials announced the hospital would have to cease operations unless a buyer immediately stepped forward.
The Pajaro Valley Health Care District Project (PVHDP)—a group made up of nonprofit and healthcare leaders and created to make the purchase—stepped up to do so.
The purchase followed a months-long fundraising campaign—the largest in Santa Cruz County history—that netted donations from more than 450 people and organizations ranging from $5 to $7.5 million.
PVHDP also found help along the way from Sen. John Laird and Assemblymember Robert Rivas, who led the creation of the Pajaro Valley Health Care District with Senate Bill 418. The legislators also secured a $25 million appropriation from the state to support the purchase.
Fairgrounds shakeup
The Santa Cruz County Fair Board of Directors in October fired Fairgrounds Manager Dave Kegebein, using as their reasoning an audit by the California Department of Food and Agriculture (CDFA) that allegedly showed several "questionable" purchases on a state-issued credit card issued to him.
Kegebein has since released a response to the allegations, saying that all his purchases were for fairground business. He also presented a check to the board for $33,582 for fuel purchases for his truck, which he said he used entirely for his work at the Fairgrounds.
The 7-2 vote by the Board plunged the organization into chaos, with dissenters Jody Belgard and Loretta Estrada getting unceremoniously fired by CDFA. A group of community members opposing Kegebein's termination has vowed to keep attending Board meetings and pressuring the board.
Levee funded
It was a banner year for the Pajaro River Levee, which is now fully funded thanks to the efforts of federal, state and local lawmakers, as well as residents who agreed to foot the bill for annual maintenance and operations costs.
In October, several lawmakers gathered at a park overlooking the levee to celebrate the $400 million feat, an event that capped years of money wrangling. It also came after decades of hand-wringing for a community that has endured several devastating floods in 1955, 1995 and 1997, when heavy rains overwhelmed the levee and laid waste to fields and homes.
Work by the United States Army Corps of Engineers is expected to commence within a few years, giving the levee 100-year flood protection.