Nov. 6, 2019
Tarmo Hannula: Nine people were shot and killed, some burned beyond recognition, in a remote mountainous region of northern Mexico Monday by what officials are saying are a band of drug cartel members. Three mothers and six children died in the attack that has stunned officials and family members. The dead are among a group of a Mormon offshoot that live in La Mora. A 13-year-old boy ran great lengths to safety across the desert floor to get help after the shooting began. A group of eight children, meanwhile, hid in the brush until they were rescued. One suspect with several hostages from the Mormon group has been captured.
•
Today I saw a group of construction workers who were building a new rear door to the Teen Challenge on Brennan Street. They cut a huge opening on the East Fifth Street side of the huge building, that used to be a car dealership.
•
There's been a lot of drama over at the Watsonville Senior Center after the City of Watsonville took over running the place last week. New tables and chairs, new games and activities and other changes are in the works. Word has it that Valerie Rivera was let go after being the director there for 27 years.
•
People have been spreading the word wide and clear across social media that Barsi's Liquor Store on East Lake Avenue, a virtual cornerstone in Watsonville in the Pajaro Valley business scene, is being sold. Reporter Todd Guild and I are heading over there tomorrow to look into it.
•
In an article in the New Yorker I read a fascinating article about Thomas Edison. Among scores of his interesting quotes and thoughts, here's one that stood out:
"I never had an idea in my life. My so-called inventions already existed in the environment — I took them out. I've created nothing. Nobody does. There's no such thing as an idea being brain-born; everything comes from the outside.
•
Nov. 5, 2019
Tarmo Hannula: I noticed a crew from the city out in the plaza the other day putting up a bunch of lights and décor for the upcoming holiday celebrations. It's exciting to watch this unfold every year.
•
I was over at Watsonville High School today to meet with drama instructor David Scott along with our reporter Johanna Miller (a former student of his) to talk about the school's upcoming stage production of "The Outsiders." I love covering stage drama because you don't have to say a word—they're already doing all kinds of interesting thing to take photos of. There's usually great lighting and David is wonderful to work with.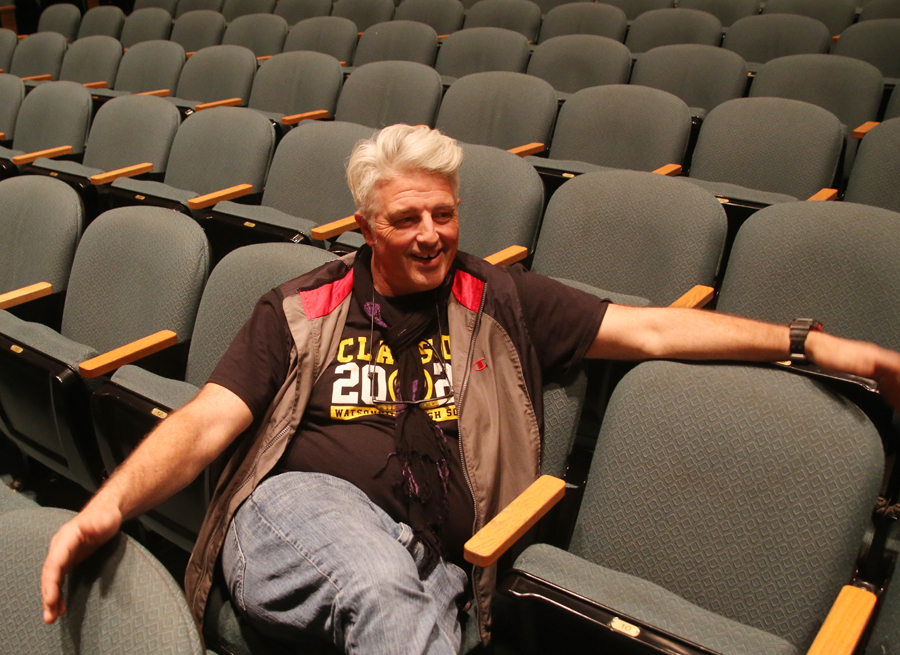 •
I've taken the METRO bus back and forth from Santa Cruz and Watsonville the past few weeks. I grew up taking city busses and I relish the experience. Sure, it takes a little longer, but I still like the carefree feeling of leaving the driving to someone else.
•
Nov. 4, 2019
Tarmo Hannula: A 4.2-magnitude earthquake hit Sonoma County Sunday in the mountains east of Geyserville, the third in a week, in the same area as the Kincade Fire. The wildland fire has raged for 11 days, blackening close to 78,000 acres that is now nearly 80 percent contained, Cal Fire officials said. So far 374 buildings have been destroyed with 174 being residential. Sunday's earthquake hit at 12:34 p.m., according to the USGS website.
•
I hope everyone remembered to set their clocks back an hour Saturday night.
•
A man died Friday night when he and his bicycle plunged over a cliff onto the rocky shoreline at West Cliff Drive at David Way at 7:43 p.m. Few details have been released about the incident. Passersby called 911 to report a man over the cliff. Santa Cruz Police said firefighters reached the man and pronounced him dead at the scene.
•
We had about 35 trick-or-treaters knock on our door on Halloween. I enjoy these kids that make the rounds, some in store-bought costumes, some in originals, others in no costumes at all. As I tossed a pack of Skittles into one little girl's bag, I told her Skittles were my favorite, whereupon she bellowed, "Yeah, Skittles are my favorite, too!" When I asked another small girl if I could see how much candy she had had, her mother, standing inches away, rushed in and lifted up the girl's bag before the child could react. Then I asked the kid if she liked Snickers bars, and her mother, answered for her, "Yes." I feel sorry for parents like this in that they are not giving their children a chance to engage with others and to learn that talking with their neighbors, in a friendly, traditional setting like Halloween, can help set a foothold in their neighborhood and that kids CAN speak and figure things out.
•
Over the past few weeks I've been stopping by the former Van's Shoes at 14 East Lake Avenue to watch it being transformed into a new flooring store. Since Van's moved to a smaller location just a few blocks east on East Lake Ave., the past location has undergone a major renovation inside and out. A bright multi-color paint scheme outside gives the place a modern splashy look. Painters have been crawling all over the front of the building the past few days. I've stuck my head in the front door a few times to see the interior getting fresh paint and the lines of the place changing. I spoke with the owner, Nima Chiring, and he said the new store will be Samaya's Flooring and Design Center that is aiming for a post Thanksgiving soft open.
•
•

Meanwhile, across the street, at the corner of East Lake and Brennan, the former U.S. Bank is slowly becoming a new laundromat. I've spoken to a few of the workers there and the language barrier has stood in the way of getting much info. A few folks say they'll open "in a few months." Exterior paint, bank upon bank of new washers and driers, folding tables and such are in place. The front and rear parking lots are a disaster, with weeds, trash and sagging cyclone fencing; there was a pretty big homeless shelter fire against the rear wall of the place several months ago.
•
Two inmates escaped from the Monterey County Jail over the weekend in Salinas. Jonathon Salazar and Santos Fonseca, both charged in separate murder cases, are considered dangerous. There is a reward of $5,000. Call 755-3722 if you spot them.