Female-dominated cast puts fresh twist on classic story
WATSONVILLE—Watsonville High School drama instructor David Scott believes that author S.E. Hinton would appreciate his stage adaptation of her 1967 novel, "The Outsiders."
Under the suggestion of her publisher, Susan Eloise Hinton had used her first and middle initials to publish the book, hoping it would deter male reviewers from judging her as a female writer.
This fall, Watsonville High School's (WHS) stage adaptation has all male characters being played by girls, and the two female roles being played by boys.
The idea for the gender-swap originally came from the unequal amount boys and girls enrolled in Scott's Drama II Production class this semester.
"We had like, 16 girls and only three boys," Scott said. "So I just switched around everyone's pronouns… and it just worked so well."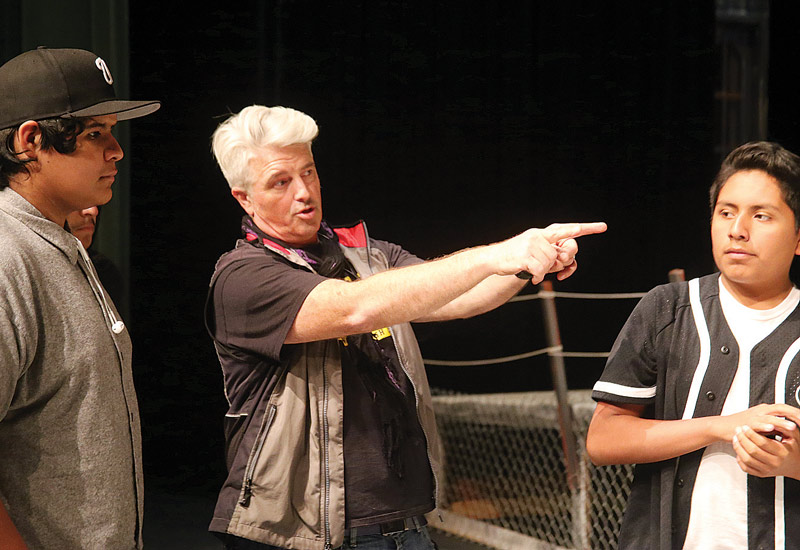 "The Outsiders" follows the story of two rival gangs in the 1960s from opposing socioeconomic backgrounds. Hinton wrote the novel while she was still a teenager, inspired by gangs at her own school in Oklahoma. Compelled to show empathy toward the lower-class gang members, she wrote the story from their point of view.
Scott said he loves how the girls are getting the chance to portray these types of characters.
"I think it's empowering for them to play these complex, interesting characters," he said. "They're rough around the edges, they express frustration and anger. They're not just playing the love interest."
"The Outsiders" was originally adapted for the stage in 1990 by Dramatic Publishing. Scott says that WHS Drama's version has come together slowly but steadily. A number of new young actors and crew have been involved in the production.
This includes Jasmine Serratos-Esparaza, who took on the challenging role of main character Ponyboy Curtis.
"I'm pretty nervous," she admitted. "It's my first time doing something like this. But it's been lots of fun. I like pretending to be someone else once in a while."
Helen Benavidez, who plays Ponyboy's friend Johnny Cade, said she was very excited about being in the play. While she did have a role in last spring's musical "The 25th Annual Putnam County Spelling Bee," this was an entirely new experience.
"It's really different," Benavidez said. "There's a lot more lines to remember, so it's a much bigger task."
Serratos-Esparaza and Benavidez both read "The Outsiders" in middle school, but admitted they didn't remember much until re-reading it for the play.
"I really liked it… and I understand it better now that I'm older," Benavidez said.
WHS Drama's "The Outsiders" opens Nov. 14 at 7 p.m. Other evening performances will be held Nov. 15, 16, 21, 22 and 23. Two Sunday matinees are scheduled for Nov. 17 and 24. 
Scott said he has always wanted to switch around the genders of an entire cast, but had never been brave enough to do it until now. And "The Outsiders," he said, was the perfect opportunity.
"Hinton wrote her characters as loving each other deeply, as friends, as a gang… all going through hardships together," Scott said. "I think with girls playing these parts, it just feels right. And I think [Hinton] would love it, too."