Apple harvest is underway, and at Pista Farmlands in the Pajaro Valley, the season is shaping up to be a bountiful one.
Pista Farmlands is a 75-acre plot of land about one parcel northwest of Watsonville, consisting mostly of apple orchards that supply fruit to one of the region's oldest and most iconic companies, S. Martinelli & Co. Pista grows a number of apple varieties, including Newton Pippin, Red Delicious, Fuji, Granny Smith and Mutsu (also known as Crispin).
The apples are grown and harvested at Pista, then transferred to cold storage before being sent to Martinelli to be made into its signature cider and juice products.
Farmer Alejandro Ponce said the season is shaping up to be better than last year. A series of intense heat waves and wildfires marred an otherwise healthy 2020 California apple season. A good deal of fruit was either sunburned and, in some areas of the state, charred by flames.
"This year, the apples look really good," Ponce said. "Though, it has been very dry. We haven't had much rain. So we've had to water the crops a lot more."
According to a report from the U.S. Department of Agriculture, the 2021 apple harvest is expected to increase by at least 3%, though it varies from state to state. California itself is expected to have higher yields compared to last year.
Pista Farmlands, which is located between the busy Amesti Road and Corralitos Creek, has been farmed by the Pista family since 1919. The B. Pista Company, owned by Mark Pista, and Knego Ranches are situated on the property.
In 2011, the farmland was placed on an agricultural conservation easement with the Land Trust of Santa Cruz County. This guarantees that it will never be developed or utilized for anything except agriculture.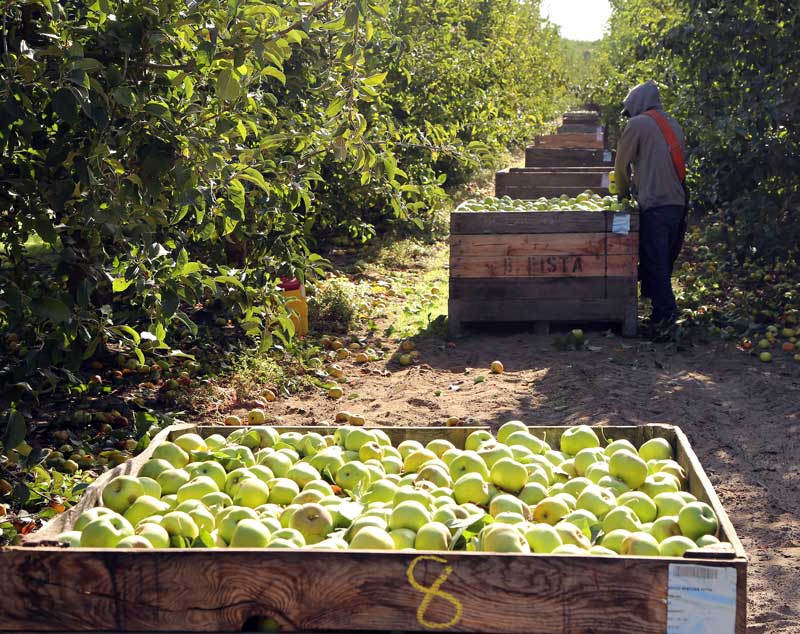 Pete Knego, a member of the Pista family who now manages Knego Ranches, said that he has fond memories of growing up on the property and is happy that it is protected in perpetuity.
"I've been part of this operation for most of my life," he said. "I remember being here, helping stack boxes when I was just 8 years old."
Knego said that, from his perspective, while the apples are smaller in size this season, the crop is looking healthy.
"I will say, [the apples] are not as big as last year," he said. "I have noticed they're a bit smaller. But still, they look really good."
On a warm morning in early October, crews of workers were busy harvesting a section of the Pista orchard. Bushels of green varietals were plucked off trees, dumped into large bins and transported to storage.
Ponce admitted that labor is tight, and continues to be more of a challenge every year.
"For 10 or more years … we've had less and less workers," he said. "It's hard to find people to work here."
However, Ponce, who has worked at Pista for close to 30 years, said he still thoroughly enjoys working at the orchard.
"I love it," he said. "It's really nice being out here every day."
Knego agreed, praising Ponce, Mark Pista and everyone else involved in the operation.
"It's like a family here," he said. "We have amazing people working for us."
This, Knego said, is probably why they have so many longtime employees.
"We try to keep everything tight-knit," he said. "If there's an issue or problem, we circle the wagons around our employees. Loyalty is everything."