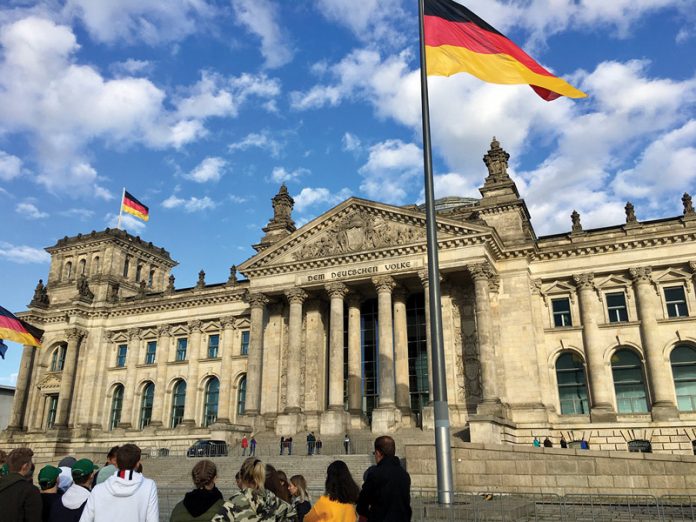 Short trip to German capital offers glimpse into famous city
Editor's note: This is the third installment in a series about England, Germany and the Netherlands.
From 1970 to 1971, my father lived in Germany. He was a student for a few months of the year, and worked for nonprofits and traveled the rest. In 1974 he returned, spending two weeks in Berlin, which was at that time split into East and West.
When I told him I would be stopping in Berlin for a few days on my own European trip, he jokingly replied:
"It probably hasn't changed that much, right?"
There is no doubt that Berlin today is not the same as it was 45 years ago. It is a diverse, sprawling metropolis that has undergone an overwhelming transformation.
After my plane landed in Berlin on the evening of Oct. 1, I met with my good friends Noll and Hannah. Noll, a Bay Area native, moved there in 2016. He and Hannah live in a cozy 2-bedroom apartment in the district of Charlottenburg.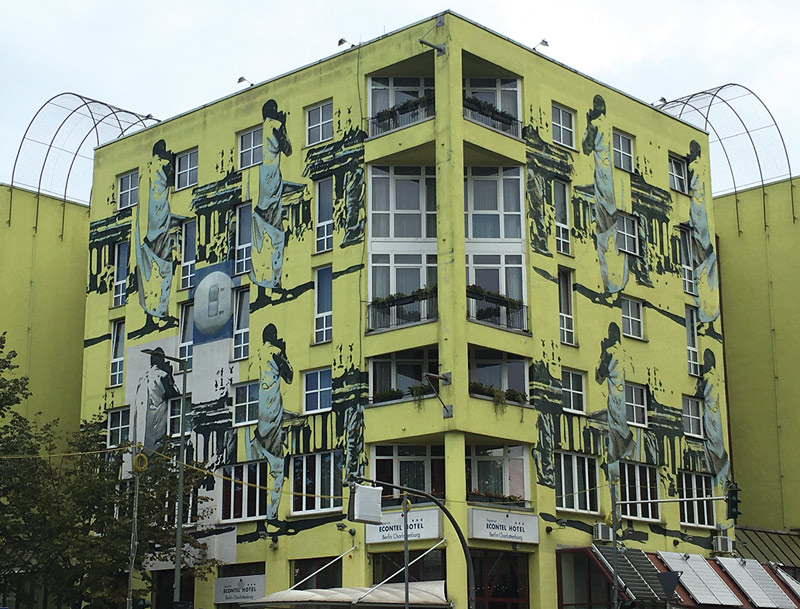 The first thing I did was purchase a public transit pass, which proved useful for my three days in the city. You can get almost anywhere by train in Berlin (like any other major European city).
The first night was spent catching up with my friends. We are music fans, so we talked late into the night about favorite bands and songs. Noll and Hannah are musicians, occasionally playing shows at small venues across Berlin.
The next morning, Hannah and I took a short walk to Charlottenburg Palace Park, situated along the banks of the Spree River. Hannah was born in Berlin, and after moving with her family around Germany moved back to the city again in her 20s. She was my tour guide when Noll was working.
Charlottenburg Palace, a Baroque palace built in the 17th century, is the focal point of the park. Lavish grounds surround it. We visited the mausoleum, built for King Frederick William III's wife Luise. A friendly worker at the mausoleum let us take a brief look inside without paying the entrance free.
Later that day we hopped on a train headed to Pariser Platz to see the famous Brandenburg Gate: an 18th-century neoclassical monument built by Prussian King Fredreick William II as a key entry point to the city. The site is a popular place to take photographs.
As we passed under the gate, we noticed booths and barriers being set up nearby. Hannah realized it was in preparation for German Unity Day—a public holiday on Oct. 3 commemorating the anniversary of East and West Germany's unification in 1990.
We then saw rows upon rows of concrete rectangles in the distance. It was the Memorial to the Murdered Jews of Europe, a monument built in memory of Jewish people killed during the Holocaust.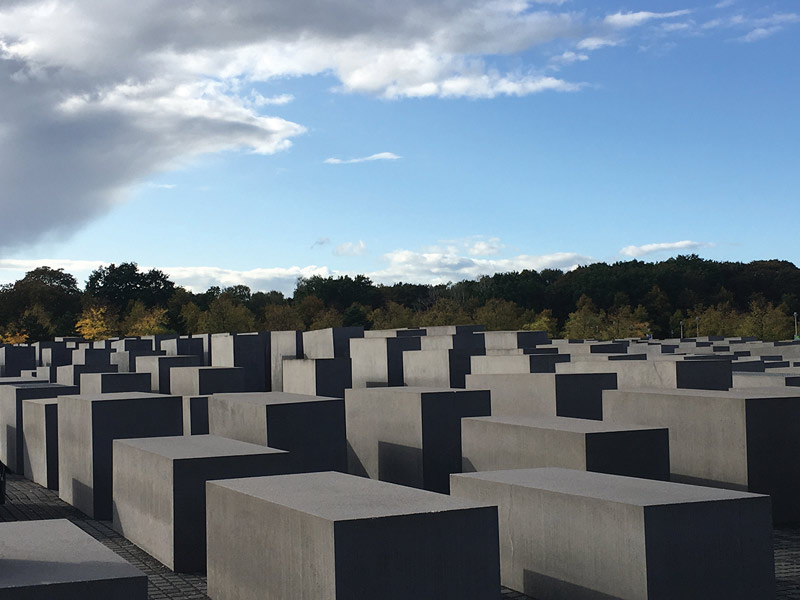 It consists of 2,711 grey concrete slabs, all with the same dimensions arranged on a sloping field—giving the illusion of differing heights. Walking through the memorial is sobering. Standing in its center, the slabs tower over you, city noise disappears and you are left to reflect.
Hannah said the only issue with the memorial is when tourists jump on top of the slabs or pose for photographs among them.
"It's just disrespectful," she said. "These are basically representing coffins."
From the memorial we made our way to Tiergarten Park, the city's largest and most popular park, home to the Berlin Zoo, galleries and cafes. We spent about an hour wandering its trails, encountering families strolling together and dogs leaping into ponds.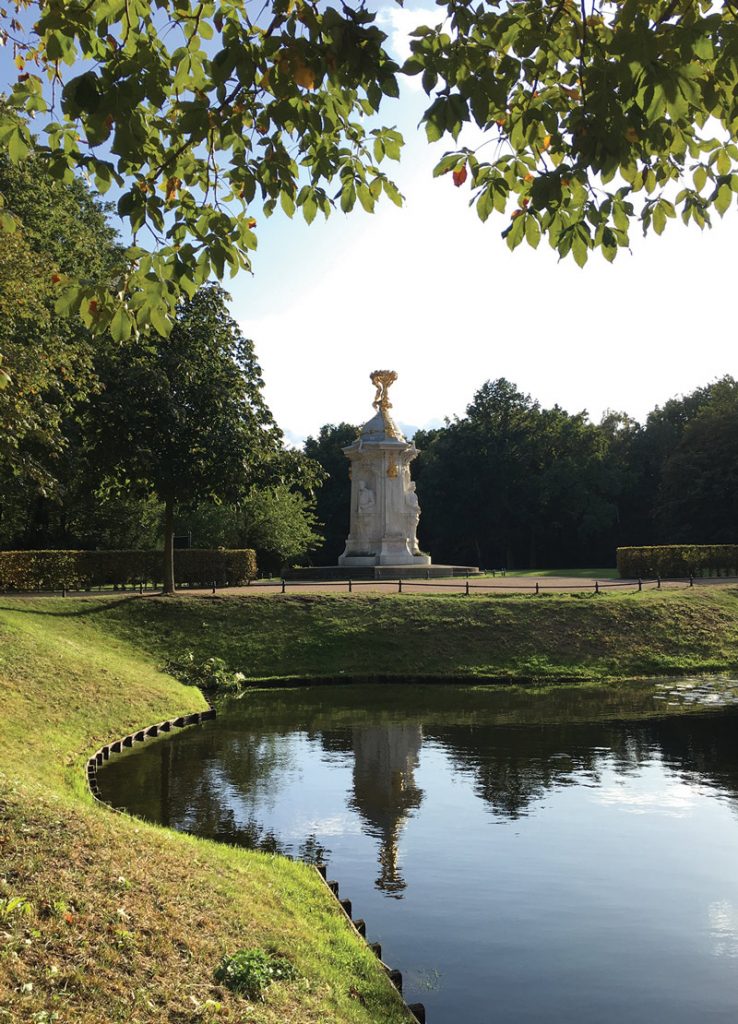 After returning to the apartment we ordered dinner from a nearby kebab place. There is a large Turkish immigrant population in Berlin, and as such a number of restaurants have popped up. The kebab was the best I'd ever had—the delicious bread was soft and crunchy, and the meat was cooked to perfection.
As my first day in Germany ended I pondered what I had experienced in a small amount of time. Berlin was unlike any city I'd been to. I was excited to see what it would reveal next.
•••
For part 4 of this travel series go to https://pajaronian.com/a-busy-day-in-berlin/.