Brendan Doyle alternated between second or third on the tight end depth chart during his freshman season on the College of San Mateo (CSM) football team during the 2021 season.
"I didn't play much at all really," said Doyle, a Gilroy native and Monte Vista Christian graduate.
In an era where hundreds of players transfer every year, Doyle decided to stick things out instead of looking for another opportunity.
"I didn't give myself another option [to transfer]," he said. "The only option is I need to start my sophomore year or else my football career is over. That is what I told myself."
Doyle's mental toughness and willingness to stick it out paid off in a huge way, as he played a key role in CSM winning the program's first-ever California Community College State Championship and with that finishing as the top-ranked team in the country by JC Gridwire.
Three weeks after CSM beat Riverside City 55-0 in the state title game on Dec. 10, Doyle received a scholarship offer to play for the University of Memphis, an NCAA Division I Bowl Subdivision team that recently completed a 7-6 season with a 38-10 trouncing of Utah State in the SERVPRO First Responder Bowl.
Memphis offered Doyle the scholarship at the end of his campus visit on Jan. 6, and he committed hours later. Doyle's commitment capped a whirlwind of events starting Jan. 4, when he woke up to a phone call from Memphis tight ends coach Brad Salem.
Talk about a nice wakeup call. Memphis had looked at Doyle's film and during the call the visit was scheduled. The very next day, Doyle was on a plane to Memphis.
"I got into Memphis at 9:30pm [Jan. 5], woke up early the next day and saw the coaches at 8:30am [Jan. 6]," Doyle said. "I toured the campus all day and at the very end talked with [head] coach Ryan Silverfield, and he offered me. I was obviously stoked about it but still needed to talk to my CSM coaches, my family and my girlfriend to make sure everything is OK and straight."
Doyle got back to his hotel at 6pm, took an hour to decompress and then had dinner with his parents at 7. Over the next 40 minutes, he talked with his parents and then called three of the CSM coaches and his girlfriend before deciding to give Memphis his commitment.
Things had to move fast because of the timing of being a mid-year transfer.
"Coach Silverfield said I didn't even have a week to [decide to] commit because there is a period for JUCO guys, Jan. 4-8, and after that is a dead period where they can't recruit," Doyle said. "They needed my decision fast."
Doyle flew back home to Gilroy the very next morning and started packing his belongings. With the spring semester starting Jan. 17, Doyle started driving to Memphis on Jan. 11, accompanied by his parents.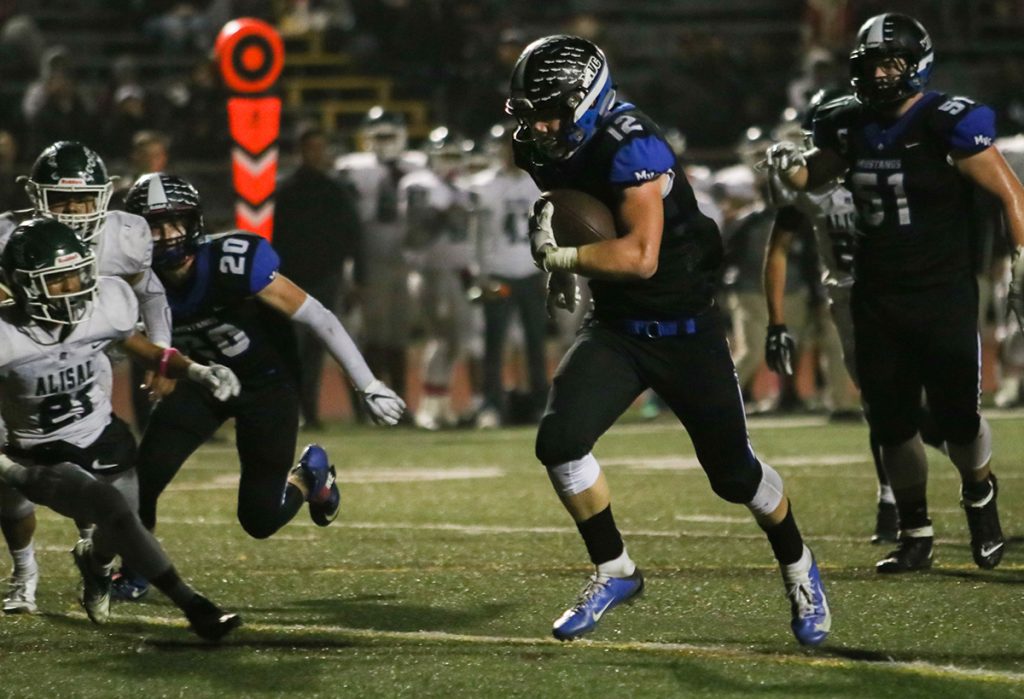 It's been an incredible journey for Doyle, who played in his freshman year at Gilroy High before transferring to MVC, earning Santa Cruz Coast League 'A' Division MVP honors playing quarterback and linebacker in his senior year during the Covid-shortened 2020 season that was played in spring 2021.
The 6-foot-4, 235-pound Doyle didn't receive any D1 offers, so he decided to enroll at CSM, one of the nation's premier community college programs for the last 15 years. The decision didn't come without risk, as many top high schoolers end up going to CSM and not starting immediately.
Doyle found himself in that exact position in his freshman year, which relegated him to two options. One, transfer to another community college not at CSM's level to increase his chances of playing time, or two, continue to grind and earn the starting position.
Doyle chose the latter, and the rest as they say, is history. Doyle had the attitude that it was CSM or bust. If he couldn't cut it at CSM, he thought, then there was no point in going forward.
"It's sticking with it," he said. "There were a lot of days where you're uncertain about your future, you're uncertain about your playing time, you're uncertain about a lot of things. But as long as you show up everyday, put the work in and take steps to get better everyday, I could live with that. I think you have to have faith everything will work out in your favor and that's what I did."
Doyle's role at CSM was vital in that he often blocked opposing defensive ends one on one. That helped key the Bulldogs' vaunted run game, which of course opened things up passing-wise. Doyle finished with a very modest 16 receptions for 253 yards in 13 games, but five of those catches went for touchdowns.
Despite knowing he wasn't going to be putting up prolific numbers, Doyle didn't have concerns that would deter him from receiving an offer from a program of Memphis' caliber.
"I wasn't really worried where I was going to go after I was done at CSM," he said. "I just knew if I put my all into everything here, that everything else would fall into place. And winning a state championship—regardless of the numbers you put up—shows you're a good team player and know how to play at a high level. I'm just willing to contribute in any way possible and wasn't worried about how many catches I had or how many touchdowns—I was just worried about the team winning."
Doyle was a part of history, as he caught two touchdowns in the state championship game. After knocking on the door for the last decade, CSM finally broke through against a Southern California opponent and made history with the victory and subsequent No. 1 national ranking.
The 2009 season was the start of what has become the golden era for CSM football. That was the year it reached its first state championship game, falling to Mt. San Antonio College, 7-6. More heartbreak came in 2017, when the Bulldogs lost 16-12 to Fullerton for the state title.
Two years later, another state title appearance, and another loss. The 2020 season never kicked off due to Covid and last year CSM fell one game short of reaching the state championship contest. So, to finally break through in emphatic fashion put an exclamation point on CSM's historic 2022 season.
"It meant a lot because obviously last year we fell short and past years fell short," Doyle said. "All of our focus this year was to win that game, so the emotions afterward, we were just proud and happy for sure."
Doyle said he experienced huge growth in his game in the offseason—especially blocking-wise—which was key in earning the starting role at tight end.
"You just have to be ready for all the physicality that's going to come with blocking bigger guys," he said. "I have to give it to my coaches, too. They taught us well and prepared us for situations and created a dominant mindset over the opponent, and it definitely showed on the field."