WATSONVILLE—Watsonville High seniors Tea Villalta, Maya Guerrero, Maliyah Sandin and Anastacia Alba have been part of the softball team since 2018. As freshmen, they got a taste of what the Central Coast Section postseason was like.
They also felt the bitter pain of elimination after losing to St. Francis of Mountain View in the Open Division semifinals and again the following year in a loss to Aragon in the Division I championship.
They were off to a great start last season but that was cut short due to the Covid-19 pandemic, which forced all sports to shut down for the rest of the school year.
But after three years of agony and defeat, the top-seeded Wildcatz in this year's CCS D-I bracket are bringing home a title after a 4-2 victory over No. 3 Westmont High in Thursday's championship at Watsonville High.
"It's crazy that we won, I still can't believe it. I'm in shock," Villalta said. "It was really exciting because we've been trying to get this win since our freshman year."
As Sandin stepped on second base to make the final out, the rest of the girls threw their gloves up in the air and ran toward junior pitcher Marissa Martinez for the celebratory dogpile. More than 200 spectators—most of them lined up on the sidewalks of Lincoln Street and Riverside Drive—were on hand to witness history in the making.
Villalta said bringing home a title ranks as one of the top moments in her life.
"This has been something that I know all the other seniors have been looking forward to in our four years," she said.
Watsonville coach Scott Wilson now has two CCS titles and a runner-up in 4 seasons, not including last year.
"I think it's kind of instilling a mind set and building a culture that, to me, is all about effort," he said. "Your efforts will always lead to success."
The Wildcatz showed effort from the get-go. Guerrero was on point at the catcher position as she threw out a runner attempting to steal third base to end the top half of the first inning.
Martinez hit a two-out, two-run home run over the right field wall in the bottom of the first to put Watsonville ahead, 2-0.
The Wildcatz had everything going their way but then they hit a snag. It started in the second when Sandin got called out for stepping outside of the batter's box during a swing.
Next, Martinez was issued a warning by the umpire in the third for covering the ball prior to her windup for a pitch. Shortly after, she gave up an unearned run after junior shortstop Rylee Gomez's throw to senior first baseman Ire Lerma was off the mark.
Senior outfielder Audrey Salvador scored Westmont's first run of the game to make it 2-1.
The Wildcatz had no trouble responding in the bottom half as Alba crushed the ball for a double, driving in junior outfielder Yaviana Prado and extending the lead back to a pair of runs, 3-1.
Alba said the emotions were still high from Wednesday's come-from-behind win against Los Gatos High. But if the past four years have taught her anything, it's learning how to control those emotions during the big moments.
"It's CCS, we can't let our emotions get the best of us," Alba said.
Martinez, who pitched 21 innings in three straight days, looked sharp in the circle once again. She wasn't afraid to mix it up, at times throwing the heat and fooling batters with a smooth changeup pitch.
"We really depend on [Martinez]," Alba said. "She's a really big asset to our team and without Marissa, it's not a whole team."
The Warriors wouldn't go away that easy, though. Sophomore shortstop Jacqui McLean cut the deficit to a run after a solo shot over the right field fence made it 3-2.
They threatened to add one run more when sophomore Bella Andrade got on base as the tying run. Martinez managed to get out of the jam and the defense was right there to back her up.
The Wildcatz's offense went scoreless for nearly three innings until Villalta drove in sophomore Abreanna Alba on a clutch RBI single in the sixth that made it 4-2.
"It was crazy when I went up to bat. I wasn't really thinking. I just wanted to get a base hit," she said. "Like coach always says, 'We don't need Supermans, we need Clark Kents.'"
But the road to the program's second title was no easy task.
The 'Rally' Catz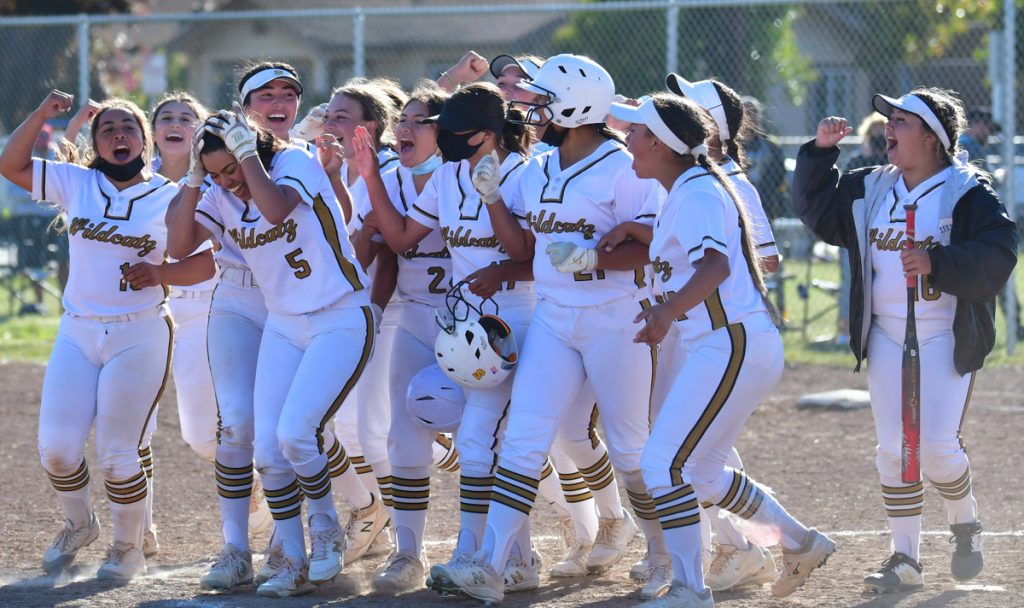 The Wildcatz reached the CCS title game after winning back-to-back games on Tuesday and Wednesday. But they found themselves in a hole early on against both No. 8 Sequoia and No. 5 Los Gatos.
Sequoia jumped to a 3-0 lead in the first inning of the quarterfinals after senior Sola-ki-Vava'u Taimani cleared the bases with a three-run double.
The Wildcatz chipped away with a pair of runs but it was Martinez's two-run home run that put them ahead for the first time in the game.
"Just going in there I knew I needed to get a hit," Martinez said. "I waited for the changeup pitch and just took it to the opposite field."
Prior to that, she got some assistance from the Wildcatz's laser-focused defense with an inning-ending double play executed by Gomez to Sandin to Lerma.
"I feel like our chemistry is really good off and on the field," she said. "Having a special bond with your defense as a pitcher is something special. Not a lot of people have that."
Martinez didn't allow a run after giving up three in the first. She said there was nothing to worry about, especially because she knew the offense would pick up the slack. The Wildcatz defeated the Ravens, 6-3, to advance to the semifinals.
There, the Wildcatz went down in the third inning after Los Gatos' Alanna Panu hit a three-run home run to put them ahead.
Los Gatos scored a pair of unearned runs in the top of the seventh to take a 6-3 lead and move the Wildcats closer to what seemed to be a sure victory.
Martinez and the rest of the 'Catz crew thought otherwise. She led the bottom half of the inning with a single to right, followed by a base hit to left by Alba.
A pair of walks and a mistake by Wildcats shortstop Morgan Burt allowed Watsonville to add two runs. They needed just two more to win the game but Prado delivered a two-out, walk-off grand slam that capped a six-run inning to beat Los Gatos, 9-6.
"I didn't think it would go over, but once it did, it was crazy. I was excited. And I'm still very excited," she continued. "I was running the bases and my team knocked me down, trampled me. It was a great win. Good effort from everyone. I couldn't have done it without them."
Sticking together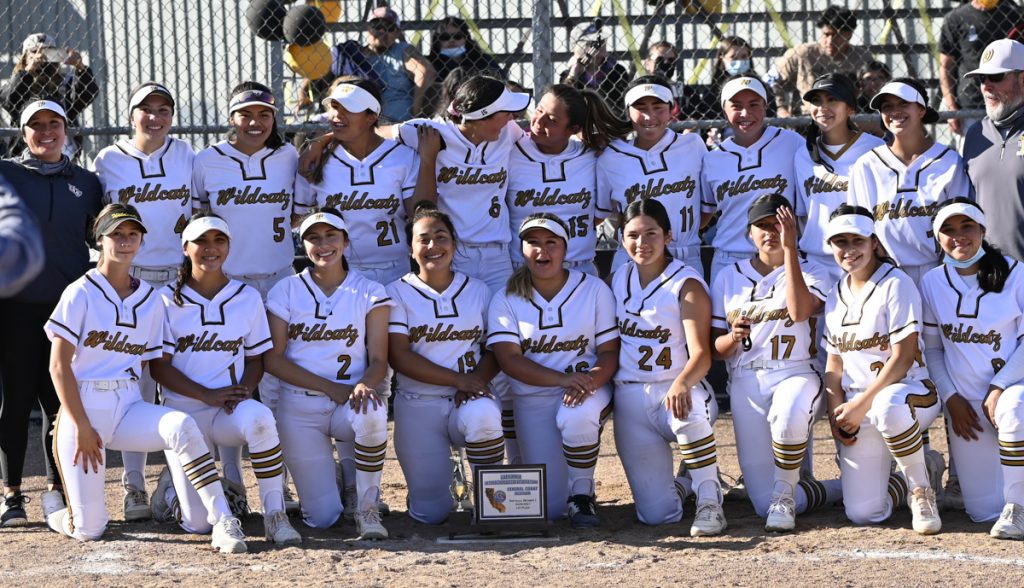 The Wildcatz wrapped up the Santa Cruz Coast Athletic League title with a 16-1 record late last month. Shortly after that, came the end of the school year and with it the discussion of players possibly leaving their high school teams to join their summer travel ball squads.
The postseason was condensed into three days in a row starting with Tuesday's quarterfinals. A big reason for that was to allow most teams, such as Watsonville, to play with their full squads before players take off for the summer.
Wilson said the CCS postseason is usually over by Memorial Day weekend and not having a full roster had never been a concern to him or other coaches.
"They're preparing themselves for college and need to be seen and possibly recruited," he said. "For us, as high school coaches, we have to be understanding of that."
But, everyone was onboard in Thursday's final. Martinez said a good amount of the squad is used to competing in up to four games in a day, which came in handy these past three days.
"I don't think it's really anything new," she said. "The competition is a little bit harder than we've been seeing recently … It was really fast at the beginning but we just settled down."
It was also key for the team to stick together because Wilson said it was tough to prepare for the postseason, primarily because they were just used to the local competition.
"It was a challenge and I think the girls accepted the challenge," he said. "They understood what we were fighting for, for one. We always set the goal and our expectations high, and our demands to meet them are even higher."
Villalta mentioned that some of the players probably had other priorities lined up instead of sticking around after the school year. She said they all talked about the postseason and what was a stake, so they decided to go all the way.
"We made it this far, we were league champs so why not go all the way and see if we could try to win," she said.
The Wildcatz will be losing five seniors to graduation. Villalta and Lerma are both attending Cabrillo College to play for its softball team, while Guerrero and Sandin will continue their careers at Monterey Peninsula College. Alba will attend Chico State to play softball on a scholarship.
That means a majority of the team is set to return next season, which include Martinez, Gomez, Prado, sophomore Abreanna Alba, freshman Julia Maldonado and the Llamas sisters, sophomore Brookly and freshman Cameron. 
Editor's note: The story originally published that Maya Guerrero and Maliyah Sandin were going to attend Hartnell College. The story has been updated with the correct college.