It was a historic season for the Watsonville High girls' cross country team in 2022 after it earned a trip to the CIF State Championships for the first time in a little more than a decade.
The Wildcatz will try to stay on the same path back into state finals despite losing several expected returners and a group of graduating seniors including Dahlia Barranco, a key cog in last year's success.
But no need to worry, especially when the "Black and Gold" have co-captains Angela Hebert and, of course, two-time Pacific Coast Athletic League individual champion Katelynn Ruiz taking charge of the program.
"It's kind of fun being able to lead the team and kind of mold them into great runners," Ruiz said.
Ruiz won the Cypress Division title as a freshman in 2021 and then really made a name for herself after winning the Gabilan Division championship the following year.
"Katelynn [Ruiz] has been putting in a lot of work this summer and she's got some good goals," said Watsonville head coach David Knight.
First and foremost is winning a PCAL Mission Division title, followed by a trip back to the Central Coast Section Championships. Both goals are realistically attainable and the season is still young enough for the 'Catz to finely tune anything during the final stretch.
Ruiz—younger sister of former Watsonville standout and record-holder Layla Ruiz—is already getting into that championship mode. She said once they get there it's about reassuring her teammates' confidence level and pushing them to strive for the next level.
"Right now I can see they like it and they love it, but when there's that drive and that love for it, they're getting there," she said.
Ruiz won the Missision Division girls race in 19 minutes, 52 seconds during the Pacific Coast Athletic League's center meet No. 2 at Toro Park in Salinas on Thursday.
Hebert, a transfer student from Anzar High, competed in just one race last season. She was still inspired by the strong running culture on campus and noticed those competing for the 'Catz take the sport seriously.
"I'm actually really excited and last season I was really nervous to race, but I feel like my confidence has gone up a lot," Hebert said. "I'm just having a lot more fun this year than I was before."
Hebert placed ninth in 22:16 at Thursday's central meet to help the Wildcatz place second as a team with a score of 64, just slightly behind winner King City (48) and ahead of Alvarez (71).
Over the summer there was a point where Hebert was running up to 50 miles per week to improve both her speed and stamina, taking notes on what her fellow teammates were doing.
Hebert enjoys her leadership role and seeing teammates take her advice seriously, truly valuing what she has to offer. She also talked with Ruiz about positive affirmations and what it takes to stay focused during a race.
"Just staying positive is really big because running is like 80% mental," Hebert said.
Knight said they have a group of strong new runners such as sophomore Lizbeth Gomez Abrica who came from the track team. She has slowly transitioned into a middle/long distance runner and is adjusting to cross country really well.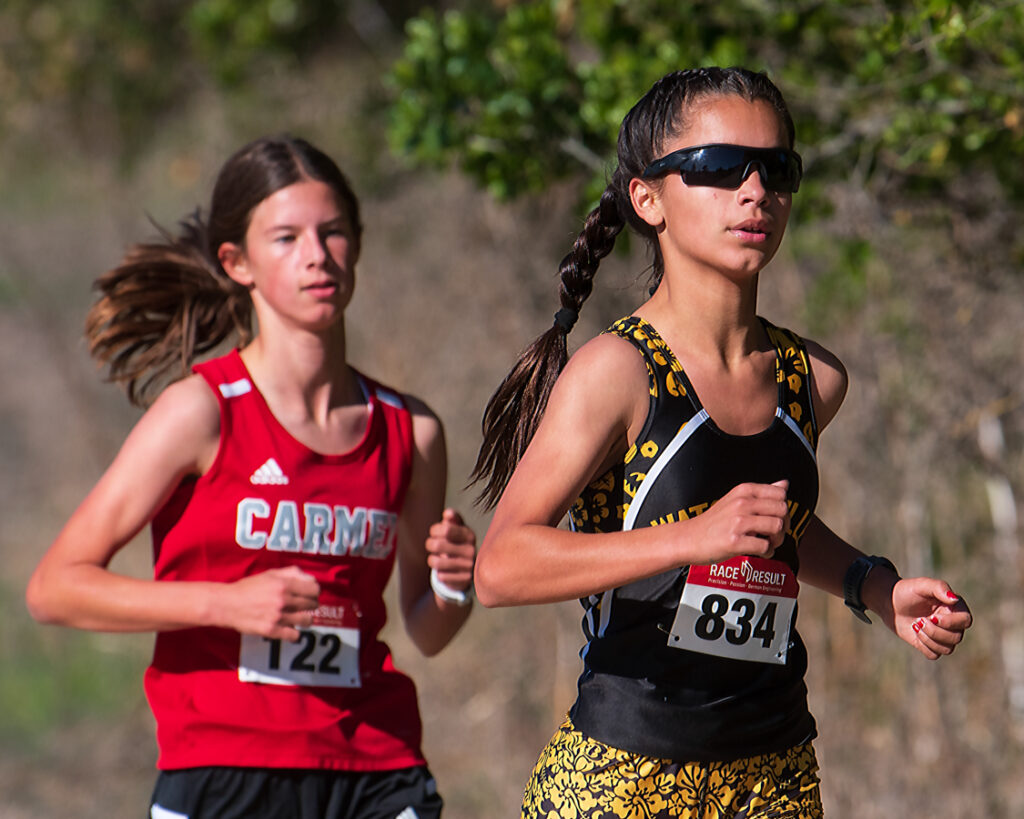 Watsonville was demoted from the Gabilan Division back down to the Mission Division.
The 'Catz will compete against Alvarez, Greenfield, King City, Monte Vista Christian, Salinas, Soledad and Stevenson for a shot at the league title.
"It might not be as easy as last year but I think that we'll still strive towards it and that we're going to be good enough to get to it," Ruiz said.
MVC lost top runner Caelan Gilliam due to graduation but the Mustangs do have junior Kylie Brunelli making her return. Both runners also qualified for last year's CIF State Championships in Fresno.
On the boys side, co-captains senior Giancarlo Mendo and junior Rodrigo Barranco will bring experience to what is expected to be a strong Watsonville boys squad.
"We're more committed compared to last year," Mendo said. "In the summer, we spent a lot of time together, working together, train together. I feel like now it's starting to pay off."
Mendo said the upperclassmen are trying their best to guide the younger runners through the basics such as warm ups, how to properly do the workouts, nutrition tips and urging them to get some quality sleep.
"What to do outside of practice," he said.
Mendo saw the potential they have as a team in 2022 and believes that's what gave them the drive to become a tightly knitted group and take the season more seriously compared to last year.
His goal is to place in the top-15 at CCS championships and a possible trip to the CIF State Championship.
Like most competitors, Barranco wants to win the Mission Division title and return to the CCS championship. He said they're doing their best to stick together, even if it means doing workouts or hanging outside of practice.
"Everyone's just closer and a sense of more companionship," Barranco said.
The 'Catz took fourth as a team in the Mission Division with a score of 109 at Thursday's center meet at Toro Park—home of the PCAL championships. Mendo placed sixth in 17:03, while Barranco was 12th in 17:56.
Another runner to watch for is sophomore Desi Salinas-Holz, who has improved a lot since the PCAL Regional Jamboree on Aug. 30. Both Diego Gonzalez and Ernesto Martinez have also been big contributors for Watsonville.
"We're looking pretty strong for that boys varsity team," Knight said.
Monte Vista Christian will have a strong boys group that will be difficult to beat in the Mission Division this season. They won the second league central meet of the season with a score of 39 just ahead of Greenfield (76) and Hollister (93).
The Mustangs lost a couple of key contributors from last year's team due to graduation including James Ponzio, who placed sixth in the CCS D-V championship in 2022.
But, they do have sophomores Gavin Beckman and Conor Gilliam, who placed 24th and 27th, respectively at the section finals.
On Thursday, Beckman took fifth in 17:03, followed by Gilliam (17:02) in fourth and fellow teammate junior Justin McCullick (17:02) in third.
Other teams within the league include Alvarez, Stevenson, Rancho San Juan and Soledad.
"I feel like they're going to have a stronger base compared to last year," Mendo said. "They put in a lot more effort over the summer."