WATSONVILLE—In a 4-3 vote Tuesday after a marathon six-hour meeting that drew hundreds of people, the Watsonville City Council approved an update to the City's general plan and a zoning change that will allow Ceiba College Preparatory Academy to remain permanently at its location in an industrial zone at 215 Locust St.
Councilmembers Ari Parker, Casey Clark and Vanessa Quiroz-Carter dissented.
The Council also approved a special use permit for the school, but added the condition that the school create a complaint form on its website for the community, and that the school respond to complaints within seven days.
In addition, Ceiba must keep a detailed log of the complaints and information such as outreach to the community, training provided for crossing guards and the status of its safe routes for schools program, said Community Development Director Suzi Merriam.
The school must then produce a quarterly report for the next three years, and annually after that.
Additionally, the school must hold a community meeting within 60 days to address concerns such as traffic and parking, and is required to hold biannual meetings after that.
These additions were a nod to several neighbors—more than 80 signed a petition in opposition to the school—who say that the traffic that piles up during the school's pickup and drop-off times is untenable, and that the lack of parking sends students and staff to find spaces into surrounding streets.
Nick Bulaich, a lifelong resident who owns property in the neighborhood, says his complaints often go unanswered. He said he doubts the new requirements will carry any weight.
Dozens of people addressed the Council, and while most spoke in favor of allowing the school to gain permanent status, many outlined their concerns about how it impacts the neighborhood and businesses.
John Martinelli said he supports the school, but said its placement near 12 cold storage facilities, each with up to 10,000 gallons of ammonia in high-pressure systems, puts it at risk if a leak occurs.
"They are literally in the middle of 100,000 gallons of ammonia," he said.
An earthquake, he said, could break one of the systems and send concentrated ammonia at 300 parts per billion in the area of the school, which the CDC and OSHA say is "immediately dangerous to life and health."
Martinelli also asked the Council to consider the agriculture industry, which employs around 10,000 people earning $350 million per year. Half the local fruit and vegetables, he said, go through those facilities.
"Our biggest concern is that if there's anything in this regulatory environment that we live in that increases regulations on our use of ammonia, 50 percent of the fruits and vegetables that are harvested in this valley goes through those cold storages, and if anything causes us to not be able to use ammonia, our industry is finished," he said.
That, he said, would devastate the local community.
Martinelli said that the City's Vista 2030 General Plan shows that the area should be zoned industrial "in perpetuity."
"The truth is that you have a long-range general plan, and this is in direct violation to that plan," he said.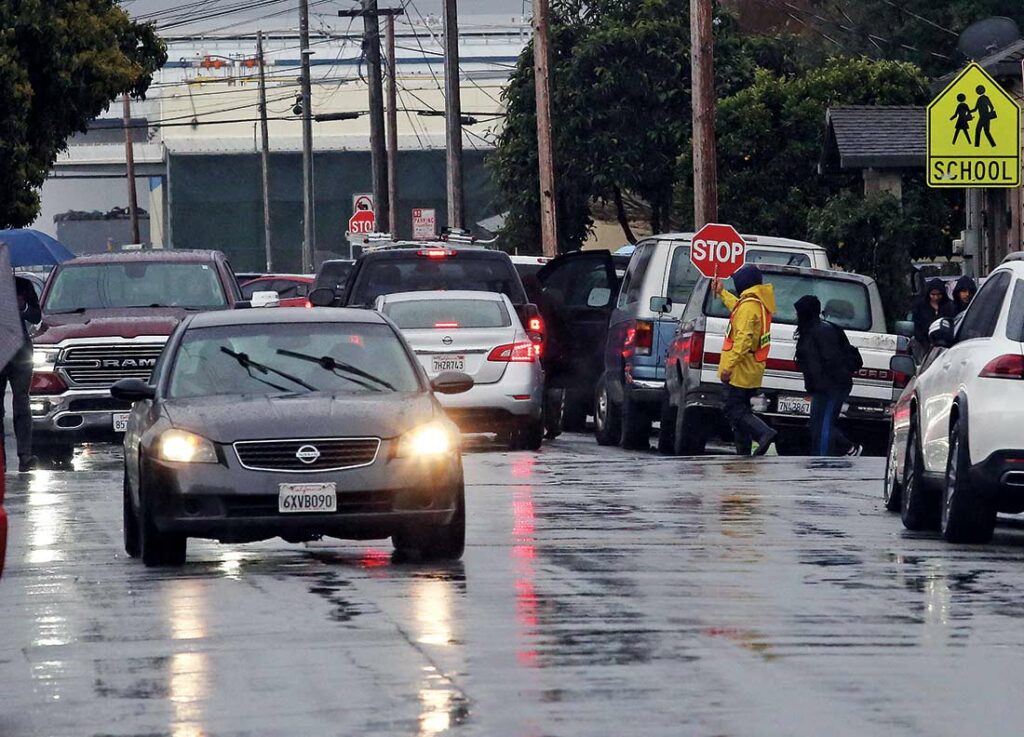 Parker expressed concern that Ceiba bought the property across the street to be used for a gymnasium despite the fact that the location was originally supposed to be temporary, and that the special use permit that allowed the school to operate in an industrial zone was also temporary.
"We're not a school district," she said. "We're a city. And being a city we respect our zoning."
Parker also said she disagreed with City staff—which recommended the zoning change—and said the planning department left the business community and the school's impact out of the discussion.
A longtime Pajaro Valley Unified School District teacher, Parker said she appreciated the dozens of Ceiba students who spoke in favor of their school.
But she wonders why Ceiba's agreement with PVUSD that the district co-sign a $2 million loan that allowed the school to renovate its building—while agreeing to forgo the Proposition 39 rights that would allow the school to demand space in the district—was not communicated to the City.
"That's at the very least underhanded in their relationship with the City," she said. "And we're expecting them to pass muster and develop a relationship with the business community?"
But the majority of speakers were Ceiba teachers, students and parents who implored the Council to approve the changes.
Student Adrian Jacob Gallardo called the school "a gift to our community," explaining that it has provided numerous opportunities for students since it opened in 2013.
Ninth-grader Carime Maldonado said she has made honor roll all the four years she has been at the school, a feat she said would not have been possible without the teachers.
"Every teacher I've had is so passionate and dedicated to teaching," she said. "Closing down our school would not only affect us educationally and socially, but also emotionally."
Seventh-grader Max Davis said his success at the school's Invention Convention led him to the national event in Detroit, Mich.
"Ceiba is a place for many people to open up with their dreams, find out new truths and go to new places sometimes," he said.
Francisco Chavez said he recently started at the school, but already knows he is going to like it.
"I want to start a new chapter and go to college when I am older," he said.
County Superintendent of Schools Faris Sabbah said that the school has made steps to address the concerns neighbors have raised, but said the problems facing Ceiba are the same as other schools across the county face.
"These similarities also don't eclipse the fact that this is a very special school," he said. "It's a unique school. And it has helped provide opportunities for dozens and dozens of students to continue their career and their education."
Senior Oscar Serrano, who serves on Ceiba's ASB, said enrolling in Ceiba in the seventh grade has been one of the best things he has done for himself.
"We are not just a school, but we're a family," he said.