WATSONVILLE—North Monterey County sophomore Chris Rasmussen was tired of seeing the same scenario over and over again where games this season ended up in heartbreak.
The young running back helped the Condors soar past the Wildcatz, 21-14, in the teams' Pacific Coast Athletic League Cypress Division finale on Thursday.
"We had it in us the whole entire season, for real," Rasmussen said. "We'll be smashing in the first half, as you saw in the past games, but we just couldn't hold it through."
Rasmussen finished with 154 yards rushing on 32 carries and the go-ahead score in the fourth quarter that put the Condors ahead for good.
The tensions were high between two teams that were still winless in league play going into Thursday night's game.
NMC coach Juan Cuevas said it felt good to get a win against a once historic rival from the past.
But, the Condors' victory was nearly spoiled after a scuffle broke out between both teams after they shook hands. The players were successfully separated and NMC was escorted back to their bus by the police.
"It's a shame how it ended, it should never be that," Cuevas said. "But we played hard on the field, they brought it and we brought it. I'm happy that we got the [win] at the end of the day."
Cuevas mentioned Watsonville did some things different on their defensive line that was bothering NMC's offensive line initially, which resulted in several holding penalties.
"Shout out the offensive line," Cuevas said. "They bunkered down, they tightened up and then were just able to run the ball behind our two sophomores, Francisco Calderon and Chris Rasmussen."
Rasmussen said they started to click in the second half and began playing up to their standards.
He also got most of the workload in the fourth quarter to help the Condors pick up some critical first downs. They tallied 312 yards rushing on 52 carries.
"It's not just for me, it's for the team," Rasmussen said. "I'm a foster kid, so I do everything for everybody else…but when coach calls my number, it's an opportunity for me to shine and help my team get a victory."
Watsonville sophomore quarterback Diego Abrego said it came down to the wire and there were a couple of passes that he felt were off for him.
He also mentioned that NMC constantly applied pressure due to the amount of extra pass rushers.
"They were getting in there fast and on some of the plays they were just getting in there really quick," Abrego said.
Abrego completed 12-of-22 pass attempts for 144 yards and one interception.
He managed to score the Wildcatz's first touchdown of the evening on a 7-yard rushing touchdown in the first quarter.
Abrego, who was called up to varsity to replace an injured Vicente Baltazar, was making his third start of the season.
But, the nerves were still there especially because it was Senior Night and he didn't want to disappoint his teammates.
"I just tried to step up as much as I could, not try to show my emotions out there but at the end of the day I can't control everything that happens," Abrego said.
Matthew Gonzalez kept Watsonville (2-8, 0-6) in the game after his 85-yard kickoff return to tie the score at 14-all with 1:20 left in the third quarter. 
The Wildcatz's offense struggled to put points on the board and they were shutout in their first four league games. They were held to 28 yards rushing on 17 carries on Friday night.
Yet, they've continued to fight and improved in some areas such as the passing game.
"After not scoring in some of the last few games, it just becomes a habit sometimes," Abrego said. "After the first touchdown we got things rolling again."
The season might be over for both teams but Cuevas said it was important to close it out with a win because that moment will stick with the players.
NMC (3-7, 1-5) started seven sophomores who went through some growing pains this season, Cuevas said.
They lost by two points, 9-7, to Cypress Division champion Soledad (9-1, 6-0) and three points, 28-25, to Rancho San Juan (8-2, 4-2) in league play earlier this season.
Cuevas said they've had to learn things on the fly and it's been their whole story this season, yet, the future is bright for the Condors.
"That stuff burns and it bothers us," Cuevas said. "We're going to start lifting weights in about two weeks with that on our mind."
Rasmussen said getting the win will also provide more motivation and a lot more strength to the team.
"If we play like how we played in the second half, aggressive and head on our shoulders, next year we'll be a lot better and a lot stronger," he said. "Then we'll have a much better record than we had this year."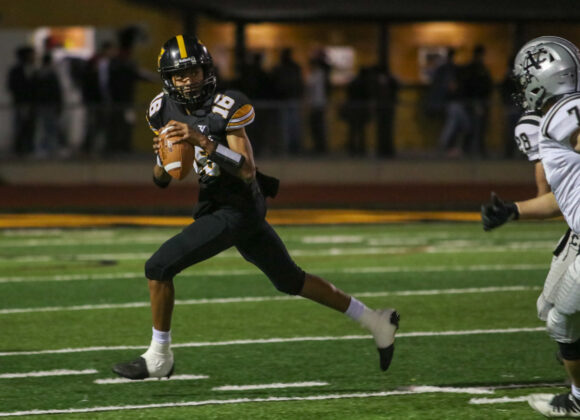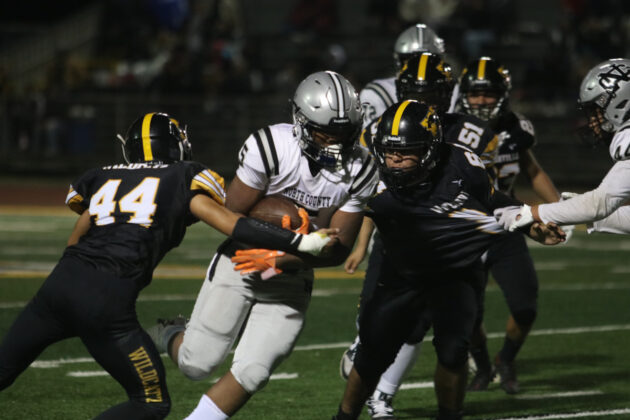 Week 11 Football Scoreboard
Friday
Aptos 41, Hollister 22
Soledad 34, St. Francis 28
Saturday
Monte Vista Christian at Carmel, 2pm
Pajaro Valley vs. Marina at Seaside High, 6pm