Winemaker Alex Prikazsky says it had always been a dream of her father, Bob Prikazsky, to open a winery someday.
"My folks would go tasting on the weekends," she said. "We'd go to wine auctions together. There was always this idea in the back of his mind."
After making his own wine at home for a year, Bob Prikazsky and his wife Dean acquired two acres of vineyard off Hazel Dell Road in Corralitos in 2010. They opened El Vaquero Winery in 2013 in a small building next door to Aladdin Nursery on Freedom Boulevard, where they remain to this day.
When county shelter-in-place restrictions went into effect in March, the Prikazskys saw "tremendous" support from the community. But it eventually waned as the pandemic persisted—and they had to look for other ways to stay afloat.
They began to offer virtual tastings, with people from all over the country ordering their wines and joining an online lesson. This gave the Prikazskys an opportunity to chat with people at length about the wines.
"We've had a couple of people, who've been drinking wine for years, who say they learned more in an hour with Alex than ever before," Bob Prikazsky said.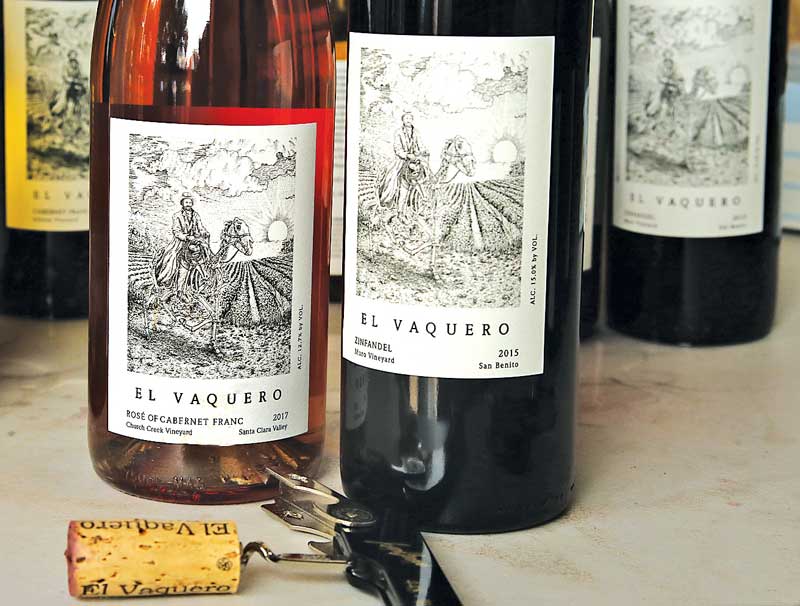 When El Vaquero was being established, Alex Prikazsky was still in college. But she grew interested in the business, eventually becoming assistant winemaker under Mikael Wargin, now of Wargin Wines.
"At that point we were a collective," she said, noting this also included winemakers from Roudon-Smith (now in Saratoga) and Aptos' Armitage Wines. "I got to learn from them and just soak everything in."
She became head winemaker of El Vaquero in 2015.
"My main focus is sourcing the best grapes possible," she said. "I love working with the vines, the agricultural aspect of it."
Thankfully, El Vaquero's vineyard came out of the recent heatwave and fires mostly unscathed, with no smoke damage and only minimal bruising to the fruit.
"We are so thankful," Bob Prikazsky said. "We saw some vineyards where fires had come up right to the edge, and others that were completely lost."
However, the heatwave did have an effect on the overall season, with grape harvest kicking off about two weeks early and higher quantities of grapes per vine.
"We rarely get fruit before Labor Day," he said. "We might be finished picking early. But you never know… last year we were still picking into November."
This Saturday, El Vaquero will undertake a huge bottling of 12 different wines—a total of 1,800 cases.
"It's going to be a long day," Bob Prikazsky said. "But this is one of the best parts of the year… when you get the grapes inside here, everything just smells so good."
With harvest now in full swing, El Vaquero has temporarily halted virtual tastings. However, in-person, outdoor wine tasting on the weekends is now available. Covid-19 restrictions are implemented, with tables spaced apart and masks required whenever guests are not drinking. Tastes are given in small bottles to minimize touch.
Bob Prikazsky said that his favorite thing about his job was watching the process every season.
"Starting with the pruning, then going through the cycle to fermentation… then the crushing—that's the most fun," he said. "Over a year, you really do see the fruits of all your labor."
El Vaquero is open Fridays 4-8pm, Saturdays 2-8pm and Sundays 2-7pm. Live music is occasionally held on Fridays. For information and to order products, visit elvaquerowinery.com.