In late July, the New York Times published an article which revealed an alarming statistic: About 16% of museums and galleries in the U.S. are at risk to close permanently because of Covid-19.
Immediately after, the Santa Cruz Museum of Art and History (MAH) began receiving calls from patrons and partners, concerned that it and other local museums may be part of this statistic.
MAH was quick to console its supporters. In an open letter published on Aug. 6, the organization's executive director Robb Woulfe explained how the museum was doing—and why he believed it was here to stay.
"[The article] jolted a lot of people, and for good reason," Woulfe said. "But [MAH] has worked so hard the last decade to get out into the community. We are going to survive."
Most museums and galleries at risk to close, Woulfe said, are dependent on ticket sales and philanthropy, and go without much government funding. MAH's line of admission revenue is not that high; about $50k a year, he estimated.
"We are in a unique position," Woulfe said. "Our funding is diversified. We don't depend on one thing."
The MAH oversees many outdoor spaces, including Evergreen Cemetery and Abbott Square, an open-air gathering space adjacent to the museum. This gives the organization the opportunity to engage with the community in a safe manner, Woulfe said.
Currently, the MAH is preparing to open its first-ever outdoor exhibit on Friday in the museum's garden, 705 Front St., Santa Cruz. The free exhibit, "Community is Collective Care," features work by artist Irene Juarez O'Connell, and is part of a year-long series aimed to support the community through the health crisis.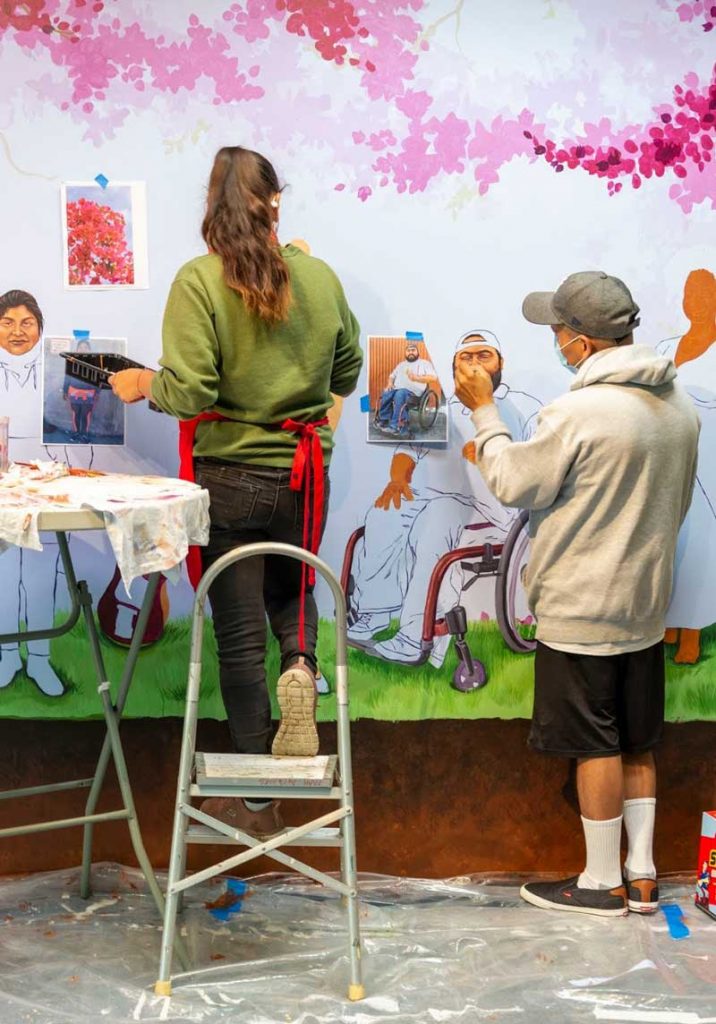 In addition, the museum is looking to install pop-up exhibits and host "micro-gatherings" across the county. It's education team has been providing support to local schools as they navigate distance learning.
In South County, Pajaro Valley Arts (PVA) has had to shutter it's indoor gallery in Watsonville. But as with the MAH, it is a nonprofit and does not rely on admission.
"Most of our events are free," said PVA board member Judy Stabile. "We operate through grants, donations, memberships and art sales."
PVA secured grants through the Coronavirus Aid, Relief, and Economic Security (CARES) Act, as well as a $20,000 California Humanities Grant and a PPP Loan through Santa Cruz County Bank. In addition, PVA's annual membership drive was a success, said exhibit coordinator Hedwig Heerschop.
"People came through, despite everything," Heerschop said. "The community really helped us out."
PVA has been adapting exhibits to virtual formats, hosting Zoom gatherings and starting up an online public art gallery. Last month they opened the annual "Sculpture Is" exhibit at Sierra Azul Nursery, and the show has already sold a number of pieces.
However, Stabile said that funding for next year will be a different story.
"We won't have CARES funding, and a lot of our granters are reevaluating where they are giving their money," she said. "We will have to be frugal."
For Woulfe, who just moved to Santa Cruz County in February, taking the helm of a museum during the pandemic has been a "whirlwind," but he says that he and his colleagues feel grateful for how much they can do.
"It is important to maintain perspective," he said. "We have so much empathy for our friends in the performing arts, who are struggling a lot more right now. But I marvel at what people are doing even there… It really is the creative minds who are going figure this all out."
Both Woulfe and Stabile said that while they do welcome donations, they understand that it is not possible for everyone.
"We want to be careful when asking for help," Woulfe said. "We know people are struggling. First and foremost, we want to help and be a resource for them."
Stabile agreed, adding that the recent fires in the Santa Cruz Mountains have for many compounded the struggle.
"The pandemic was hard enough… now we've got another crisis on top of that," she said. "That's why it's really important for us to support our community in any way we can."
For information, to donate and stay in touch about upcoming events visit santacruzmah.org and pvarts.org, or follow the organizations' social media accounts.