Update (3pm, Aug. 24)
South Santa Cruz County residents seeking to make donations for those impacted by the CZU August Lightning Complex fires can now drop off items at a warehouse at 114 Walker St. in Watsonville.
The City of Watsonville is no longer accepting donations at its Fire stations.
The center is accepting non-perishable food items; large, family-sized tents, sleeping bags, sleeping pads, blankets, pillows, tarps; and ice chests/coolers. People can also donate hand sanitizer, personal hygiene products, toiletries, large plastic storage bins, coloring books and crayons at that location.
The site was until last week the headquarters of Project Elderly Care, which had helped feed hundreds of older South County residents during the Covid-19 pandemic.
Organizer Dee Dee Vargas, now working with the County of Santa Cruz, was able to extend their stay at the location until, they hope, the end of the month.
"We have a wonderful volunteer staff; we've got it dialed in," Vargas said, adding that they currently see a need for more ice chests and coolers.
David Harnish of the Santa Cruz County Emergency Operations Center said Monday that the shelter opened in response to the "overwhelming need" in South County. The location, easily accessible from busy Riverside Drive, is convenient for evacuees to access, he said.
The center is looking for volunteers to work shifts between 8am-noon, noon-4pm and 4-8pm. For information and to sign up visit scvolunteercenter.org.
An updated list of needed items can be viewed at the bottom of this page.
---
Posted Friday, August 21:
Santa Cruz County has seen an overwhelming response to its call for donations for evacuees of the CZU August Lightning Complex fires.
County spokesman Jason Hoppin said that a steady "parade of cars" has dropped off water, bedding, kids' books, games, hygiene items, clothing and other items over the past 24 hours.
"People—many of them young and themselves impacted by fires—are even showing up, unannounced, to volunteer," Hoppin said.
Hoppin said the County still needs more bedding, cots, tents, sleeping bags, sleeping pads and pillows.
"And we can always use more water," he said.
Donations should be delivered to the Santa Cruz County Warehouse at 1082 Emeline Ave. in Santa Cruz. That location is open until 8pm tonight and will reopen over the weekend from 8am to 5pm each day.
Due to Covid-19 considerations, the County is requesting that all donations be in new condition.
The City of Watsonville on Friday dropped off a truck-and-trailer-load of bedding, including sleeping bags, tents and tarps. Some of those items were heading back to Watsonville to help County residents staying at evacuation centers at the Santa Cruz County Fairgrounds and Lakeview Middle School. The center at the Fairgrounds was full Friday, though space may become available as residents secure shelter with friends and family.
The City was also working with the Pajaro Valley Unified School District and the County to prepare another center at Watsonville High School should the need arise.
The City also established donation centers at Fire Stations 1 and 2. Those centers will be open from 8am to 8pm starting Saturday. The City is asking for additional family-sized tents and non-perishable food items. All other donations should be dropped off at the County warehouse.
Christian Quaglia of the County's Health Services Department was coordinating the donations coming to the Santa Cruz County Fairgrounds Friday. He said that currently they are dealing with a huge surge of clothing donations—in fact, more than they need.
"We are currently coping with an overwhelming amount of charity," Quaglia said. "Donations just keep coming in."
Much of the clothing, which volunteers have been diligently sorting through, will be redistributed to other evacuation centers in the area. Quaglia said clothing donations are best turned in to local Goodwill centers, instead.
The site no longer needs dog food, either.
"We've seen an incredible amount of outreach here," he said. "Now we hope the same will happen for the other centers."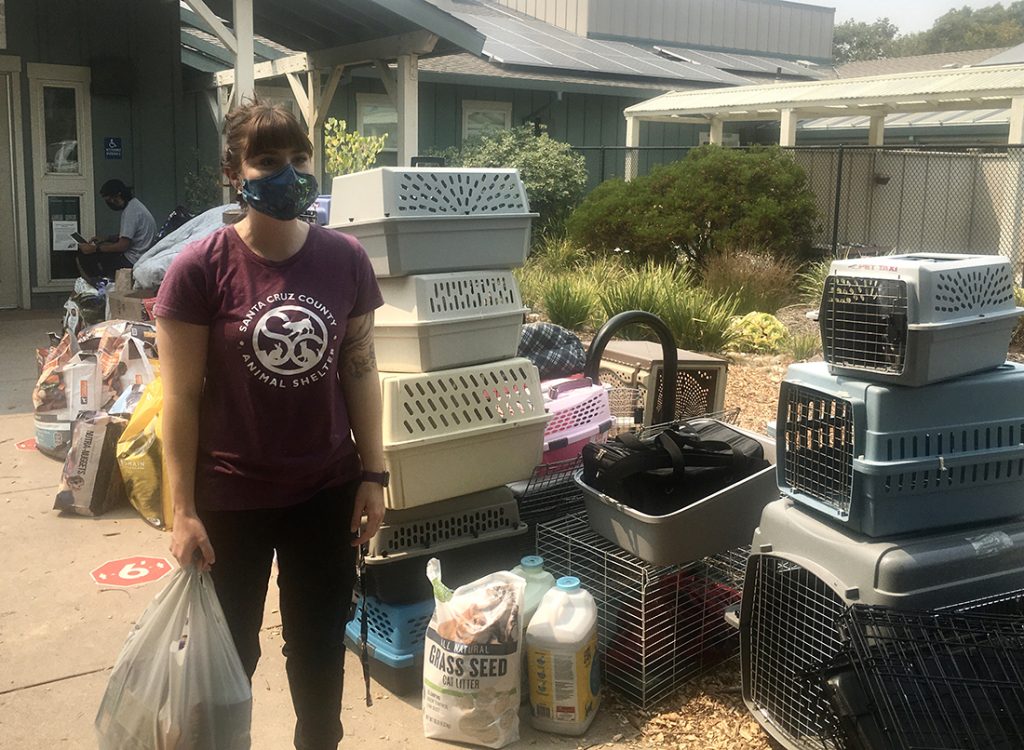 The Santa Cruz County Animal Shelter has also been taking donations of pet food and other supplies (carriers, pet beds, toys, etc.) at its Santa Cruz location at 2200 7th Ave. The shelter is keeping some supplies for residents to pick up and transporting a good deal directly to the evacuation centers.
Erika Anderson, program and development manager at SCCAS, said she was "amazed" at how much the community had already donated.
"It's incredible," she said. "People are really stepping up."
However, she added that they are still in need of more pet carriers, especially larger ones that can double as shelter for chickens and other small farm animals.
"We are running out of space," she said. "We need to keep a lot of animals… and keep them separate."
They are also low in chicken feed and hay. The fairgrounds, in particular, she said, needs alfalfa hay. They are currently hosting hundreds of evacuated horses.
Another sought-after item are bags for dog waste.
Water and non-perishable snacks such as granola and energy bars can also be dropped off at the Second Harvest Food Bank in Watsonville.
Those seeking to make monetary donations can do so through the Community Foundation Santa Cruz County, which has set up a Fire Response Fund to help residents impacted by the fires and evacuation orders.
Residents interested in volunteering at a local shelter can register through the Volunteer Center.
Pajaronian Managing Editor Tony Nuñez contributed to this story.
---
NEEDED DONATIONS:
Shelter Items
Large, family-sized tents, sleeping bags, sleeping pads, blankets
Pillows
Tarps
Ice chests and coolers
Personal Items
New clothes (second hand clothing may be donated to local Goodwills)
Hand sanitizer
Personal hygiene products, toiletries
Large plastic storage bins, coloring books, crayons
Water and food
Bottled water
Non-perishable snacks
Hygiene Supplies
Surgical masks
Empty spray bottles (for county-supplied bulk disinfectant)