APTOS—Second Harvest Food Bank well surpassed its goal of 4.5 million meals during its 2021 holiday drive. But when it came time to organize the 2022 effort, organizers floated the idea of lowering the goal, given the rising costs of groceries due to inflation, as donors' generosity might be strained this year.
But it was UCSC Chancellor Cynthia Larive, co-chair of the drive with Community Foundation Santa Cruz County CEO Susan True, who said, "You don't ask for less when the need is more."
Taking that to heart, Second Harvest kicked off its Holiday Food & Fund Drive during a celebratory affair at New Leaf Community Market in Aptos on Nov. 10, announcing a lofty goal: 5 million meals for the needy in Santa Cruz County.
During the drive, businesses, organizations, schools and neighborhoods are encouraged to form teams and gather funds to help achieve this goal. All funds raised during the drive go to provide food to distribute at Second Harvest's 160 agency and partner locations in Santa Cruz County, with every $1 raised providing four meals, according to the organization.
The effort runs through Jan. 15.
Erica Padilla-Chavez, who took over as CEO of Second Harvest in July following longtime leader Willy Elliot-McCrea's retirement, said the organization is still feeding 20,000 more people now than it did pre-pandemic, despite an economic recovery to some degree.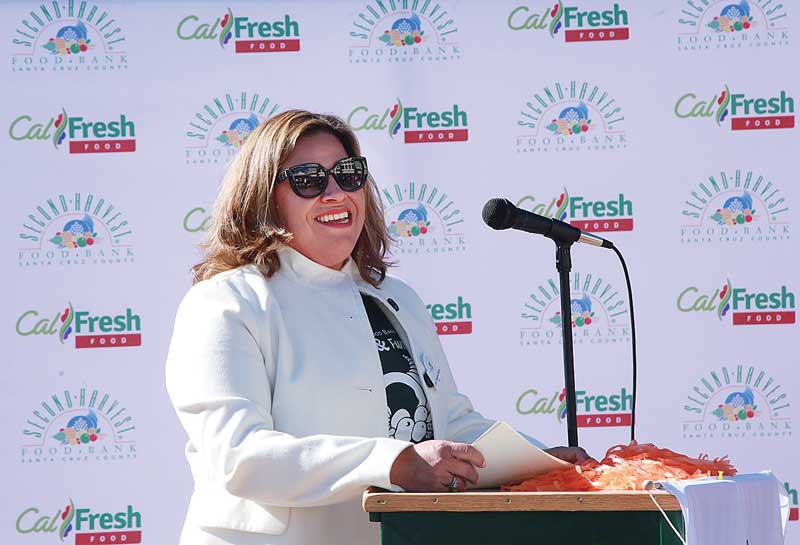 "We believe deeply that it is absolutely unacceptable for our neighbors to go without nourishing food," she said. "We've got a lot of work to do here in our county."
Inflation is crushing many low-income families, she noted, adding that while Second Harvest serves about 75,000 people a month, that number has been rising recently.
"It's absolutely hurting families with basic expenses, such as food, housing, gas," Padilla-Chavez said.For information on the Holiday Food & Fund Drive, visit thefoodbank.org/holiday-food-fund-drive.