SANTA CRUZ—The Golden State Warriors recently announced their 2021 Summer League roster, which will feature a quartet of players from its NBA G League affiliate in Santa Cruz.
Selom Mawugbe, Eli Pemberton, Isaiah Brown and Ryan Taylor will have a chance to showcase their talents to dozens of coaches and general managers looking to fill roster spots for the upcoming season. All four spent the 2020-21 season with the Santa Cruz Warriors in the "bubble" in Orlando.
Golden State is set to play a pair of games today and tomorrow in the California Classic in Sacramento before a five-game slate at the MGM Resorts Summer League in Las Vegas.
Santa Cruz Warriors coach Kris Weems, who will serve as head coach of both summer league entries, will have some familiarity with players he coached last year.
"I felt like the fact that we were a team that was very connected helped us have success and play well," he said.
Weems said the summer league slate is an opportunity for the players to extend their careers, learn from other NBA staff and possibly help them land a better job down the road.
"And if anything, they can be playing for Santa Cruz again," he said. "It's been a good fit for a lot of guys and a way to help them springboard into the next step of their careers."
Taylor, a 6-foot, 6-inch guard, played two years for Santa Cruz. He said he believes his best role on a team is at a "3-and-D" wing.
The 26-year-old could receive a training camp invite or land a spot somewhere else in the NBA if he can impress the coaches and general managers.
"I never really thought that I would have this opportunity coming out of college and now that it's here, it's kind of surreal," Taylor said. "Just my name even being in the talks of potentially getting a 2-way [contract] is very special. It kind of really hasn't set in."
Mawugbe, a 6-foot,10-inch forward, averaged 5.3 points and 4.4 rebounds in his first G League season. The 23-year-old has good size and shot 83%—mostly near the rim—last season.
Mawugbe said being back in the same system is nice. He mentioned that it provides the comfort of knowing where he's supposed to be on the court, which helps him get good looks at the bucket and set up his teammates.
"We've only had three practices up to today but still I feel like the guys gel really well with each other and are able to play with each other well and play off of each other," he said.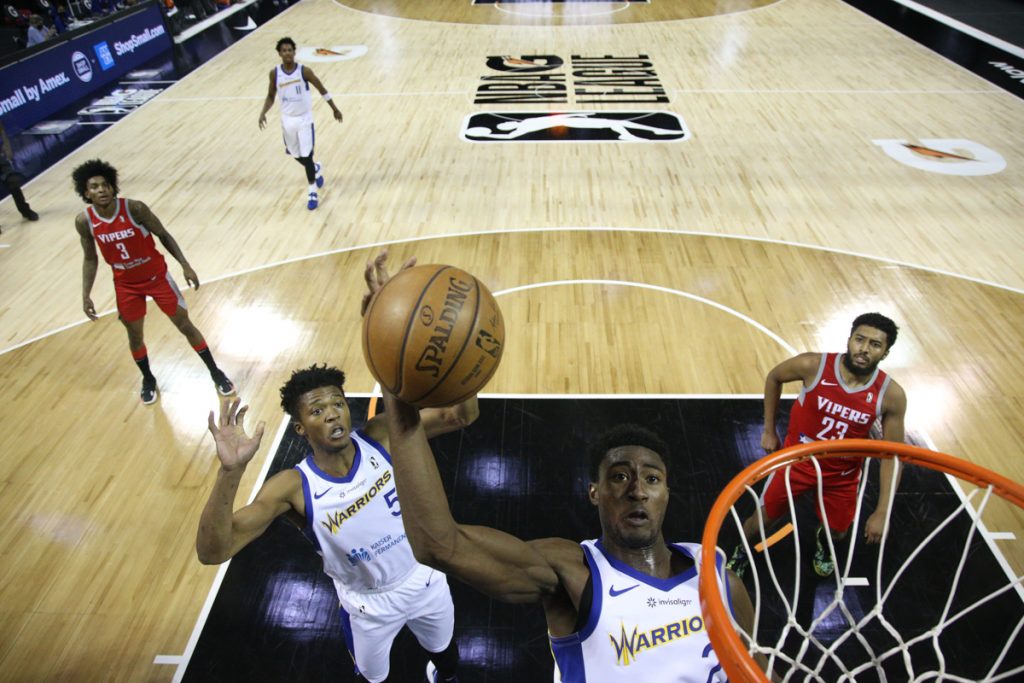 Pemberton made 44% of his 3-pointers in 10 G League games last season. The 6-foot, 5-inch guard, has the length to fit in as a "3-and-D" wing, as well.
Brown played in one game for Santa Cruz, scoring two points in seven minutes played.
Golden State's summer roster will also feature the team's 2021 draft picks, Jonathan Kuminga, who was the seventh overall pick, and Moses Moody, who was selected 14th overall.
Joining them is 2020 draft pick Justinian Jessup, who was drafted 51st overall.
In years past, Golden State has assigned some of its newly-drafted players such as Jordan Poole—drafted in 2019—to play some valuable minutes in Santa Cruz.
Weems said the trend might keep going as Golden State continues to have a strong veteran presence with Stephen Curry, Klay Thompson, Draymond Green and Kevon Looney.
They also have young veterans such as Juan Toscano-Anderson and Damion Lee, who both at one time played in Santa Cruz on assignment.
"You really never know based on injury and availability, but it's one of those things that you fully expect as being on the staff in Santa Cruz that you're going to see a high rate of turnover when it comes to players and if they come down to us, we'll be ready to coach them," he said.
Weems said he was recently in a meeting with the staff to discuss player development. For now, the plan for each player moving forward is to keep things as simple as possible and to the point.
"Obviously you want to see them have some game reps," he said. "It's another way to see our draft picks and our young players on film so we can help them learn, and not just on the court but off the court."
Summer League breakdown
Golden State will compete in the California Classic for the third time, joined once again by the Los Angeles Lakers, Sacramento Kings and Miami Heat. The event will feature double-header matchups today and tomorrow at Golden 1 Center in Sacramento.
Golden State will then head to Las Vegas to compete in the 16th MGM Resorts NBA Summer League starting on Aug. 8. The summer league will feature all 30 NBA teams. There, they will each play five games.
After every team plays four games, the two teams with the best records from the first four games will meet in the championship game on Aug. 17 at 6pm on ESPN.
The remaining 28 teams will play their fifth game on Aug. 16 or 17.
All Summer League games can be heard on the Warriors app and Warriors.com. For the sixth-straight Summer League, Kevin Danna, the voice of the Santa Cruz Warriors, will handle play-by-play duties.
NBC Sports Bay Area will televise the Las Vegas opener against the Orlando Magic on Aug. 9 at 5pm.