Whether it is due to shifting climates, labor challenges, rising material costs or simply new trends, the landscape industry is evolving.
However, one thing that has not changed is high demand.
"The demand for landscaping continues to climb with no real signs of slowing down," said Justin White, CEO of K&D Landscaping. "There are challenges from our point of view, but the industry itself is not slowing at all."
K&D Landscaping is a full-service construction, water management and maintenance company headquartered in Watsonville, serving a variety of clients, from business parks to private residences. The company has been noted for their community outreach, hiring practices and implementation of new technologies.
Throughout the pandemic, White says, landscape projects have increased—though clients are now looking for different things.
"Since Covid … everyone wanted to remodel," he said. "So contractors have been able to name their price. But I think clients are getting a little tired of the constant high-price game that contractors are playing. They're starting to put projects on hold, and shop around. Or find someone who's providing a ton of extra value."
Employees are also looking for more incentives, White said.
"Employees are looking to have an opportunity to grow within a company," he said. "With the tight labor market, they can be more picky about who they work for and what they do. It's important to talk to the team about their potential. Not just short term, but also five years down the road."
NEW DIGS
As for the landscaping itself, trends seem to be heading away from manicured grass lawns and towards minimalist, desert-style landscaping with drought tolerant grasses and decomposed granite or gravel to help retain moisture in the soil.
"Definitely, people are moving away from real lawns," White said. "That's a big change—typically, 20-25% of landscape has just been lawn."
With the climate becoming drier every year, there is a major emphasis on irrigation and water management, he added.
"Clients want to know where their money is going with this high bill they have to pay every month," he said. "They're tracking their water and irrigation use closely. Water has really entered the equation, when historically it hasn't been a big issue."
Artificial turf is also making a big push.
"The quality and recyclability of turf is increasing," White said. "We're seeing better quality, at a better price point, most of it being made of recycled products, which is awesome."
RECOGNITION
Recently, White was honored by the Silicon Valley Business Journal's "40 Under 40" awards, alongside other leaders from Google, SAP, and the San Francisco 49ers. The awards aim to honor individuals who they say "are paving the way for the future of Silicon Valley."
White said it felt "amazing" to be recognized by his peers—especially at such a high level.
"Silicon Valley is such a tech-heavy industry and community," he said. "Being able to bring the landscaping into that world is something we've always driven to do. Our purpose at K&D is to raise the bar in the landscape industry. It feels like we're living our purpose we set out to."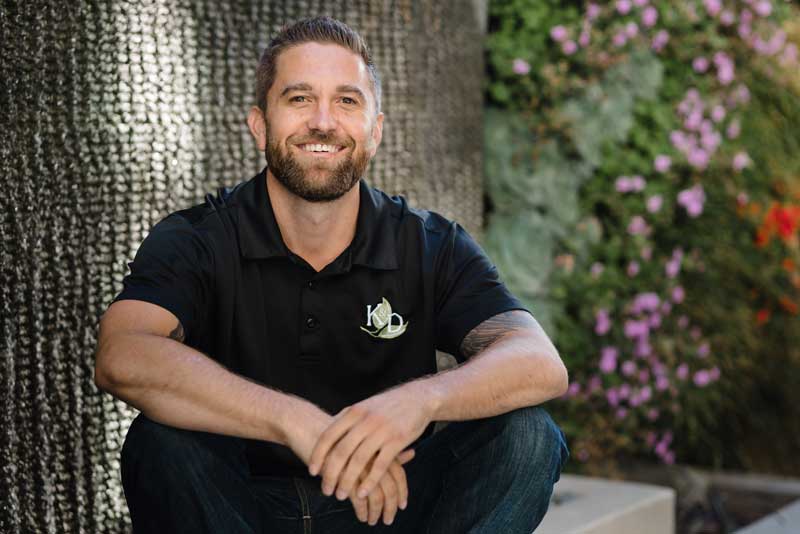 White took over his family's business in 2015. In his six years at the company, he has transformed a small operation into a $12 million company, while serving on a number of local nonprofits' boards. He also does frequent guest appearances on business webinars and podcasts, speaking at schools and national conferences, and mentoring other hopeful CEOs.
Most recently, White spoke at events in Texas, Arizona and Washington, D.C.
"I go around and tell people about what K&D is doing," he said. "We're really trying to help elevate the industry–to treat our employees better, and just create a more professional environment for the landscape community."
K&D as a company has been recognized for their community outreach, receiving several awards of excellence from the California Landscape Contractors Association. They were honored as the 2020 Business of the Year by the Pajaro Valley Chamber of Commerce and bestowed Volunteer Center Santa Cruz County's Be the Difference Award in 2019.
On Aug. 5, K&D was hard at work outside of Duncan Holbert School and the Pajaro Valley Unified School District's Early Start program, removing dead grass and weeds and installing drought tolerant plants, shade trees, new irrigation and more. They had offered the school the enhancement free of charge, with help from Graniterock, Davey Tree Expert Company and Zanker Recycling.
White said it's projects like Duncan Holbert that make his job worthwhile.
"For me, the thing that I enjoy the most about this job is the ability to impact other peoples' lives in a positive manner," he said.