WATSONVILLE—There was a time when winning a Central Coast Section championship was just a fairy tale story for softball programs in Santa Cruz County.
Watsonville High softball coach Scott Wilson broke the wicked curse of heartbreaking losses by delivering the county's first-ever section title in 2017.
The 52-year old Watsonville native announced Friday morning that he is officially stepping away from his position and is retiring from coaching indefinitely.
After 17 years of coaching—eight at Watsonville High—Wilson said it's time to pass the torch.
"I obviously have a passion for the game and what I've gotten out of it has been more than what I've given to it," he said. "Because of not only the success but seeing some of the individuals that have had the opportunity and privilege to coach with have really inspired me to do more."
Wilson finished with a 137-46-1 overall record, including a 71-19-0 mark in league play.
He led the Wildcatz to a pair of CCS Division I championships in 2017 and most recently in 2021.
Watsonville won three league titles in the now defunct Monterey Bay League—two in the Pacific division (2015,'16) and one co-championship in the Gabilan division (2018) alongside Hollister High—under Wilson.
The Wildcatz won the Santa Cruz Coast Athletic League championship in the abbreviated 2021 spring season en route to their second CCS title.
"It's time for me to step back and just kind of take it all in," Wilson said.
Watsonville Athletic Director Marcus Northcutt said it's a big loss for the school. He mentioned most programs tend to be successful when a great coach can stay in place for a long period of time.
"A culture is built in the program, it's developed and that usually turns into success," Northcutt said. "Of course, Scott's had nothing but success since he's been here."
Wilson made his announcement to returning players for the upcoming spring season during the annual dinner banquet Thursday.
After the room cleared, Wilson addressed the incoming seniors and they were pretty receptive of the news.
"We've been blessed with a great group of girls committed to the program and bought into our philosophy," he said. "They made it even harder for me to say it because it's never the right time for anyone else and it has to be the right time for you."
His announcement didn't come without any emotion. Wilson admits he got a little choked up and had to take a deep breath before continuing with his announcement.
Wilson said the support from the parents has meant everything to him, especially because they believed in his coaching style.
"And trusting our approach that it was going to help them develop and grow as an individual and as a person, as well as a softball player," he said. "For that, I'm very thankful for them being there and supporting what we've done. Not just last year, but the last eight years."
Buying into the system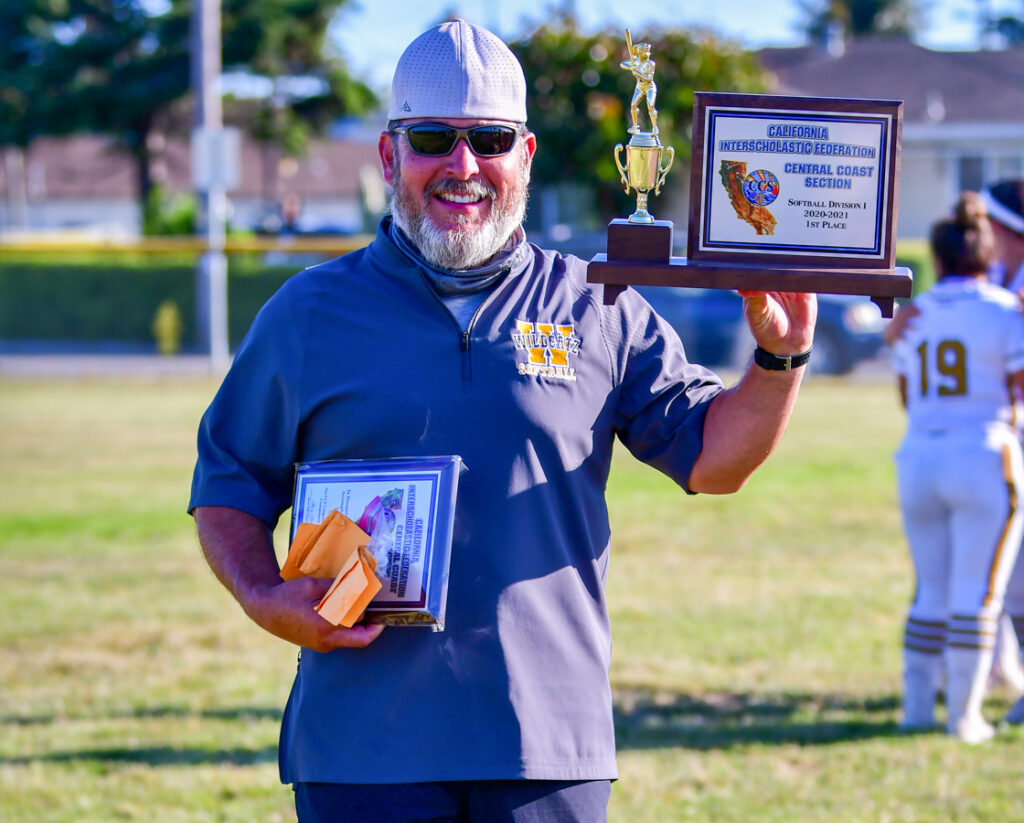 Wilson's first season with the Wildcatz in 2015 got off to a rocky start, going 3-6-1 in the first 10 games.
He admitted that it wasn't looking too promising, at first. It took time for the players to buy into what the new skipper was selling and once they flipped the switch, it was lights-out for most of their opponents.
Watsonville finished with a 16-11-1 record and won the MBL Pacific division title. They made the CCS D-I playoffs and lost to Los Altos in the opening round.
Northcutt, who also coaches the boys' basketball team, said that having outstanding athletes on a roster like Wilson had in his first year coaching can be a blessing.
"That gives you a foundation to start teaching your stuff from and he did a really good job with that," Northcutt said.
After that, the Wildcatz qualified for the postseason each season under Wilson with the exception of 2020 because of the canceled season due to the Covid-19 pandemic.
Northcutt said that Wilson sets high expectations for the players to achieve and go beyond what they believe is possible for them.
"He's disciplined, he expects things to be done a certain way and I think that helps the girls get that discipline," he said. "Be dedicated to improving and getting better."
Wilson said there were plenty of memorable moments, especially winning the county's first CCS title for any softball program.
There's also the time when Yaviana Prado hit a grand slam that launched the Wildcatz into the CCS title game for a second time in 2021.
But his most memorable moment came in 2017 when the Wildcatz edged powerhouse Pioneer, 1-0, in a CCS D-I semifinals thriller that went 10 innings.
Wilson said he was blown away how both teams went scoreless for nine-straight frames before anyone was able to reach home plate.
There was also the build up of a pitchers' duel between Watsonville's Jessica Rodriguez and Pioneer's Holly Azevedo, a pair of NCAA Division I prospects at the time.
"That right there is probably one of the best games I've been involved in as far as just the intensity," Wilson said.
Wilson said that season the 'Catz had one of the most solid defenses that he could recall. The errors were minimal and they were one of the top teams when it came to fielding percentage.
The potent combination of a superb defense and a dominant pitching rotation gave up just 31 runs in 29 games including 11 shutouts that season.
Wilson said getting the victory in the final game of the season will always be satisfactory to him. That and sending the players to go run laps, he said with a chuckle.
However, what he'll miss the most is the way coaches were able to get the players to buy into their philosophy and then commit to it.
That meant truly understanding what the meaning of success is and not to rely on the score of the game as a feeling of triumph.
"The feeling of success happens within yourself and what you put into it," he said. "I think the type of relationship that we build through the lessons that we learn on the field are I think the most precious and gonna be the most missed because they are without a doubt the real reason why we're out there."
Wilson said that Watsonville High, the city of Watsonville and the Pajaro Valley Girls Softball League—which is typically a feeder program for high schools—should feel proud of the girls' accomplishments.
"I'm beyond proud of what every player that's come through our program from Day 1 to this last season and what we did," he said.