Tarmo Hannula:
Our Medditerean climate leaves little to complain about — mild summers, with a few hot spells; mild winters with a few cold weeks and some challenging storms. But these roasting hot days this week and with the scorchers of mid-August that brought us these terrible fires have pushed me over the edge. Add all the smoke along with the coronavirus nightmare and sure ushers in a whole new level for the complaint department.
I was in Sacramento a few weeks ago and it was 112 degrees. I thought our car tires were going to melt right into the pavement. I mistakenly thought it was a rarity, a bizarre spike in the weather that would calm down and go away. Now, I learned on the news it was 120 in part of LA yesterday! Morgan Hill chalked up 110. Santa Cruz was 105 and Watsonville was close to that.
This morning I rode my bike through downtown Santa Cruz and out to West Cliff Drive. Out on the cliffs by the lighthouse it was easily 10 degrees cooler and there was marine breeze blowing through. What a welcome break.
I got to talking to a retired firefighter, Fred, who lives in Bonny Doon. He was headed out to the lighthouse, like me for cooler, fresher air. He said he and a bunch of his neighbors had joined forces to save several homes during the current fires in the Bonny Doon area. Fred told me one amazing gale after another about how he and other volunteers managed to get a hold of several bulldozers, a water truck and other gear to fight off charging flames.
They not only helped evacuate folks and the pets, but chased off lashing flames around homes that would have otherwise been devoured by fire. He said he saw sides of some of his neighbors that he never imagined was there, sides of strength and daring and bravery. The whole time he was telling me all this he was as calm and laid back as someone telling me about mowing their lawn or washing their car. No big deal, he said.
•
Johanna Miller:
Today is Labor Day, a federal holiday held on the first Monday of September to honor and recognize the American labor movement and the works and contributions of workers. It was first celebrated in the late 19th Century and became an official holiday in 1894.
Labor Day 2020 is a strange observance, as many people are currently out of work or working in dangerous conditions due to Covid-19 and the ongoing wildfires in California. I also see that people have not heeded health officials' warning, flooding to beaches on the West Coast and theme parks in Florida.
•
On Saturday I took a jaunt to Santa Cruz to take photos of the Museum of Art and History's new outdoor exhibit, Community is Collective Care. It is located in the museum's garden behind Abbott Square in downtown. The exhibit features a large mural by artist Irene Juárez O'Connell and other pieces, as well as community resources for the community during Covid-19. Learn more here.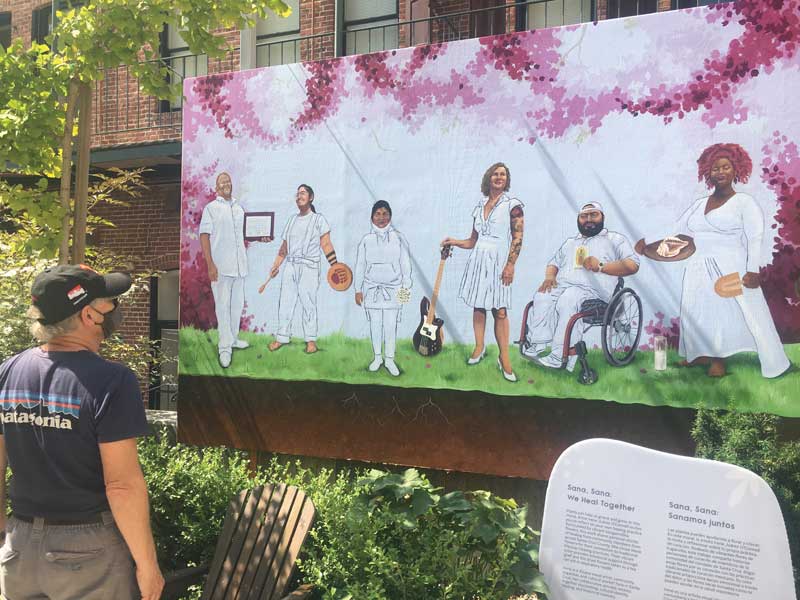 •
The Virtual Watsonville Film Festival is featuring three short films made by local young women that express creativity within the context of the Covid-19 pandemic. The "Chicas in Cinema" series includes films by Directors Michele Gomez, Ebonie Piña and Angie Rockey. A filmmaker Q&A will be held via Zoom on Thursday at 6pm. For more information visit watsonvillefilmfest.org.
•
Reminder that the County of Santa Cruz's virtual fire recovery page is up and running. The site offers insights into damaged property, rebuilding, debris removal, volunteering, donating and more.