WATSONVILLE—In five years brothers Brando and Kristian Sencion predict their new, hip restaurant, Slice Project, will be one of several of-this-generation eateries that will be scattered throughout Watsonville's downtown.
"It's only a matter of time and we welcome that," Brando said. "The more good food options the better."
But for now their monochromatic, Instagram-worthy pizza shop at the corner of Main and Maple streets is an outlier in a downtown that is littered with empty storefronts, pawn shops and restaurants that boast delicious dishes but are trapped in a time before cell phones and cameras were the first to eat at the dinner table.
Slice Project opened to great acclaim on Dec. 20, welcoming in a steady stream of customers during its six-hour launch. The Sencion brothers served their tasty New York-style slices and pies to a wide range of clientele, including many people from outside of Watsonville that had never visited the city's downtown, but had to make the trek into the historical corridor to finally taste the pizza that had made their mouth water over social media for the past 11 months.
"These are people that said, 'I've never been to Watsonville, I've always just driven by,'" Brando said.
Added Kristian: "And then they see how beautiful it is. They see the park and the lights. And they say, 'what's going on here?'"
A renaissance, the brothers hope.
NEW LIFE IN AN OLD SPOT
Watsonville's downtown was once a vibrant center of business, entertainment and foot traffic, but it has struggled to recover from the 1989 Loma Prieta earthquake and the mass exodus of purchasing power as a result of the North American Free Trade Agreement (NAFTA), which took a large chunk of the city's middle class jobs from the canning and cold storage industry and moved them south of the U.S.-Mexican border. Today, many of the corridor's pivotal properties lay vacant, including the historic Fox Theater that shares the building at 300 Main St. with the new pizzeria.
The theater has sat empty since 2009, but it's storied history stretches back to 1923, when the California Theatre was built in place of an old saloon. Owner Hank Garcia converted the theater's lobby into a pizza restaurant after the building was damaged in the earthquake, and The Fox thrived for years before it closed in 2005 and again in 2008 after a short-lived resurgence.
The Sencion brothers, both raised in Watsonville, said they did not have much of a connection to the building from their youth other than a couple of movie nights during its brief reopening, but Brando, working mostly in downtown Watsonville as a program coordinator for Santa Cruz Community Ventures, could not get the location out of his mind. One day he poked his head in the kitchen window, saw the giant commercial pizza oven and started doing some research on the property.
He quickly found out Garcia was the owner and made a call to his other local business, the Green Valley Cinema, to ask if he was interested in leasing the location. To his surprise, Garcia picked up the phone at the cinema's main line and three days later they were walking through the Main Street property, still nearly untouched since the Fox Pizza and Grill closed. Garcia said everything—oven, refrigerators, tables, chairs—was included with the lease, but he had no clue if any of it was still functioning after having sat unused for more than a decade.
"Almost everything worked," Sencion said. "It was a gut instinct that led us to this spot…Everything aligned."
Added Kristian: "It was like it was meant to be."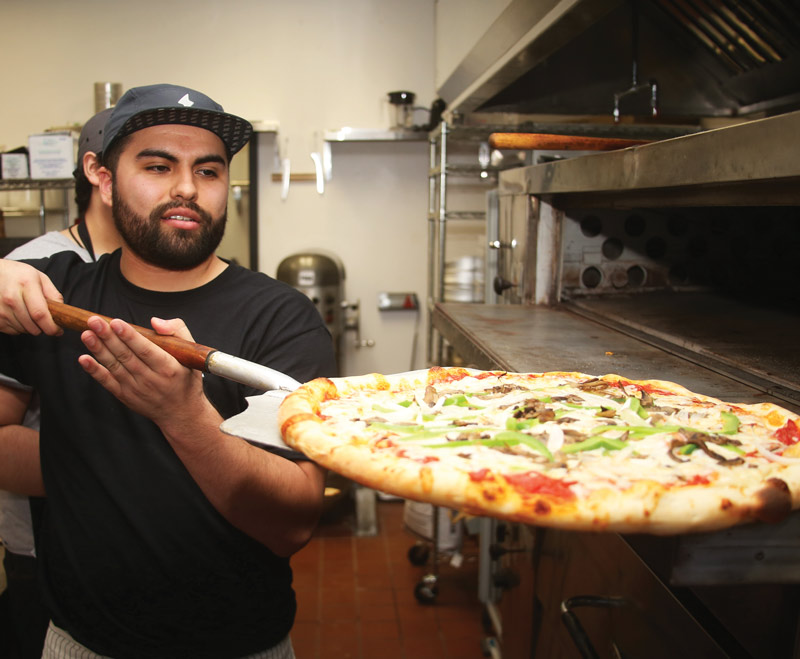 TASTE & FEEL
The first time Kristian—the brains behind the look and taste of the pizza—cooked, he hated it. He was stuck preparing hot dogs, fries and burgers at the Santa Cruz Beach Boardwalk. He had applied to be a ride operator to make some easy cash.
"I remember thinking, 'I'm going to quit,'" he said. "But I just stuck with it, and, after a while, I got into it."
His passion for cooking grew from the deep fryer to the barbeque. He saved up his pennies to buy a small smoker, and started making his own sauces and burger buns and patties. Eventually, he decided to make a career of it and enrolled in Cabrillo College's culinary program. After graduating in 2012, he squeezed his way into an unpaid apprenticeship at Dio Deka, a Greek restaurant in Los Gatos that at the time held a Michelin star.
It was there where he learned the ins and outs of the kitchen, the breakneck pace at which popular restaurants operate and the sky-high expectations that top chefs set for everyone on staff. He eventually was hired at Dio Deka and spent a year on the line before the hour-long commute over Highway 17 proved too much. The ensuing job hunt landed him at Lafayette Bakery & Cafe in Carmel. He responded to a listing on Craigslist asking for someone who had baking experience. He had none.
"But I was so eager to learn that they took me in," Kristian said. "That's where I learned everything about baking that I know now."
That eagerness helped him stick at Jeninni Kitchen + Wine Bar, where he worked under his now-mentor, Jeffery Wise, the author of the internationally-recognized book Charcutería the Soul of Spain. Kristian went to Jeninni for dinner with his wife, and asked the owner for a job after they finished their food.
"He asked, 'when you can start?' and I said, 'right now if you want me to,'" Kristian said.
He was there for nearly five years and also started his own business, Niño Gordough, selling baked goods at the Marina and Monterey farmers markets until early 2018, when Brando, who had found a passion for homebrewing, asked him to be the other half of a pizza and taphouse restaurant. Brando's homebrewing, called Watsonville Ale Project, won't be on tap any time soon, but Slice Project will feature beer in the near future—they will have 10 beers on tap and are working on deals with local and regional breweries such as Fruition Brewing and Corralitos Brewing Company.
Brando, instead, threw all of his creative juices into the look and feel of the restaurant, which features a white-on-black, minimalist scheme with industrial elements. A vivid neon sign of their logo is emblazoned on one wall and a handful of custom skateboards—an homage to the brothers' skateboarding days—with different pizza logos are strapped to another. A giant flat screen television is bolted to another wall, but only passively plays food programs on mute, not to deter the conversations ongoing at each table and the "gathering-place" vibe typically found in cities with experiential, farm-to-fork dining.
"There's small things all over that really represent everything about us," Brando said.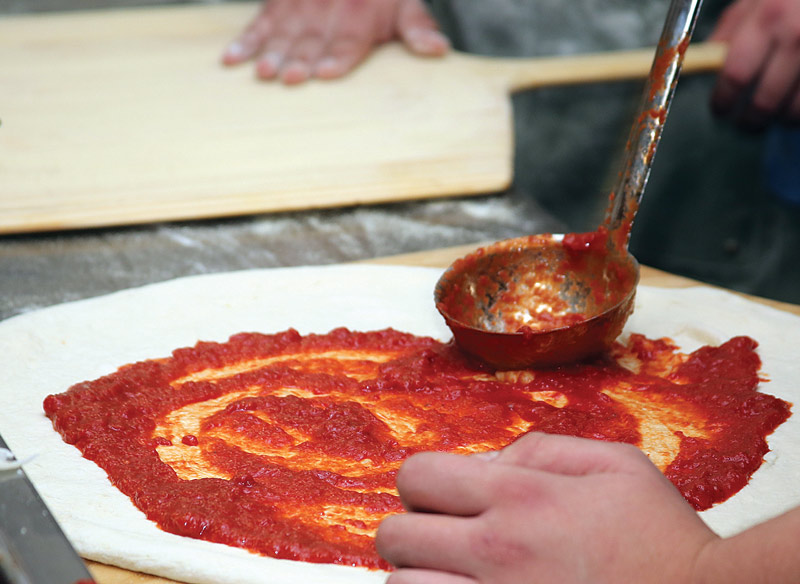 THE FUTURE
During the Slice Project's opening day Watsonville City Councilman Felipe Hernandez, who oversees downtown, said more restaurants of the same ilk are in the pipeline. He pointed to the city council's decision from earlier this year to loosen its stringent alcohol ordinance, and the ongoing efforts to change the layout of downtown with the city's Complete Streets and Downtown Specific plans.
"I really believe that this business is going to be the precursor of the future of Watsonville's downtown," Hernandez said. "They're going to be the catalyst."
The Sencions don't take the moniker of "catalyst" lightly. They both said they understood what it would mean to the community to see their business succeed. If two young locals who don't come from money can triumph in Watsonville's downtown, the possibilities could be endless and the inspiration overwhelming.
Of course, there is a possibility the business doesn't catch on, but that hasn't crossed either of their minds much. They started the business because they heard the call from the community, a call which they understand all too well as Watsonville natives. Both grew up with few places to hang and even fewer things to do, so they decided to give their community both and put their faith in the people of Watsonville.
"I don't think there's any pressure, we're just going to keep doing a good job," Brando said. "We're setting the tone for downtown, setting new expectations for what can come here…We want to create a downtown environment with good food, good businesses and good service."