WATSONVILLE—Watsonville native Alex Reynoso has not forgotten his hometown. Nor has the Watsonville High School alumnus (class of 1991) backed away from using his talents to change the face of Watsonville.
A ribbon cutting is in the works for the start of the new year to open the new Pajaro Valley Prevention and Student Assistance headquarters at the corner of East Lake and Brewington avenues, one of Reynoso's latest designs. The blueprint is a product of In Studio Architecture (ISA) of Salinas, a firm Reynoso formed with his partner Luis Vargas five years ago. For the PVPSA project, Reynoso's wife, Maria, a designer, teamed up with Vargas to create the building on paper.
"When I stand back and look at this building I have to think that everybody plays a part—everybody is a team member," he said last week while touring the project. "We take entryways, doors and rooms for granted sometimes, but actually you spend more time here than at home, with your family. It matters that you come into a place that is worthy—that is nice—especially when you consider the service that PVPSA provides."
PVPSA is a local nonprofit that aims to improve the quality of life of the students and families in the Pajaro Valley by providing health education, counseling and prevention services, and by advocating for public policies that protect their health.
The organization broke ground on the $3.1 million project in September 2018. The property previously held medical offices and the new building incorporates parts of that structure while expanding the footprint.
PVPSA finance operations director Fish Williams said the expansion will offer a central location for staff and space for an integrated behavioral health service center and drug and alcohol abuse treatment. The new building will also feature a large conference room that can function as a community room, a space where other nonprofits can hold large meetings.
"Having everyone under one roof allows us to offer better quality of service to our community," Williams said.
Reynoso, 46, said he earned a bachelor's in architecture from the University of Southern California in 1996. After graduation, he moved back to the Central Coast and helped his family run Hispanic grocery stores in Castroville, Gonzales and Seaside.
"I went to work for several architectural firms in Salinas and Monterey until 2014; then we then started In Studio Architecture," Reynoso said.
His career has taken him around the Salinas and Pajaro valleys and his projects range from private homes, industrial and commercial property and several schools. He played a key role in the design of the Solari Green Technology Center at the Cabrillo College center in Watsonville, and his firm also helped design a pair of hip, niche Salinas restaurants: The Beerded Bean and Farmers Union Pour House.
"There are wonderful things going on in Watsonville," Reynoso said. "It's inspiring that they (PVPSA) now have a modern place that is dignified—a modern building for people that need their services. I have a feeling that when people look at this building they don't think that it's a clinic — it's different."
Reynoso said he knew CEO Erica Padilla-Chavez in high school and that he was honored when she contacted him for the PVPSA project.
"Erica's been very prominent in Watsonville. She's very smart, and she knows homegrown values and likes to use homegrown talent," Reynoso said.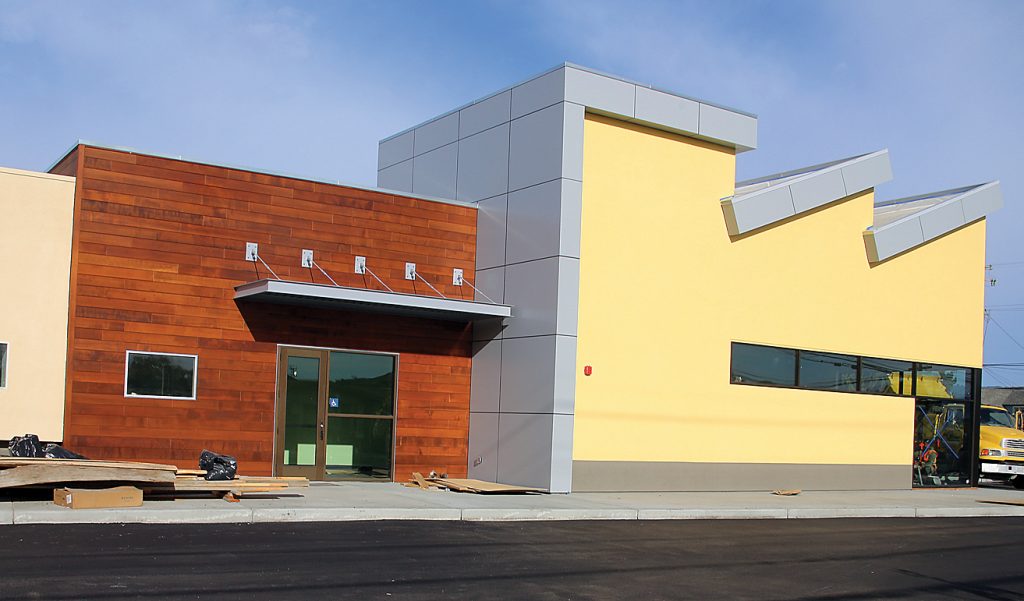 Reynoso said his firm is made up of a team of seven people, plus a few contractors.
Future jobs include two large projects: Two satellite colleges for Hartnell College in Soledad and Castroville. He said the Castroville project, which will get going in about eight months, will be in the "$11 million range."
"I feel very fortunate to work with Hartnell College," Reynoso said. "I'm honored that they have chosen us. We do like working with school districts."
Reynoso said that he felt he got a "great introduction" to education in Watsonville.
"Watsonville High made me grateful for all the schools I attended in this area," he said. "I was at Linscott Charter, Rolling Hills Middle School and Watsonville High."
Upon reflecting on his work, Reynoso said: "When I walk away from a project—when it's done—I feel there are little pieces of me in every building. It's a unique experience to give a vision to our clients. I find it inspiring to be able to create a space that makes people feel special, to help make them feel worthy and important about the service they provide. You have to stand back and ask 'Does it make you feel welcome, does it calm you down? Is it an adequate building?'"