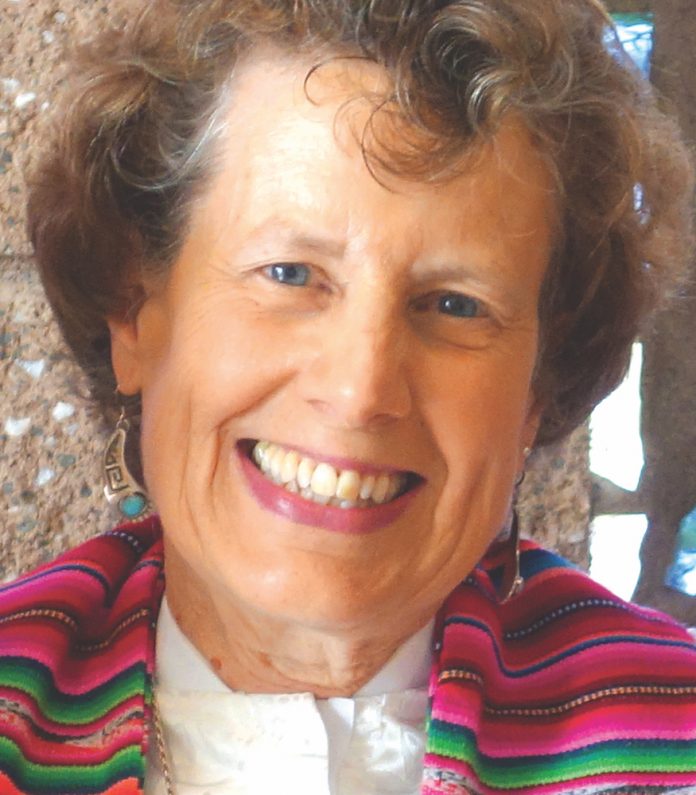 Memo from Rev. Mathews-Johnson
While I was growing up, whenever we moved—which was often in those days because my dad was a Navy officer—my mother would find a job at the local United Methodist Church in our new town playing the organ and piano. As was common at the time, everybody in our family was at church pretty much every Sunday morning for worship. We practically lived there. Some know what I'm talking about.
Later as a teenager, I found it hysterical to change some of the words of the familiar hymns we sang each Sunday. Don't ask me for details; thankfully I've forgotten most of the miscreant behavior of my younger days. One song I do recall changing was the lovely African American spiritual, "There Is a Balm in Gilead." I, for some unknown reason, enthusiastically sang it instead with tongue in cheek as: "There Is a Bomb in Gilead."
It cracked me up every time. I really don't know why. But I will say that sometimes humor is a way to release our pent-up emotions in a safe way. I still find it an effective tool. At least finding the funny side of life helps me cope. For example, take this humorous advice: Before you criticize someone, you should walk a mile in her shoes. That way, when you criticize her, you are a mile away from her and you have her shoes.
A bus station is where a bus stops. A train station is where a train stops. On my desk I have a work station….
I believe five out of four people have trouble with fractions.
If quitters never win, and winners never quit, what fool came up with "Quit while you're ahead?"
And last, but not least, I have found at my age, going bra-less pulls all the wrinkles out of my face. Which seems pretty funny. (Maybe.)
But I'd like to talk about something more important than humor. On the Fourth of July next week we celebrate the independence of our country, a uniquely American event. We call it "Independence Sunday," at my church the Sunday before, as we lift up our nation's legacy of fighting for freedom and justice for all.
Not that freedom is easy to accomplish.
Here's what I struggle with. In the United States, freedom is supposed to be for the young and the old, male and female, white and brown, you name it. But do we really love our neighbors as ourselves, and show it by our actions? Where is God in all this? And what is Jesus calling believers like us to do, right here and now, in our home, our community and our nation?
I don't have all the answers, but I can tell you one thing for sure. There is absolutely no question in my mind that we are given an invitation by God to follow Christ, and to live like he did. And that includes fighting for freedom and justice for all.
Because all means all.
When we talk about freedom, we mean my freedom and your freedom, too. I believe freedom takes a whole lot of give and take, a lot of listening, and cooperation, too, to make it work. Times may be tough in our country right now as we struggle to fight the coronavirus, and we have a lot to learn when it comes to race and #blacklivesmatter, but at least we're all striving for freedom.
One of the things I was surprised to discover—although I should have guessed given his involvement in the church both growing up as a boy, and his dedication as a man of faith—was that the music of African American spirituals (espirituales afroamericanos in Spanish,) was an important bulwark to Rev. Martin Luther King, Jr. The music bolstered his courage and gave him strength to go on.
Dr. King loved the spiritual "There Is a Balm in Gilead." The words of this famous song are simple and succinct: "There is a balm in Gilead to make the wounded whole; there is a balm in Gilead to heal the sin-sick soul…." It's the last verse that I love: "If you can't preach like Peter, if you can't pray like Paul, just tell the love of Jesus and say, he died for all…."
I may not be able to preach like Peter; nor pray like Paul. But we all can "tell the love of Jesus and say, he died for all."
On this fourth of July, I hope you'll join me in celebrating the diversity of our roots, and the historic accomplishments of our people and our faith. I pray we also know once again that freedom is not just for one, but for all. Isn't that the premise upon which our country was built?
Rev. Robin Mathews-Johnson has been the pastor of Watsonville First United Methodist Church since the last century. Weekly Online Gatherings are linked to their website: watsonville1stumc.org. Contact her at (831) 724-4434, or [email protected].