Aptos High soccer standout Jazmine Castañeda didn't make the cut the first two times she tried out for the U.S. Youth Soccer Olympic Development Program (ODP).
She was 13 at the time, but the news was devastating enough that she was contemplating whether or not she should try out again.
Instead, she got back on the pitch, trained harder and made the team at 14.
This year, Castañeda was selected to the U.S. West Region Olympic Development Top-18 traveling team. She participated in an event in Orlando from Nov. 20-23 with some of the best young players in the nation in the U-18 age group.
"It was a really good experience for me. I definitely think I was able to grow a lot as a player because of the coaching I was receiving," she said. "Just the way they were able to help me analyze the game after."
The Mariners' senior said she's been able to bring some of those experiences with her to Aptos, which is off to a 4-0-1 start this season.
She had two goals and an assist in a 4-0 shutout win over Fremont High on Tuesday night in non-league play.
Castañeda has four goals this season but she saw her streak of 28 regular-season games with a goal come to an end in a win against North Salinas High. She, however, registered three assists that evening.
"But it's also the girls that I was playing against, they're very good and talented, very knowledgeable," Castañeda said about playing in Orlando. "There were girls that would come up to me and ask, 'Are you in college?' and I'm like, 'Are you in college?'"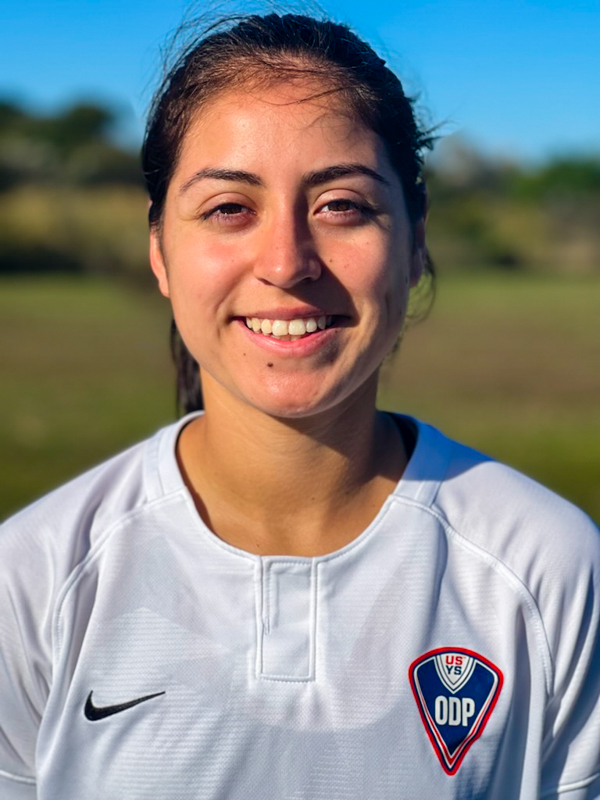 Castañeda, who is part of the U.S. West Region Olympic Development team, played against three other regions in Orlando. The trip was also a chance for her to make the National Camp and a possible shot of making the national team in her age group of U-18.
Castañeda's mom, Gina, said a lot of time and energy has been put into her daughter's journey.
"Just the dedication, her work ethic and keeping fit during Covid times when there was no soccer going on," Gina said. "A lot of time, a lot of commitment, a lot of dedication, a lot of travel and a lot of money."
The trip to Orlando cost them $4,000, which included the flight, lodging and other expenses.
Gina, who is Aptos' girls' soccer coach and a team administrator for Cal North's ODP, said she's proud and speechless that her daughter has this opportunity.
"The other thing that's great about this tournament is the national coaches are there but also college coaches," Gina said.
Castañeda hasn't decided which univeristy she will play for next school year. She says Cal Poly-San Luis Obispo, San Jose State or Chico State are all possible landing spots.
According to ODP, the program is used to develop players by training and playing with the best players in their respective age groups. Plus, it offers quality instruction from nationally-licensed coaches.
The program offers games against other state association ODP teams, while giving players a chance to represent their home state, region or country. The players are selected on the basis of open tryouts conducted by state association coaches.
Castañeda was selected again last year prior to the Covid-19 pandemic but that camp was canceled, which left her in limbo.
However, she was an automatic qualifier to Orlando because she had played on the Cal North's state team for three years. She also went to several tournaments. 
There are 15 states represented at the West Regional Camp but only 38 players are selected to make it to the U.S. West Region Pool. After that, Castañeda was then selected as one of 18 players for the U.S. West Region Olympic Development team.
She also mentioned that being able to represent Watsonville and the rest of Santa Cruz County is an honor for her.
"I've been playing soccer forever but it hasn't been an easy road. People have always been telling me, 'Oh, you're too short,' or 'You're not fast enough,'" she said. "I'm just filled with pride to do it because I know that [Watsonville] is really tiny."
Castañeda will find out in a couple of weeks whether or not she makes the National Pool, which is the ultimate goal. But in the meantime, she's also using the program as a tool to play at the highest level possible.
Castañeda said she believes making all these connections with the coaches is already helping her network.
"I want to play collegiate soccer and play after that, as well," she said. "But I also think that I want to go to school for kinesiology. I just want to stay with sports."