When Dick Peixoto decided in 1996 to convert his 55-acre farm in Watsonville to an organic production, he wasn't sure if he'd made the right decision.
Peixoto had been farming conventionally for years, and back then, organic produce was a specialty—something only smaller farms tended to offer. He wondered if he was on the right track.
"People thought I'd lost my marbles, getting into organic," he said. "And I did wonder if it was the future or not. But it seems like it worked out well for us."
Lakeside Organic Gardens is celebrating its 25th anniversary this year. Now the largest family-owned and operated organic vegetable grower/shipper in the U.S., they produce year-round crops that are sent across North America. Everything from artichokes and lettuce and broccoli, to herbs and root crops, are grown 100% organically in California.
Before Lakeside, Peixoto was solely a grower; he grew the product, and then a shipper would swoop in to pack and sell. This was a frustrating model, he said, as some of the packers/sellers would take a large cut off the top price.
"I felt like we'd do all the work but they were in complete control of how much we got," he said. "I was looking for a better system."
Peixoto noticed how many large, conventional farms could grow and ship by themselves. In fact, he thought, many conventional techniques—the tillage, farming practices, etc.—could be applied to organic farming on a larger scale.
Lakeside started with a 50-acre plot featuring 20-50 crops. At first, they were going to stay relatively small, selling to regional organic farmers' markets.
But getting into such markets, Peixoto said, was nearly impossible.
"We found that with all those smaller organic farms … they wouldn't allow anyone else in," he said. "It was really restrictive."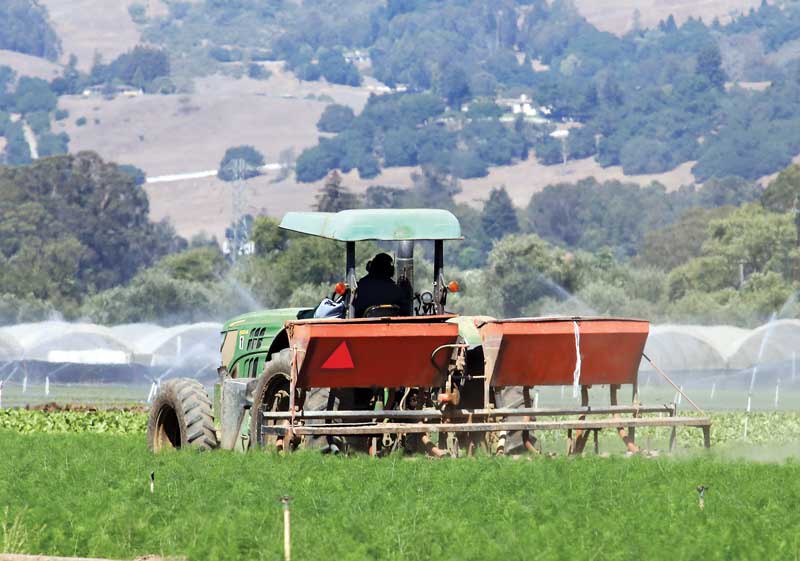 Lakeside began marketing to natural grocery stores such as Staff of Life and New Leaf Markets. They built from there, expanding to distributors such as Veritable Vegetables in San Francisco. Eventually, national distributors and chains jumped on board.
"It's been incredible seeing Lakeside grow," said Jess Brown, executive director of the Santa Cruz County Farm Bureau. "Not only have they provided top-quality produce for the country, but they have also provided a lot of good jobs. They have given so much back to the community."
Grateful work
Lakeside Organic Gardens has gained a reputation for being one of the best agriculture companies for farmworkers to gain employment.
Some employees, Peixoto said, have left the company when offered higher wages but came back because they felt more appreciated at Lakeside. Many have remained with the company since the very beginning.
"I'm the guy who steers the ship, but they're the ones with the oars in the water," Peixoto said. "Anyone at Lakeside will say that's true. If we have a good year, we all have a good year. A bad year—we all have a bad year. We're all in it together."
One tangible way that Lakeside gives back to its workers is through an Employee Farmers Market, where workers and their families can pick up organic produce that they harvest to bring home.
"From an outsider's perspective … it's impressive to see how [Lakeside] has been so supportive of their employees," Brown said. "It's special to know you're part of growing the food, but also that your family can actually enjoy it."
What it comes down to, Peixoto said, is mutual respect.
"A lot of people … visitors, some reporters will come out into the fields with me and call what [the farmworkers] do as 'unskilled labor,'" he said. "But honestly, how about you get down there and start bunching radishes that fast, or figure out how to properly trim that cauliflower? These people are highly-skilled and under-appreciated."
Peixoto said that one major goal is to get his employees more financially involved with the company, by transitioning them into being part-owners.
"It's a long process, and will take a few years," he said. "But it'll be worth it. All our success is because of them—they deserve a piece of the company."
Organic effect
Peixoto said he is proud of being able to farm on such a large scale without the use of chemicals.
"The compound effect … if you look back over the years, it's millions of pounds of chemicals that we haven't put into the ground," he said. "We're building a better soil for the future. As I always say, we farm the soil, and the soil grows the crop."
The growing popularity of organic food has helped support large organic endeavors like Lakeside, as well as smaller farms. When buyers choose to purchase these products, they are supporting the entire organic industry.
"It's really about choice," Peixoto said. "Some people just believe in organic, and they want that option. A lot of these buyers understand that it goes beyond just taking the food home … it's about supporting the whole method."
More people than ever, Peixoto said, are concerned about pesticide sprays. This has prompted Lakeside to work with conventional farms to create buffers of organic ranches between schools and housing developments and fields that are sprayed.
"I feel like it's a good tool for us to settle between them," he said. "The conventional ranch will take one or two steps back and we can act as a buffer."
Peixoto added that ideas like these only work when people join forces.
"One of my frustrations is that a lot of people try to pit the organic guy against the conventional guy," he said. "I don't like to look at it as if we're better than them. We're all just finding a way to coexist."
---
For information on Lakeside Organic Gardens, click here.